Inside Nicki Minaj's Alleged Feud With Kylie Jenner and Travis Scott's Daughter, Stormi Webster
Nicki Minaj has feuded with many fellow celebrities over the years, but 2018 was the first time we've heard of her allegedly beefing with an infant. Yes, we know this sounds ridiculous, but the rapper actually stirred up some adult-level drama with Kylie Jenner and Travis Scott's baby girl, Stormi Webster, when the toddler was just 6-months old.
So what exactly caused Minaj to have issues with a child? Let us break it all down for you.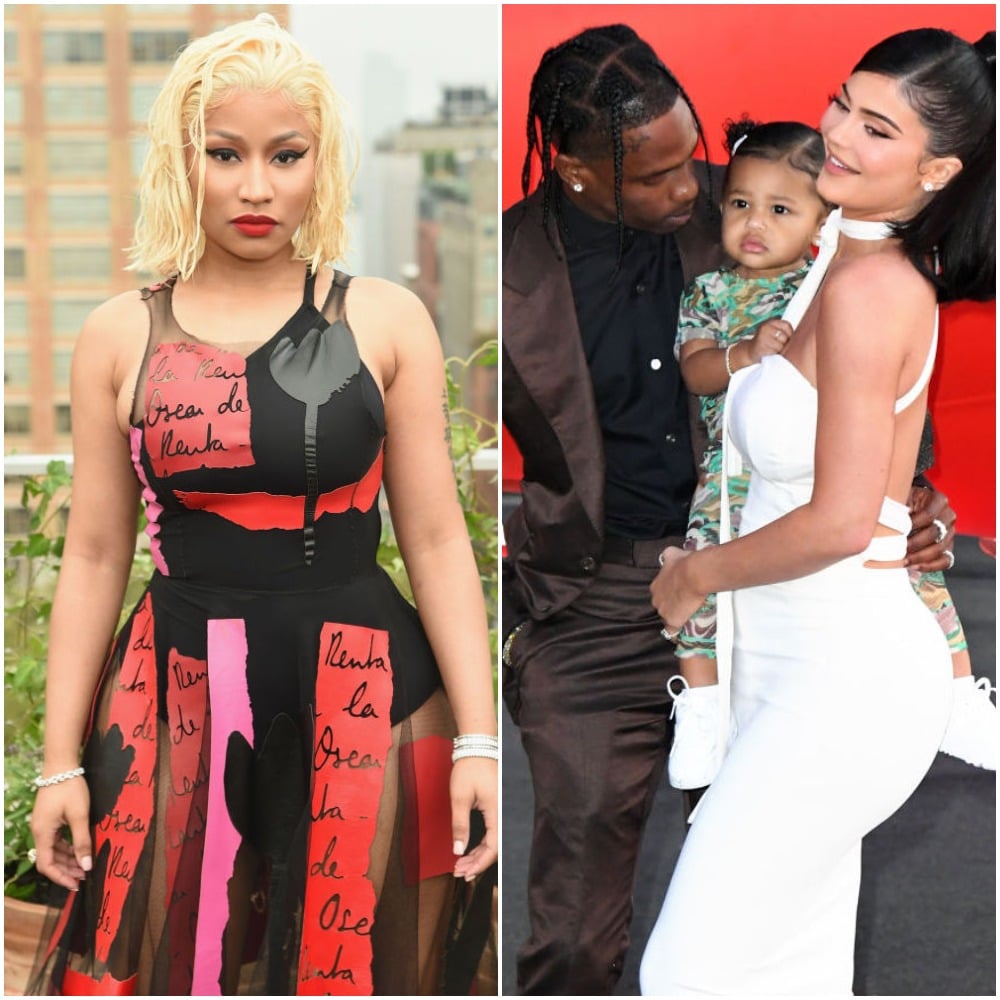 Unpacking Nicki Minaj's alleged beef with Travis Scott, Kylie Jenner, and Stormi Webster
Minaj doesn't have a problem calling out someone she has issues with, even if that person is a little baby.
In August 2018, the rapper lashed out at Travis Scott, Kylie Jenner, and their 6-month-old daughter, Stormi, on Twitter, and the reason behind this was simple: lackluster record sales.
The drama kicked off after the "MEGATRON" rapper released her fourth studio album, Queen.
Minaj did everything to make sure her record scored the No. 1 spot on the Billboard 200. Unfortunately for the rapper, the honor went to Scott instead, which didn't sit well with her.
After learning that she'd been trumped by the "Sicko Mode" rapper, Minaj went on a lengthy Twitter rant, calling out him and Spotify for causing her to lose out on album sales.
"Spotify had to teach me a lesson but rewarded the man who has had an Apple radio show the longest; inadvertently helping the Apple platform the most," she tweeted, referencing Drake's "Scorpion" album release, which was criticized for its overwhelming presence on popular Spotify playlists.
RELATED: Nicki Minaj: What Happened the Time She Got in a Feud With Cher
Minaj's issues with Scott centered around his promotional tactics. The pinnacle female rapper claimed that the only reason he'd landed the No. 1 spot on the Billboard charts was because he sold merchandise as part of a bundle deal for his music and promoted his tour just days before her record dropped.
She also brought Scott's then-girlfriend, Jenner, and their daughter, Stormi, into the mix, saying that the Keeping Up with the Kardashians star used her and the infant to promote the rapper on social media.
"I put my blood sweat & tears in writing a dope album only for Travis Scott to have Kylie Jenner post a tour pass telling ppl to come see her & Stormi. lol. Im actually laughing," Minaj tweeted. "#Queen broke the record of being number 1 in 86 countries. Thank Jesus & thank you to my fans."
Nicki Minaj acknowledged her feud with Stormi Webster
Two days after going on her lengthy Twitter rant, Minaj continued to bash Scott during an episode of Queen Radio on Apple Music.
"Travis Scott gets Hoe N— of the Week by a landslide. Because he's out here selling clothes instead of music," she said, according to Vice. "What we're not gonna do is have that Auto-Tune man selling f*cking sweaters telling you he sold half a million albums, because he f*cking didn't. You stupid f*ck. You got your f*cking homeboy talking for you and you got your girlfriend selling your passes. Stop it. Knock it the f*ck off."
RELATED: How Much Does Nicki Minaj Make From 'Queen Radio'?
According to The Faber, the rapper also addressed internet rumors she was feuding with Stormi, confirming that she did, in fact, have beef with the 6-month-old infant.
"I love Kylie, I love Kim. I actually love all of them," Minaj said. "I know that you guys are saying me and Baby Stormi have beef," she said. "Yes we do. Now, this is what the f*ck is happening today. Me against baby Stormi. We have this rivalry now. I'm going to start from scratch."
Fans thought Nicki Minaj's feud with Stormi Webster was hilarious
Though Minaj tried to play her rant about Stormi off as sarcasm, Twitter thought it was hilarious that the rapper was stirring up drama with a 6-month-old baby.
"Stormi having her say on this whole nicki situation asdfgjkjwhekej," one person tweeted.
"How Stormi sleeps knowing she ruined Nicki's album sales," another user shared along with a photo of Stormi napping.
Whether Minaj was joking about feuding with Stormi or not, she's clearly to thank for boosting the little girl's fan base, which is still rapidly growing today.