Inside Priscilla Presley's Relationship With Daughter Lisa Marie
Comb through sets of famous parents and children, and you'll note that Priscilla and Lisa Marie Presley are one of the most recognizable duos. Although Lisa Marie isn't her mom's only child, she is the sole heir to music legend Elvis Presley.
When he died in 1977, he left an inheritance to her and it was managed by her mother for many years. The two Presley women have had their ups and downs over the years, but where do they stand now?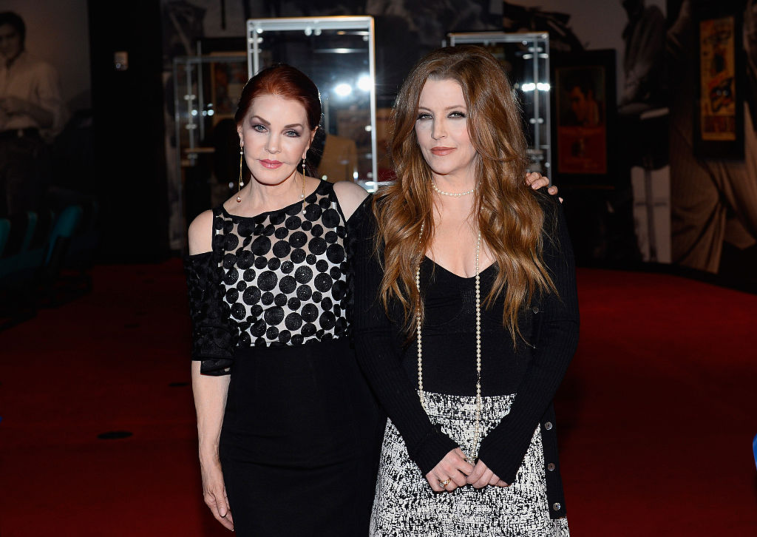 How was Lisa Marie Presley's upbringing?
Priscilla Presley has often spoken about how Elvis spoiled their daughter when he was alive. He'd often buy her expensive toys and gifts and would let her have the run of Graceland. Lisa Marie was only 4 when the couple divorced, and the little girl had to split her time between two households—one in Graceland and the other in Los Angeles.
Lisa Marie opened up about her mother being a strict parent and that it made their relationship very difficult growing up. She said it made it hard for them to be close because of it, and admitted that at times, she was a terror to her mother. Lisa Marie was only nine years old when Elvis died, and Priscilla became even more watchful over her.
Turmoil mounted between the two over religion, money, drug use
Priscilla Presley is a member of the Church of Scientology and she brought Lisa Marie in with her decades ago when she was a child. Lisa Marie received treatment in the church's addiction recovery center when she was younger, but it's claimed that as an adult, she was not pleased with Scientology or things she learned about her mother. Page Six reported that she left the church in 2014 but Priscilla is still a member.
But Lisa Marie's struggles with her finances and opioid addiction also caused friction with her mom, and Priscilla wanted her to get it together.
On top of that, rumors surfaced that Lisa Marie's dwindling fortune was partly due to her mom, but Lisa Marie has never confirmed that and only sued her former business manager for breach of trust.
Priscilla had to step in as a caregiver
When Lisa Marie filed for divorce in 2017 from Michael Lockwood, her husband of 10 years, things got ugly. There was an intense custody battle over their twin daughters, Harper and Finley, and accusations of neglect and sexual abuse against Lockwood.
While Presley battled it out with her husband over spousal support and custody, a criminal investigation was launched and the girls were placed into protective custody.
It was later revealed that Priscilla Presley took over their care while the legal issues between Lisa Marie and Lockwood were being handled. In efforts to dispel rumors, she took to Facebook to let fans know her granddaughters were with her and doing fine.
She's very close to them and even wrote a children's book inspired by them. Presley told People, "I've learned to really listen to what [the girls are] saying. They have so much to contribute in their opinions, their viewpoints and questions. I value that very much." The girls are back with their mother now.
Are Priscilla Presley and Lisa Marie Presley in a good place now?
Both Lisa Marie and Priscilla Presley are private, but the two are supposed to be working closely with Baz Luhrmann on an upcoming Elvis biopic. Although Luhrmann already penned the script, some outlets reported that mother and daughter have been clashing over details for the movie, which cast its Elvis and Priscilla in fall 2019.
But by all signs, everything is tight between mother and daughter, as they both post "Happy Birthday" messages on social media for each other and continue to preserve Elvis' legacy together.