Inside The Restaurant Tupac Shakur Was Planning to Open Before His Death
Tupac Shakur had major plans in the works ahead of his unfortunate death in 1996. Aside from music and screenplays, the Poetic Justice star was excited to transition into the worlds of fashion and food and beverage. One of the dreams he was working to fulfill was opening a soul food restaurant in California. His current traveling museum exhibit reveals Tupac's plans for the restaurant.
Plans for Tupac Shakur's restaurant are on display at the rapper's museum exhibit
Tupac loved good food and libations. The rapper wanted to share the world of cuisine he grew accustomed to with his fans. This was especially true in underserved communities that were looking for an escape. The restaurant was to be called Powamekka Cafe, with the tagline, "A Passionate Paradise 4 People With Power 2 Play and Parlay," and "The Perfect Hideout 4 Those Who Wish 2 Escape The Worldz Cold Reality."
Currently on display in Los Angeles, the exhibit features a blueprint and the original written plan of Tupac's restaurant. The logo features an ankh and ocean waves surrounding the restaurant's name. Bathrooms for women were listed as "Divaz" and for men as "Playaz."
RELATED: Tupac Shakur's Museum is Facing Legal Trouble
As far as employees, Tupac planned to hire four cooks, one manager, one hostess, three waitresses, two bartenders, two dishwashers, and two bussers. The Juice star also planned to have live entertainment in the form of a house band, a DJ, and a valet for high-paying guests.
He put great thought into the place's ambiance, noting that he preferred to decorate the restaurant "peaceful but lavish and comfortable" with incents lit, flowers on each table, and music playing in the background.
The restaurant was to be a cultural experience for guests
Much of the food on the projected menu at Tupac Shakur's restaurant is categorized as soul food. Entree meats included barbeque wings, baked chicken, meatloaf, steak, gumbo, fried chicken, and fish of the day. Sides included macaroni and cheese, house garden salad, rice and beans, french fries, potato salad, green beans with smoked turkey, corn on the cob, and baked potato. For the customers with a sweet tooth, dessert options included banana pudding, sweet potato pie, peach cobbler, cake, and ice cream.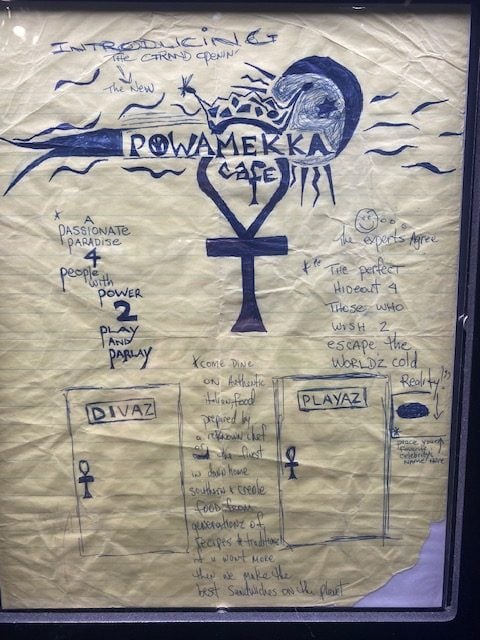 Sandwiches listed included cheeseburgers and hamburgers, as well as a turkey club. He also had fruit salad listed as a healthier option as a snack.
Aside from coke products and non-alcoholic beverages such as fruit punch, Tupac had quite the list of cocktails. His personal favorites, such as Hennessy and coke (Playa Passion), gin and juice, and Baileys and cream with Remy (Ghetto Russian), feature on his original draft.
A restaurant inspired by Tupac's original concept was opened for just 1 day on the 20th anniversary of his death
In 2017, to commemorate the 20th anniversary of the rapper's death, Sweet Chick — a popular eatery in New York City's Lower East Side — actualized the vision for Tupac Shakur's restaurant. Co-owned by restaurateur John Seymour and rapper Nas, the menu changed for the day to reflect Tupac's dream menu.
Notes of his plans were displayed in the East Village, as well as family photos of him and social activist leaders Malcolm X and Martin Luther King, Jr. Quotes from Tupac also lined the walls of the restaurant.
The idea for the popup restaurant came from Bravado CEO Mat Vlasic and Seymour, who then spoke with Nas before conferring with Tupac's estate. "They brought out these papers with the full-blown menu and I was like, 'Oh my God, this is insane,'" Seymour said of initially seeing Tupac's vision on paper, Billboard Magazine reports. "That's before the Food Network. That was before restaurants were cool and that was a thing to do. He was thinking about this over 20 years ago. So when this [Tupac cafe] came across, I was like, 'Man, here's another opportunity to do something amazing.'"
RELATED: Two Major Artists Albums Will Not Be Included in Snoop Dogg's Acquisition of Death Row Records