Inside Sacheen Littlefeather's Powerful Statement at the 45th Academy Awards
Few who watched the 1973 telecast could forget Sacheen Littlefeather rejecting Marlon Brando's Oscar for him. Here's what happened that day.
The Academy Awards serve as a time for those in Hollywood to celebrate achievements and receive honors for accomplishments. But — as we're all painfully aware amidst continuing fallout over "the slap" — they're also a platform for public commentary. The truth is that the Academy Awards stage has often been a place to voice strong opinions on current events and activist topics. 
Perhaps this was never so clearly shown as at the 45th Academy Awards. There, Sacheen Littlefeather took to the stage to decline an Oscar on behalf of Marlon Brando and instead used the time to speak out on Native American rights. 
Marlon Brando refused to take the stage to accept his 1973 Oscar win
Marlon Brando had a long and celebrated career in Hollywood before his death in 2004. His film debut was The Men in 1950. And his IMDb filmography shows nearly 50 credits to his name, stretching all the way up to The Score in 2001. 
His work included high-profile titles like Guys and Dolls (1955), Mutiny on the Bounty (1962), and Last Tango in Paris (1972). Without a doubt, his most famous and notable role was portraying Don Vito Corleone in The Godfather (1972). 
It was for this performance that Brando won an Oscar for Best Actor in a Leading Role. He had won the coveted prize once before (for 1955's On the Waterfront) and would rack up a total of eight Oscar nominations over his career. The 1973 win, however, would become one of the most notable Oscar wins in history — and it was Brando's absence that made it so memorable. 
Brando refused to take the stage to accept his award and instead sent a representative to reject the award on his behalf. 
Sacheen Littlefeather rejected Marlon Brando's Oscar and gave a speech
Brando had a history of political activism prior to the 45th Academy Awards. In 1968, he gave a eulogy at Bobby Hutton's funeral, a move seen as bold and controversial. Hutton was a young Black Panther who joined the group at 16. Police killed him shortly before his 18th birthday. The outrage that followed the killing of this unarmed young activist sparked national conversations.
As NPR reports, "On April 12, 1968, more than a thousand people came to Bobby Hutton's funeral. Actor and activist Marlon Brando gave the eulogy and afterward addressed an even bigger crowd at a local park. He told them white America needed to understand that racism was turning black America into a ticking time bomb."
It was with this history of activism that Brando refused to attend the Academy Awards in 1973. Instead, he sent Littlefeather. Littlefeather, herself a biracial child of an Apache and Yaqui father and white mother, used the moment to highlight Hollywood's mistreatment of Native Americans. She called attention to the police killing of a Native American protester at Wounded Knee. 
Her speech brought forth a mix of cheers and boos from the crowd. She calmly explained that she was there to reject the award because of the "treatment of American Indians today by the film industry." She ended with hope for the future. "I beg at this time that I have not intruded upon this evening, and that we will in the future, our hearts and our understandings will meet with love and generosity."
Sacheen Littlefeather reflected on her historic contribution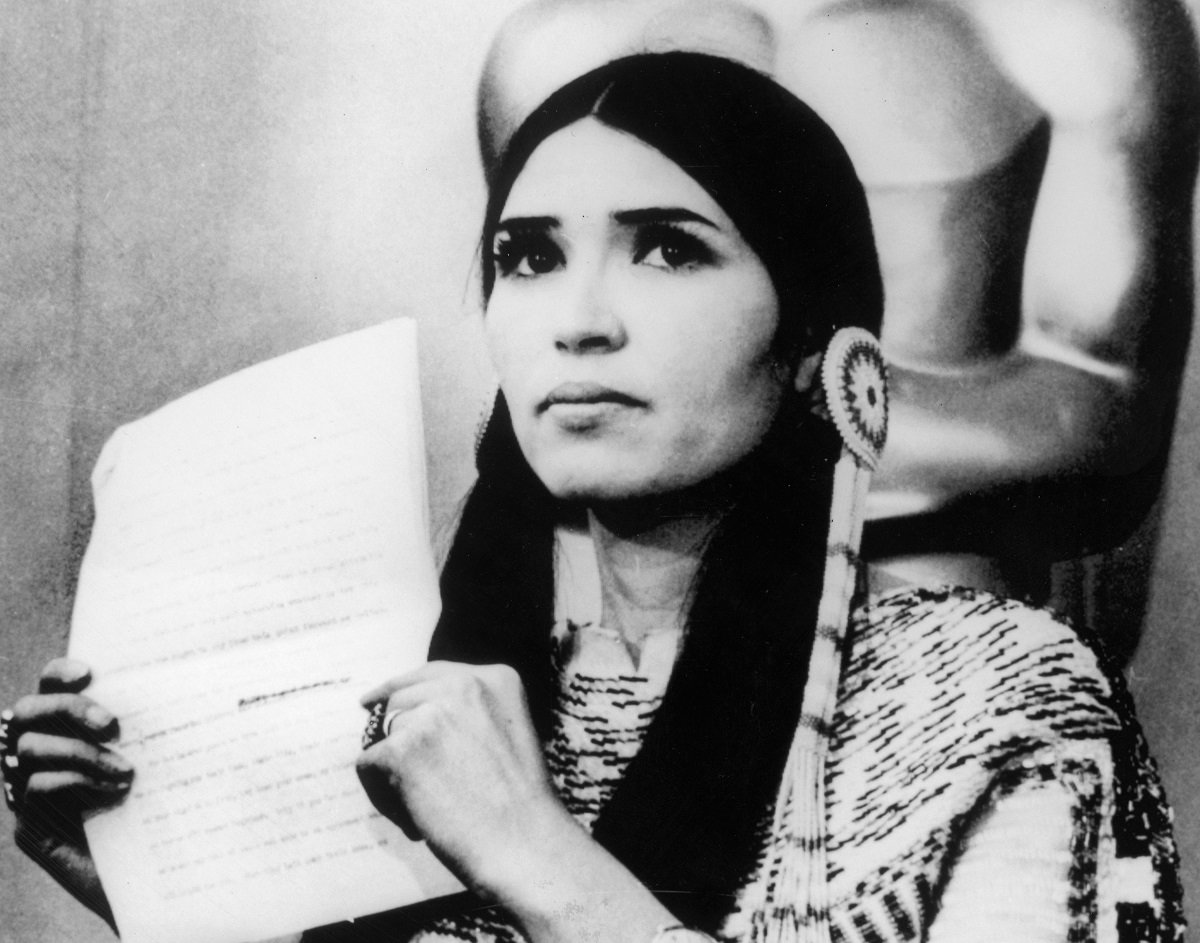 Speaking with The Guardian in 2021, Littlefeather looked back on her life and that controversial moment. The whole thing was "hastily planned," she revealed. She'd been at Brando's house a half-hour before the ceremony as he finished typing up a long speech. When it came time to take the stage, however, she found out she couldn't deliver it.
"I had promised Marlon that I would not touch that statue if he won. And I had promised Koch that I would not go over 60 seconds. So there were two promises I had to keep," Littlefeather remembered. Instead, she offered a quick version of the reason she was there and promised to read the entire statement to the press after the event. 
Littlefeather remembered getting taunted with stereotypical war cries and causing quite a stir, but she didn't regret the move: "I didn't use my fist [she clenches her fist]. I didn't use swearwords. I didn't raise my voice. But I prayed that my ancestors would help me. I went up there like a warrior woman. I went up there with the grace and the beauty and the courage and the humility of my people. I spoke from my heart."