Inside The Demise Of Kate Middleton And Prince Harry's Once Close Relationship
Kate Middleton and Prince Harry once incredibly close, but that all changed once Meghan Markle came into the picture.
Kate Middleton used to be close friends with her husband's younger brother, Prince Harry, but their relationship took a turn for the worse last year. Despite being friends as early as 2003 — and Harry once calling Middleton the sister he always wanted — Prince Harry reportedly got angry because he did not think his family was fully supportive of his romance with Meghan Markle. With the Duke and Duchess of Sussex adjusting to parenthood, here is a look at the demise of Harry and Middleton's friendship.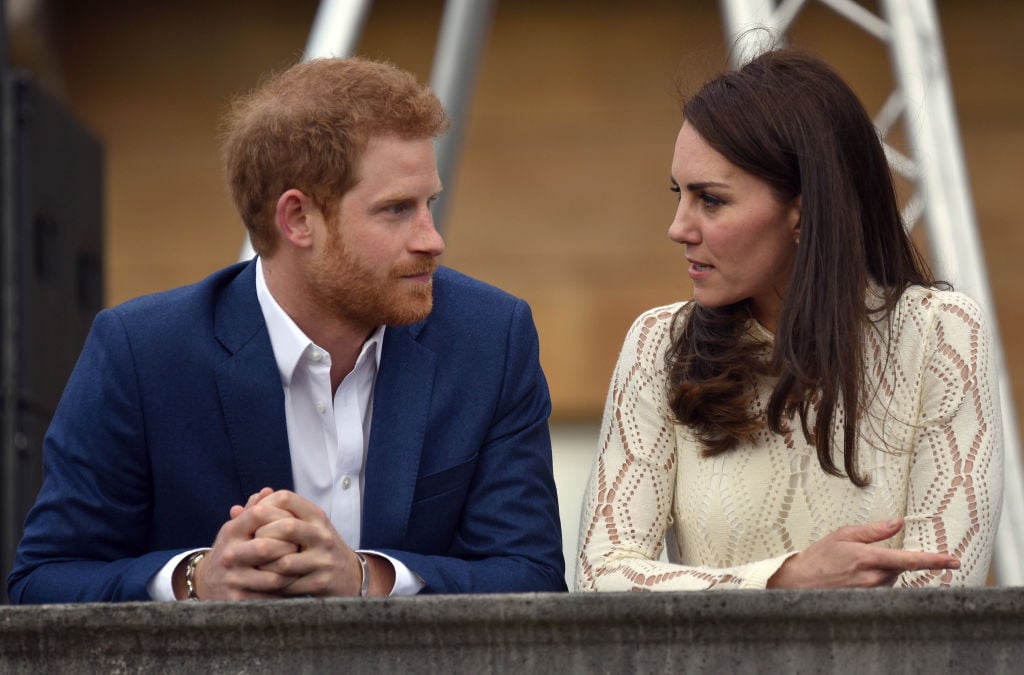 Prince Harry and Kate Middleton become fast friends
Kate Middleton did not become a part of the royal family until she tied the knot with William in 2011. The couple first met while attending college in the early 2000s, and once their relationship got serious, Middleton and Harry became good friends.
Prince Harry has joined Middleton for several royal events over the years and is often spotted having a good time with his sister-in-law. This includes appearances at Trooping the Colour and the Heads Together campaign.
While the two have not addressed the feud rumors, inside sources claim that their friendship started falling apart last year.
According to Express, sources say that Markle is at the heart of Prince Harry's fractured relationship with Kate Middleton. Trouble started because Harry felt as though Middleton was not being supportive of Markle, especially early in their relationship. Harry expected that to change after the engagement. When it did not, Harry allegedly met with Middleton and William and shared exactly how he felt.
Meghan Markle was reportedly present at the tense meeting but did not speak much. Despite Harry's emotions, Prince William and Kate Middleton told him that they adored Markle and were fully supportive of their union.
Are Prince Harry and Prince William feuding?
Rumors of a growing feud between Harry and William have been circulating for months. The reports heated up after Harry and Markle announced their plan to separate from the Royal Foundation and create a charity on their own. Harry and Markle had previously been a part of the Royal Foundation with William and Kate Middleton, and the brothers originally founded the organization in 2009.
The split came less than a year after the couples appeared on stage for the Royal Foundation, vowing to work together to improve the world. The foursome was dubbed the Fab Four after the appearance, a nickname that proved short-lived.
In addition to working with a different charity, Harry and Markle have also split houses from William and Middleton. The Duke and Duchess of Sussex have already hired top positions for their staff, all of whom will work completely separately from William and Middleton's staff.
The couple also moved out of Kensington Palace and have officially set up shop in Windsor at Frogmore Cottage. All of these developments have only added more fuel to feud rumors, and it does not help that the royal family is remaining silent on the issue.
Prince Harry and Kate Middleton walking different paths
Although most royal watchers would have loved to see the Cambridges and the Sussexes working together, this partnership would likely never have worked. Prince William and Kate Middleton, after all, are heading down completely different paths as Harry and Markle.
With William being second in line to the throne, his royal responsibilities and time in the spotlight will increase once Prince Charles takes the crown. Prince Harry and Meghan Markle, on the other hand, are looking to forge their own path and have goals they want to attain on their own. Harry, for instance, is working to raise awareness on climate change.
While Prince Harry's relationship with Kate Middleton is not what it used to be, the royal family will continue to maintain the status quo.
Fans can expect more public appearances for Kate Middleton and Meghan Markle — such as their most recent Wimbledon outing — even if the couples are at odds. Unless a member of the royal family says anything about the rumors, we probably will not know what is really going on behind the scenes.