Inside the Loss of 'Billions' and 'Homeland' Star Damian Lewis's Late Wife, Helen McCrory
On April 16, 2021, Billons and Homeland star Damian Lewis lost the love of his life, Helen McCrory. The near 14-year marriage outlasted many others in Hollywood. McCrory, who was 52 at the time, is best known for roles in Peaky Blinders (Aunt Polly), Harry Potter (Narcissa Malfoy), and Skyfall (Clair Dowar MP). Here's a look at their relationship and Lewis's touching words after McCrory's passing.
Damian Lewis and Helen McCrory married in 2007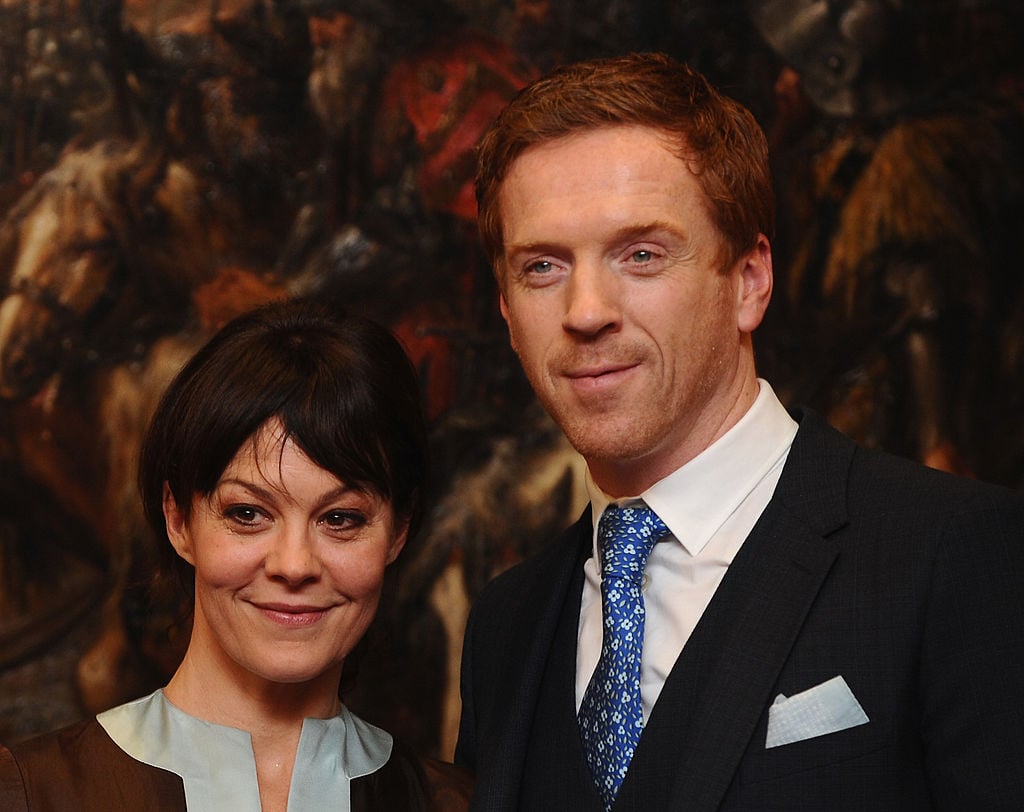 Lewis and McCrory's love story began in 2003 on the set of London's Five Gold Rings where they played illicit lovers. In the time after, they had two children together, Manon and Gulliver. Lewis' Homeland costar Claire Danes credited McCrory for Lewis's sense of humor off-camera.
While Lewis was working on his career, McCrory appeared in many projects, including Simon Beresford's debut, The Last of the Haussmanns at the National Theatre. Separately they both achieved some level of success, but Lewis previously joked about their relationship.
"It was actually a PR person's idea that we got together," Lewis said in a 2013 interview with Vogue. "She's a Scientologist and I'm a Mormon."
"We've managed to create our own cult," McCrory joked, proving how dynamic the two were together. They'd been drawn to one another from the moment they met. Director Michael Attenborough concurred.
"When we started rehearsals, I tried to talk to Helen about what it is to have an extra-marital affair, and she would say: 'But Gaby, it's hard for me to know what we are talking about. My marriage still feels like the first flush of a love affair,'" Attenborough told Vogue.
In 2007, the couple married in an intimate ceremony. The marriage weathered the distances when Lewis left for North Carolina to film Homeland. She stayed behind to care for their children admitting, "It's got to be a damn good offer to coax me away from them. Which is probably why the projects I've worked on since they were born to have been such interesting ones."
McCrory raised millions for NHS before her death
While McCrory secretly battled cancer, the pair worked together to raise $2.7 million for the UK's National Health Service (NHS), according to the Out to Lunch podcast.
"We raised over one-and-a-half-million pounds and by the end of it were feeding 40,000 meals a day to a hundred different hospitals across the UK," Lewis told host Jay Rayner. "I am very, very glad we did it and I am full of admiration for people who give their time working in the charity sector."
Lewis paid tribute to his late wife in April 2021
Lewis took to Twitter to announce McCrory's passing on April 16, 2021.
"I'm heartbroken to announce that after an heroic battle with cancer, the beautiful and mighty woman that is Helen McCrory has died peacefully at home, surrounded by a wave of love from friends and family," Lewis wrote. "She died as she lived. Fearlessly. God we love her and know how lucky we are to have had her in our lives. She blazed so brightly. Go now, Little One, into the air, and thank you."
And, while the message was received loud and clear, the Billions star elaborated in an emotional tribute via The Sunday Times.
"Many people have spoken about her career and many more will, so that's where I'll leave it, because it strikes me that two things are happening this weekend: an outpouring of grief and shock, and a celebration of Helen McCrory the actress from fans everywhere, and of Helen the person," Lewis said. "And that's who I want to talk about."
He continued: "Helen was an even more brilliant person than she was an actress. She was a people person, sure. 'I'm much more interested in who I'm with than where I am,' she would say, and innately wanted to share. But she also lived by the principle of kindness and generosity. That you put these things out into the world to make it better, to make people feel better."
Lewis described McCrory as "utterly heroic in her illness," as he continued. "Funny, of course — generous, brave, uncomplaining, constantly reminding us all of how lucky we've been, how blessed we are. Her generosity has extended to encouraging us three to live. Live fully, take opportunities, have adventures."
McCrory showed 'no fear' before her death, according to Lewis
The star added, "already I miss her," before further describing her as shining "more brightly in the last months than you would imagine even the brightest star could shine. In life, too, we had to rise to meet her. But her greatest and most exquisite act of bravery and generosity has been to 'normalise' her death. She's shown no fear, no bitterness, no self-pity, only armed us with the courage to go on and insisted that no one be sad, because she is happy."
McCrory was, as he said, their "meteor" in life. The tribute no doubt triggered tears and memories of who McCrory was and all she loved.
"I've never known anyone able to enjoy life as much," Lewis said. "Her ability to be in the present and enjoy the moment was inspirational. Nor was she interested in navel-gazing. No real interest in self- reflection; she believed in looking out, not in. Which is why she was able to turn her light so brightly on others."
As for their children, "They have in them the fearlessness, wit, curiosity, talent and beauty of their mother. She has exhorted us to be courageous and not afraid," Lewis said.
Lewis and McCrory were together until the end
Their love for one another is evident, to the very end. Attenborough — who watched their love blossom from the start — had one lingering thought about Lewis and McCrory's relationship, and the sentiment is even truer all these years later.
"To sustain a marriage in our world, you have to make very conscious and deliberate decisions," he said. "Both Damian and Helen are very sharp about holding on to the centre of their family and not letting go."