Inside the Rumored Feud Between Cardi B and Doja Cat
Is there are feud brewing between two of your favorite female rappers, Cardi B and Doja Cat? They have yet to confirm, but that hasn't stopped fans and media outlets from speculating. Let's take a closer look at the rumors and see what's really going on between these two artists.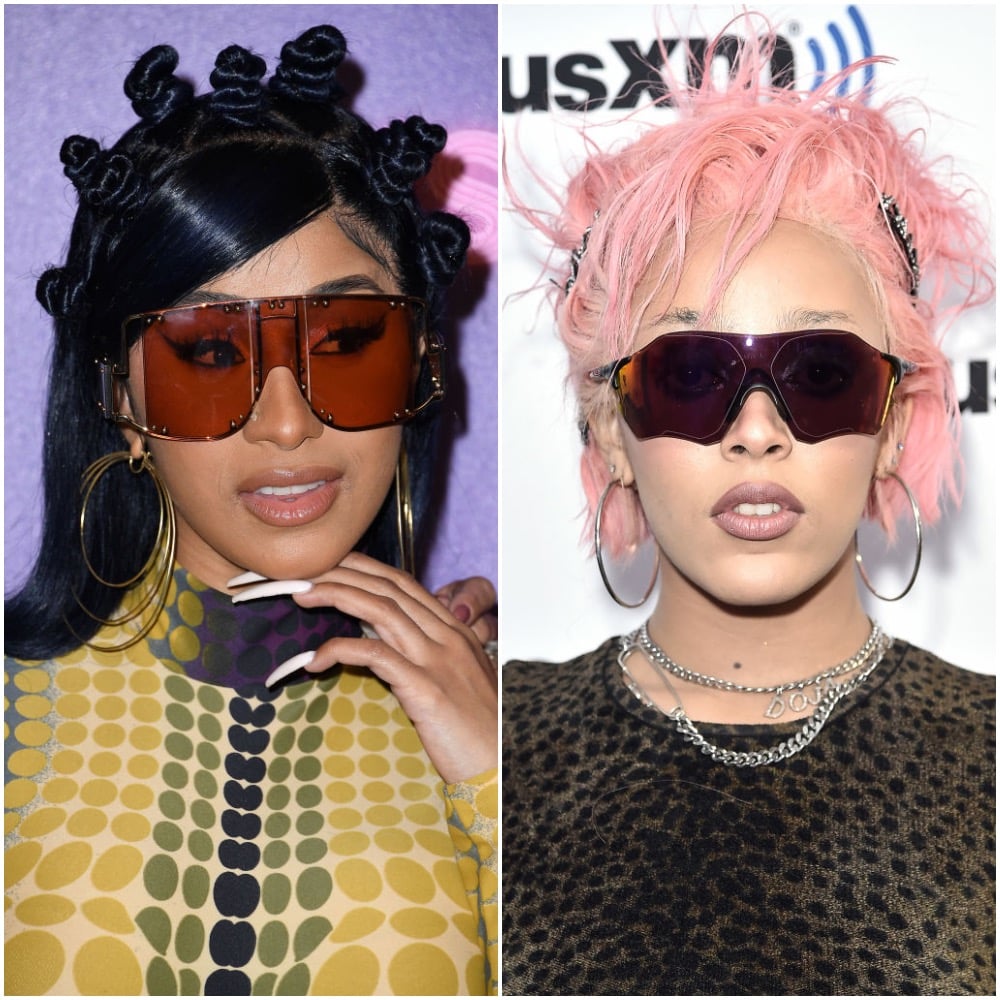 Unpacking Cardi B and Doja Cat's rumored beef
These two first sparked feud rumors in August when a clip of Doja Cat seemingly mocking Cardi B's song "Press" went viral online. The video triggered widespread backlash, including a comment from the "Bodak Yellow" rapper herself.
"Do anything for clout … Moo," Cardi B wrote in the comment section, taking a jab at Doja Cat and her viral cow-themed song, "Mooo!" 
Doja Cat later insisted in an interview with radio host Big Boy that she didn't mean any harm. She put the blame on an energy drink she consumed before the making of the video, saying that it made her "hyper."
"I'd never been that hyper, I think, in my entire life … I drank all of it in 10 minutes," she explained (via Complex). "And I was in the car, we were going to the zoo, and I was super excited, and I had the radio on, and then her song came on, and I was—like I do with myself and everybody else—I was making fun of the song. But it's a dope song. I acknowledged that, as well. And people edited out the parts where I was acknowledging that it was great."
Cardi B and Doja Cat had a conversation about the moment
In the same interview, Doja Cat mentioned that she had the chance to talk to Cardi B and explain what really happened.
"I spoke to Cardi and she was really sweet and understanding," Doja Cat continued. "She's a smart woman and I feel like she probably makes fun of her friends and other celebrities. That's just something you do when you're either hopped up on caffeine or lit."
Doja Cat continued to stress that things were cool between them. But despite her attempts to shut down the feud rumors, they've persisted.
In March, multiple outlets reported that Cardi B unfollowed Doja Cat on social media. Some have alleged that she's jealous of Doja Cat due to her rise in popularity, but the two have yet to address the rumors. We can't say with 100% certainty that they're true, but it would really suck to see yet another pair of femcees go at it.
Cardi B is also said to be feuding with another rising rapper
Doja Cat isn't the only female rapper some people think Cardi B has beef with. Some are also convinced that she's feuding with rising rapper Megan Thee Stallion.
They think Cardi B has ill feelings for the "Savage" rapper due to Megan Thee Stallion's close relationship with Nicki Minaj, who has a longstanding beef with Cardi B that peaked in September 2018 when the "MotorSport" rappers got into a brawl during New York Fashion Week.
However, Megan Thee Stallion told E! News' Daily Pop in August 2019 that she hasn't picked sides. She also suggested that she was a fan of the "I Like It" rapper, telling the hosts that she would "definitely" collaborate with Cardi B in the future.
Cardi B returned the apparent praise in an October 2019 interview on T.I.'s ExpediTIously podcast, during which she complimented Megan Thee Stallion on her voice and confidence.
Despite this, feud rumors have continued. But what else would you expect nowadays? Perhaps we'll see more from them in the future that will clear all of this up for once and for all.