Inside the Tragic Killing of Venus and Serena Williams' Sister
Serena Williams is synonymous with tennis. Both she and her sister Venus are highly acclaimed in the sport. The two also have eight brothers and sisters. One of which, Yetunde Price, was tragically killed in 2003. Here's a look inside at what happened and their special bond.
Venus and Serena Williams have 8 siblings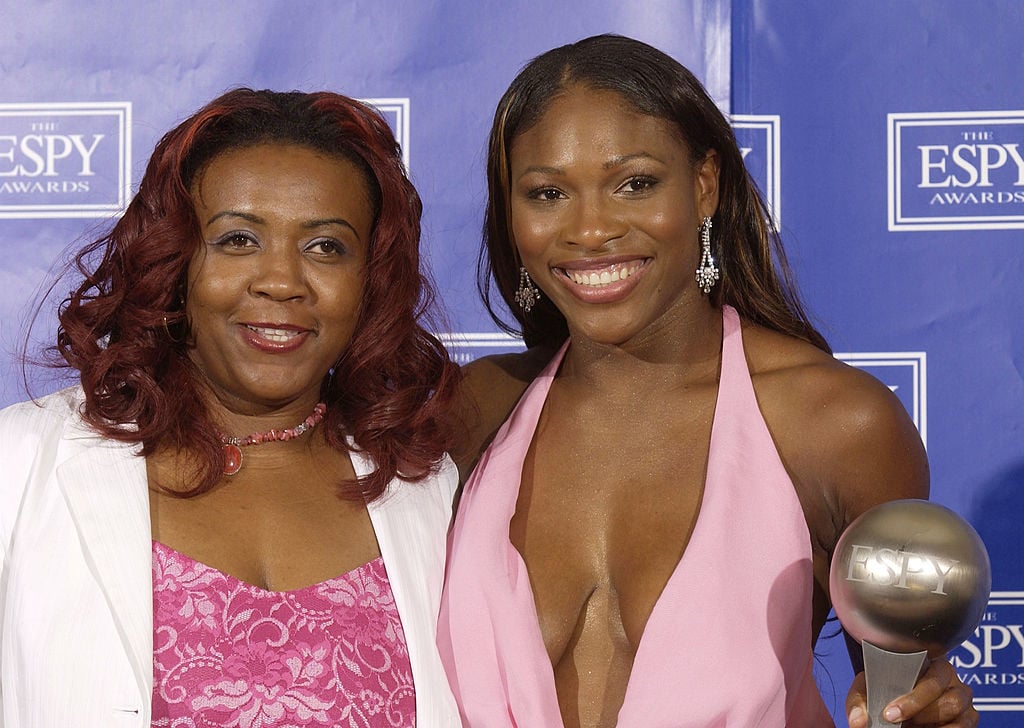 We may only hear about Venus and Serena in the news, but there are quite a few more siblings in the crew. Their mother, Oracene Price, gave birth to three other sisters Isha, Lyndrea, and Yetunde Price during her first marriage to Yusef Rasheed. Serena is the youngest of those five children.
Venus and Serena's father, Richard Williams, also had at least seven half-siblings for the tennis stars — three sons and two daughters from other relationships: Richard Williams III, Ronner Williams, Dylan Star Williams, Sabrina Deville, and Chavoita LeSane.
Price was a doting mother of three — Jeffrey, Justus, and Jair — a registered nurse, and a partial owner of a salon. On the side, she worked as a personal assistant to her famous Williams sisters which contributed to their close bond. Though Venus and Serena remain close with many of their siblings, it's the death of Price that took its toll.
The tragic death of Yetunde Price
On Sept. 14, 2003, Price and her boyfriend, Rolland Wormley, sat in their SUV in a Compton, California neighborhood when everything erupted in gunfire. Venus and Serena's older sister was shot in the back of the head. Wormley drove Price to his mother's house where she was later taken to a nearby hospital and pronounced dead.
"When Venus and Serena received the calls from all of us here, they were saying, 'Are you sure this is correct?' They couldn't believe it," a spokeswoman for the family told People at the time.
The outlet reported that Serena got the news as she filmed in Toronto and Venus heard during Fashion week in New York City. But in the hours and days to follow, many stories about what happened came to light. Investigators later learned a gunman fired on their SUV as they drove past a suspected drug house.
"I'm trying to get through this. I'm trying to get away, I'm trying to get her to safety," Wormley told the Los Angeles Times. "Once I get to Long Beach Boulevard, I see the back window is shattered. I look to the right and said, 'Baby, are you all right?' I look at [Price] and there was blood everywhere."
Robert Edward Maxfield, a member of Southside Crips, was not arrested for the crime until Jan. 2004 where he was charged with voluntary manslaughter in 2006 after two unsuccessful attempts to charge for murder. Maxfield pled no-contest. He was sentenced to 15 years in prison.
"No matter what, my sister is not coming back for good behavior," Serena said in an interview (per Marie Claire). "It's unfair that she'll never have an opportunity to hug me."
Serena grappled with news of Robert Edward Maxfield's parole just before a match
Serena attended Maxfield's hearings during his 2006 sentencing. In July 2018, Maxfield was released after serving 12 years for good behavior and credit for time already served. Serena told Time in 2018 she'd just learned that Maxfield had been released on parole.
"I couldn't shake it out of my mind," she said when talking about the match she lost to Johanna Konta. "It was hard because all I think about is her kids," she said. "and what they meant to me. And how much I love them."
Price's children were just 11, 9, and 5 at the time of her death.
"No matter what, my sister is not coming back for good behavior," she says. "It's unfair that she'll never have an opportunity to hug me. But also …" she pauses, the thought hanging in the air. "The Bible talks about forgiveness." Does she forgive the killer? "I'm not there yet," she said. "I would like to practice what I preach, and teach Olympia that as well and I want to forgive. I have to get there…I'll be there."
The sisters opened a resource center in Price's honor
Serena has since touched on the difficulty she and her family continue to have in the wake of this monumental loss. In 2016, Serena and Venus opened the Yetunde Price Resource Center near their childhood community.
"We definitely wanted to honor our sister's memory because she was a great sister, she was our oldest sister and obviously she meant a lot to us," Serena previously told The Root. "And it meant a lot to us, to myself and to Venus and my other sisters as well, Isha and Lyndrea, that we've been wanting to do something for years in memory of her, especially the way it happened, a violent crime."
She continued: "Basically, how does the family react? If her kids didn't have my mom and us, it could be really devastating," Serena said. "But we had such a great system that they're doing pretty good. We just felt like people that didn't have that opportunity to fall back on, what could they do? And that's kind of how this resource center came about."