Inside Vin Diesel's Relationship With Movie Mogul Steven Spielberg
Vin Diesel is among the most successful actors in Hollywood. Having been a part of the Fast and the Furious franchise since 2001, Diesel's fame continues to rise. The accomplished actor once caught the eye of famed director, Steven Spielberg, and in the time since, the two have developed a close-knit relationship.
Steven Spielberg recruited Vin Deisel after watching a video short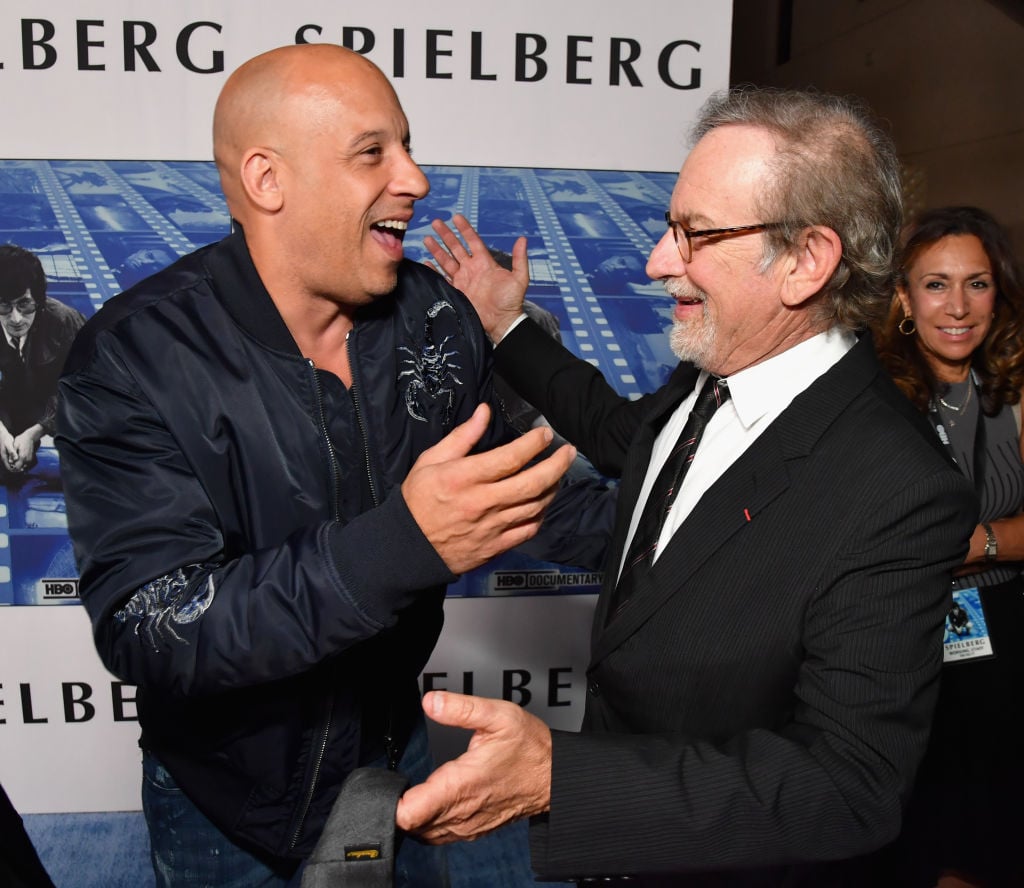 Despite having many film credits to his name now, Vin Diesel wasn't always on Hollywood's A-list. Long before the Fast and the Furious franchise films, Diesel was just another actor trying to find his place in the industry.
Back in 1995, the star wrote, directed, and starred in the short film Multi-Facial. The featurette caught the eye of movie mogul, Steven Spielberg. Whatever Spielberg saw in Diesel then is what prompted him to recruit the actor for a supporting role in his latest film at the time, Saving Private Ryan.
In the film, Diesel played Private Caparzo. From there, he picked up bigger projects such as The Chronicles of Riddick, and of course, the Fast franchise.
Over the years, the two have connected sporadically. Speilberg seems to be a mentor of sorts, bringing out the best in Diesel, as he's also done to others in the industry.
Spielberg recently encouraged Diesel to direct again
Though it's been a while since Diesel manned the helm behind the camera, it's Spielberg who's all forDiesel's return.
"Speaking of Steven Spielberg, I saw him recently, and he had said to me, 'When I wrote the role for you in Saving Private Ryan, I was obviously employing the actor, but I was also secretly championing the director in you, and you have not directed enough," he told The National. "
"That is a crime of cinema and you must get back in the directing chair. I haven't directed enough."
Spielberg's support may just be the thing to get Diesel to front his dream project.
Diesel has a vision of what project he'd like to direct
With Spielberg's blessing, Diesel admitted to the one project he'd love to direct — "a film about Hannibal Barca, the military general from Carthage who fought the Romans during the Second Punic War around 200 BC," the outlet reported.
"I haven't done it yet. As much as I am grateful for the accomplishments, there are moments when I go 'God, you promised the universe, very specifically, the Hannibal Barca trilogy, and you haven't delivered it," he said. "You traveled all over the world.'"
It's unclear if, or when Diesel will step behind the camera again but it's not a jump to say Spielberg will be a fan. For now, his latest project, Bloodshot, released to less than stellar box office numbers due to the coronavirus outbreak. Fast 9 has been pushed to April 2021 for the same reason.