Insomniac's 'Spider-Man 2': Venom Creeps into the First Trailer Reveal During Playstation Showcase
Nintendo has its Directs, and Sony has its PlayStation Showcase. Foreboding narration and a tense atmosphere set off fans' spider-senses in the newly revealed trailer for Insomniac's Spider-Man 2. It teased that a certain symbiote lurks in the shadows of this new game.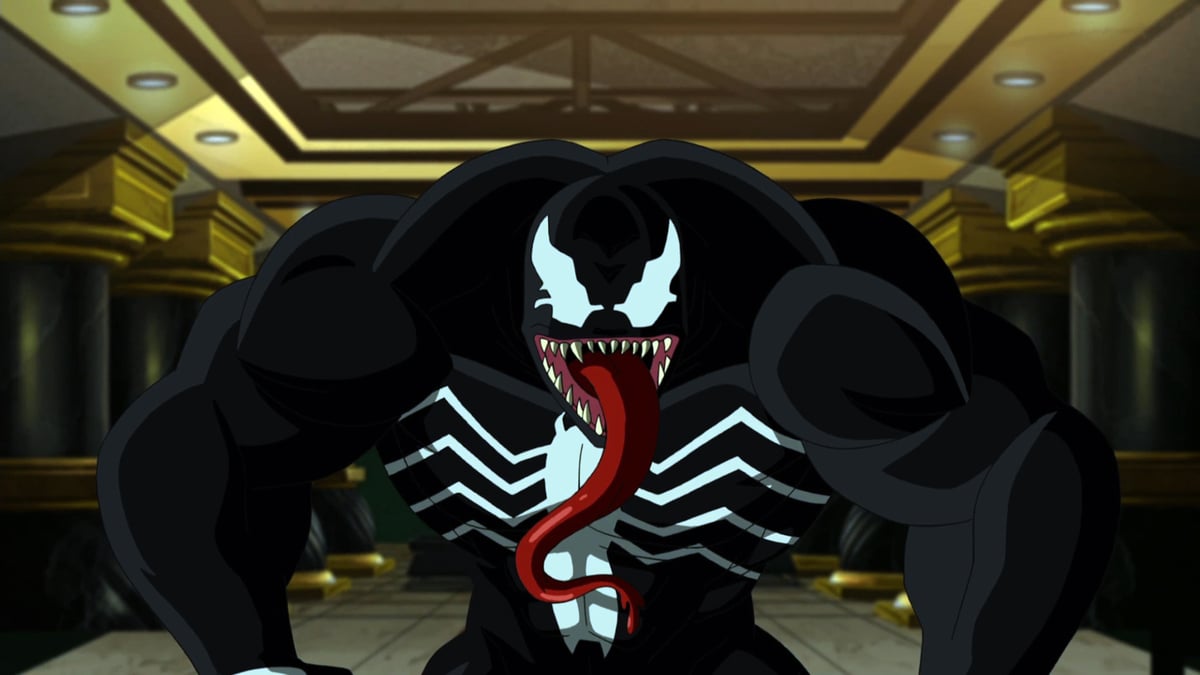 Venom creeps from the shadows to torment Peter Parker in Insomniac's 'Spider-Man 2'
The alien symbiote slinks back to his roots in the new game trailer. Dabbling in heroism without the Spider in Sony's Venom and Venom: Let There Be Carnage, he may return to his more villainous role.
Despite Insomniac's Spider-Man 2 title, this is actually the third entry in the series. The original Spider-Man, released in 2018, followed a veteran hero Peter Parker. The follow-up focused on Miles Morales, adding a shocking new move set to the young web-slinger.
The sequel looks to bring the two spider-people together. Fighting enemies in the streets together, Peter and Miles tag team enemies with their unique power sets.
All the while, an ominous narration looms over the trailer. Setting off their spider senses, Peter and Miles turn to a dark alleyway.
ComicBook reports Tony Todd's crackling voice using the pronoun "we." It cued in fans immediately. Venom is on his way.
Will Venom help or hinder the case in Insomniac's 'Spider-Man 2'?
The first instinct to Venom's reveal in Insomniac's Spider-Man 2 trailer is to assume that he's the big bad.
However, listening to the narration, things likely are not black and white — ironically.
The voice-over states that they desire an equal. Searching for an opponent to not only fight them but even match them. It considers Peter Parker and Miles Morales and then pleads for one of them to prove their strength.
However, Venom responds to this plea.
While it is uncertain who the narration belongs to (based on the accent and desire for an 'equal' may indicate Kraven the Hunter), Venom's response does not indicate an intention to team up with the narrator.
With the game so far off, planned for a 2023 release, Venom's role in the story could lean either direction. Could fans see a spiteful, revenge-driven enemy, or could the symbiote help the player?
Who knows, Venom might offer a third playable character to Insomniac's Spider-Man 2.
The Playstation Showcase toted 15 upcoming games
The September Showcase packed a lot of information into 40 minutes.
Out of the 15 games showcased, with heavy-hitters like God of War: Ragnarok and Gran Turismo 7, three spots were filled by marvel games alone.
Insomniac's Spider-Man 2 is not the only property being developed for the Crash Bandicoot company. Insomniac's Wolverine was also announced, though it did not receive a release date. The third was Marvel's Guardians of the Galaxy.
While still very early in development, Insomniac's Spider-Man 2 looks to be a huge new character for both Peter and Miles. New friends, new foes, and the possibility of multiple playable characters makes it a thrilling time to be a Spider-Man fan.
Venom slithers onto Playstation 5 in 2023, undoubtedly with more updates on the way.