Interview: 'Love & Hip Hop' Star Peter Gunz Talks Why He's The Best Host For 'Cheaters,' Acting, and His New Book
If you ask Peter Gunz what he thinks about Love & Hip Hop viewers' perception of him, he'll tell you flat out that he doesn't care. He's heard it all – that he's a womanizer, a manipulator, and he's selfish. It's not that he does not care about the mistakes he's made, but instead of worrying about fans' concerns over a love triangle that ended over three years ago, he's taken a step back to analyze his past mistakes and ensure he does better moving forward.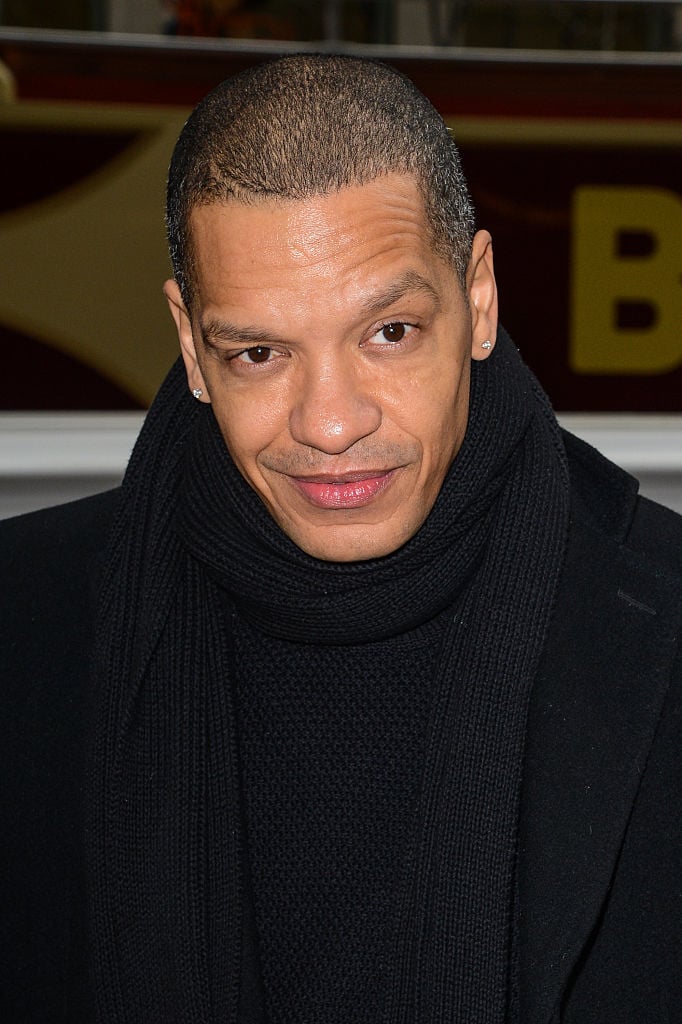 Nowadays, Peter's attention is on his children versus managing multiple romantic relationships. In fact, When Showbiz interviewed him on a video call, Peter was relaxing at his Dallas home poolside with four of his children. He apologized for the kids making noise in the background during our chat but assured us that it was part of his normal routine.
Peter is in Dallas as he completes his duties as host of the first revamped version of Cheaters. For the past few years, he has been working to diversify his resume with acting, getting back to music, and finally rid himself of the persona he's been stuck with since his time on Love & Hip Hop.
We spoke to Peter on his new hosting gig, acting roles, community involvement, and his quest to show the real Peter Pankey. 
Fans found it ironic that Peter was the new host of 'Cheaters' because of his cheating past but Peter says his experiences make him the perfect host
The social media backlash regarding Peter hosting Cheaters was swift. While many laughed at the irony, others were completely outraged. Peter understands the confusion and some being upset but says that overall, this gig is something he can do well because of his own experience.
Related: Former 'Love & Hip Hop' Star, Peter Gunz, Is The New Host Of This Show
Most people that followed my story on Love & Hip Hop' would say I have the audacity to take this job but I'm a good fit. You want someone in this role who has been down a similar road. Though I'm not proud of my reputation because of certain decisions I've made, I know that I am a draw because of what people have seen.
Peter jokes that if there's anyone who can bring good ratings, it's him. More importantly, he brings a different element to the show as a host.
He makes history as the first African American host of the show in its 20-year history. As to how he'll manage any potential crazy outcomes of the show from the participants, he says more than anything, he will lead with empathy.
"I'm sympathetic to those who get caught and those who are heartbroken over the discovery. My goal is not to break up a happy home, but instead to help the couples decide if they can work things out or maybe separation is best," he explained. 
Peter knows a thing or two about cameras documenting someone getting caught cheating but insists 'Love & Hip Hop' viewers only know a small portion of his life
For four seasons, Love & Hip Hop fans watched the love triangle between Peter and his longtime girlfriend Tara Wallace – and his wife Amina Buddafly.
Peter and Wallace were together for 13 years before he secretly married Amina, causing an almost never-ending cycle of breakups to makeups between him with both women and children born between the relationships. Despite the craziness, Peter says he knew what he signed up for.
Related: Former 'Love & Hip Hop' Star Peter Gunz Argues On Instagram Over His Ex-Wife Amina Buddafly
"I hate when people don't use their common sense and say I was busted for cheating. I knew going into the show that I had another relationship," he said.
But knowing that it would be discovered that he was unfaithful and witnessing the pain he would cause two women he loved are two different things.
"I understand the hurt and embarrassment and it's something that I'll regret for the rest of my life," he said. "I am not proud of how I looked on the show but you live and you learn."
Peter promises the drama outcome viewers witnessed is not what he intended. He saw the show as an opportunity to further the careers of all three: Tara's career as an actress, Amina's career as a singer, and assist him as well. Though the exposure helped some, the narrative for Peter remained the same throughout his time on the series. 
One of the goals of 'Love & Hip Hop' for Peter was showcasing his musical talents. Unfortunately, fans were not receptive due to his love triangle
Peter and Amina were not only married, but they made beautiful music together. In Showbiz's interview with Amina, she admitted that Peter was one of the best artists she'd ever worked with. Though Peter did release music during his time on the show, it was not well-received.
Before becoming a rapper, Peter was a musician. His father brought him a drum set when he was six-years-old. Years later, he discovered Prince and was inspired by Prince writing, producing and composing all of his music and set out to do that same.
Peter later learned to play guitar. Growing up in the Bronx when hip hop first began to gain popularity, he became immersed in the hip hop world. He was hoping to show the full scope of his artistry on the show.
"I gave the show music but people hated me so much, they hated my persona," he explained. "Music didn't match my narrative on the show and fans wouldn't give me a chance."
Peter has not allowed the perception of him from the show put an end to his musical aspirations
Despite his music not going very far from his platform on the show, Peter revealed that he's back on the show and taking control. He has no interest in working with a record label and giving up rights to his publishing as he's done in the past, but he is back in the studio and has several projects in the works – one of which is with his son and fellow rapper, Cory Gunz.
"I am doing a mixtape with my son Cory – we are calling it 2 Gunz Up," he exclaimed. "It's 10 songs and the vibe is old school versus new school. Cory will be rhyming over new beats and I will be rhyming over old beats. The mixtape should drop this summer."
Peter also continued to produce music for other artists. 
Outside of music, Peter is using his platform for the betterment of his community 
Peter's music wasn't the only thing omitted from Love & Hip Hop, he's proven to be quite the community activist. Peter has an initiative called Gunz Against Guns, which is dedicated to getting guns off of the street.
"I go to Rikers Island once a month. I also go to different schools and talk to kids about the consequences of carrying guns," Peter explained. "I am a felon and a victim of the system and I know what it's like to carry a felony around for the rest of your life. I want to prevent others from having the burden."
Peter said that Love & Hip Hop cameras did follow him doing work for Gunz Against Gunz but never showed it on the show. Now, he's using his social media and other avenues to push his community work forward. He also posts about various forms of injustice to his social media almost daily.
Now that 'Love & Hip Hop' is over, Peter is looking forward to other business and entertainment opportunities, including venturing into acting and opening his own businesses
Thanks to his manager Ken Hamilton, Peter says he's expanding his portfolio to include acting. He's committed to taking on roles that are closely related to his life's experiences.
"I wrote my own film called that I've titled The Militian. It's about my son Cory and his friends and the trials and tribulations they've experienced in the Bronx," Peter revealed.
He's had a few starring roles in plays and film. "Ken [Hamilton] wrote a play that I acted in about a kid torn between rap and the streets and that was something that moved me. I also did a small part in a film called Asbury Park that should be out soon and I am anxious for more roles."
Peter's hopes to give fans a full perspective of his life in his upcoming memoir
Though he is not concerned with people's perceptions of him, Peter does want to showcase who he is in his entirety and not just what's been shown on an ensemble reality series. He plans to tell his story in an upcoming memoir that will chronicle his upbringing and link his mistakes to childhood trauma.
"In no way will I use my childhood or witnessing men in my life be unfaithful as an excuse for the behaviors that I took part in as an adult, but my background will give insight into some of the decisions I made," he said. I am not trying to change anyone's mind about me but people have to understand that you've only seen me for 15 minutes compiled on an hour series and if all you see if fuckery, then, of course, that's the perception."
If anything, Peter wants his book to serve an example to who matters most, his children. "They are the ones I have to explain myself to and when that day comes, I'm prepared to do so."