Interview: 'Love & Marriage: Huntsville's' Melody Holt Says No Marital Issues With Martell Will Slow Her Down
Melody Holt has been the breakout star of OWN's Love & Marriage: Huntsville. The 34-year-old Alabama beauty has been an open book, allowing viewers into her world as she navigated marriage after infidelity. She also faced discord within her friendship circle with her former business partners, leaving her to step away from their business in order to regroup. Through it all, she kept pushing forward.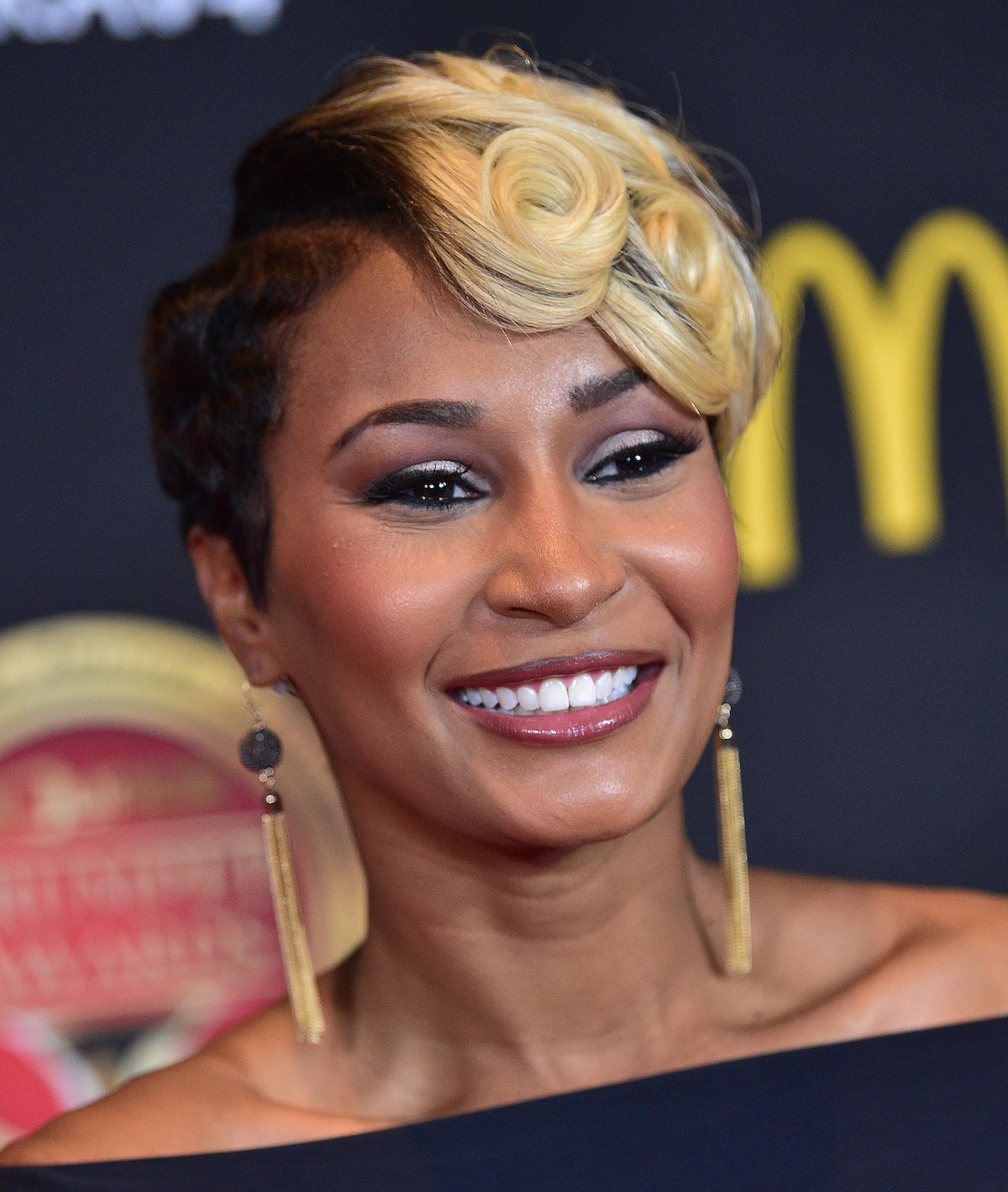 But Melody isn't your average reality star and her impressive resume proves such. The astute businesswoman is a former educator who retired from teaching by the age of 25. She transitioned into the real estate industry, first starting out providing landscaping services with her husband, Martell. Within three years, their business expanded to include building custom homes and developing neighborhoods, earning them profits in the millions.
Melody is the brainchild behind Love & Marriage: Huntsville. She had the vision to showcase the progress in Huntsville and the various projects she and Martell were involved in. After a consultation with reality television guru Carlos King, Melody spent the next few years reworking a concept for the show before being offered a spot with OWN.
With its second season set to premiere on July 11, Melody is excited for fans to see what she calls "Melody Reloaded." Never one to let life's turmoil slow her down, the mommy of four is branching out into a variety of other entertainment avenues, starting new businesses, and setting boundaries within her relationships on the show.
Showbiz spoke to Melody about dealing with her marital issues publicly, pressing forward with a smile in spite of personal trouble, and what her future looks like with or without Martell.
Melody Holt says she was blindsided by Martell's affair and opted to try and make things work because infidelity was the first major issue in their marriage
Melody and Martell truly embodied the idea of two becoming one. Aside from creating a family and sharing a home, they took things a step further by going into business together. They built their multi-million dollar business, Holt & Holt, from the ground up.
As their business grew and their family expanded, Melody says the love and intimacy she and Martell shared also continued to blossom, making the revelation of Martell's affair a huge blow.
"We were still intimate, holding hands, going on vacation, cuddling in bed, and watching movies together," she explained. "None of that was really lacking. Which is why when I discovered he was cheating, it was such a shock. It was devastating."
The couple had been married for nine years and were the parents of three when Melody found out about the infidelity. Though it was heartbreaking for her, ending the marriage was not her first thought.
We have a foundation and we grew up together. We built something from nothing and having a family and a business together, it wasn't like, 'Let's just walk away.' Some people think that way but the majority of the time, when it hits you, you're going to try to figure it out and hope for the best. I wanted to make sure that I exhausted my efforts before throwing in the towel. For me, if it's that easy to walk away, that means my marriage didn't mean anything to begin with. He was also apologetic and insisted it would not happen again.
Melody Holt says the only thing she regrets regarding how she handled Martell's infidelity was not moving out of their home sooner
Melody admitted on the show that months after learning of Martell's affair, she moved out of their home and into her own place with their children. Looking back, she wishes she would have moved out sooner. She also believes that their road to reconciliation should have been a lot longer.
"I moved out at the end of 2017 but I found out that Martell was cheating in March 2017. Though I am happy that I ultimately moved out, I should have moved out when I initially found out – versus allowing other issues to build up," she said.
"We never legally separated and I allowed him to come back pretty early. To be honest, he practically moved in with us after just a few months of separation. I let his promises sway me. I would have definitely taken my time," she continued.
Melody Holt says she doesn't believe in deal breakers
Fans may recall the debut episode of Love & Marriage: Huntsville where Melody sparked a discussion on deal breakers within a marriage. At the time, she revealed to her friends that infidelity was a deal-breaker for her, specifically if infidelity continued to occur within her marriage. Now, Melody's idea of deal-breakers has evolved.
"I don't believe there is a deal-breaker per se because everyone's situation is different. So I wouldn't want to label one" she said. "Sometimes, a person doesn't know exactly what their deal-breaker is until it happens to them. I remember telling Martell at the beginning of our marriage, 'If you cheat on me, I'm out.' But once it happened, there were a lot of factors to consider."
The Holts reconciled after the infidelity and became pregnant but Melody received backlash after discovering Martell was still in communication with his mistress; Melody says the pregnancy was a blessing
Things were going great for The Holts after they took the time to work on their marriage. Melody says their life was returning to a sense of normalcy. As a couple, that they were back on the right track – or so she was led to believe.
She discovered Martell was still in communication with his former mistress and in the midst of her contemplating divorce, she discovered she was pregnant with their fourth child.
Though the timing of the pregnancy was not ideal, there was no doubt that Melody was having her child. Martell was also excited, hoping a new baby would bring he and Melody closer together. But Melody knew that Martell was putting too much emphasis on a baby being the key to reconciliation.
"I was confused about the backlash from viewers because I made it clear on the show and in interviews that having a baby would not keep a man, and Martell is my husband and I said that," she explained. "The simple answer is that I thought we were in a great space and obviously, we were being intimate and I became pregnant."
Still, Melody says her pregnancy gave her a new focus. Instead of honing in on her issues with Martell, Melody turned her attention to ensuring she had a healthy and peaceful pregnancy. Their daughter, Malani Simone Holt, was born in December 2019.
"My pregnancy with Malani was an absolute blessing. I say that she's God's special blessing to me because she became that big ray of sunshine that I needed in the midst of a storm," she beamed.
The Holts have fans speculating on the state of their marriage and Melody says everything will unfold in season 2
After having Malani, the Holts appeared to be at their peak. But recently, there have been several hints that The Holts are no longer together, though they are still legally married. Both have wiped their social media pages clean of one another and have unfollowed each other on Instagram.
Melody has been spotted without her wedding ring and has also posted several cryptic messages. She participated in Megan Thee Stallion's "Savage" challenge, which many assumed was a shot at Martell. She also posted a hilarious TikTok video of her imitating a Barbie doll who discovers Ken has been cheating on her with a Bratz doll.
Related: 'Love & Marriage: Huntsville's' Melody Holt Seemingly Confirms Her Split With Martell
Melody is now rumored to have moved to Atlanta with her children. While she remains mum on all rumors, she promises everything will be answered in the upcoming season.
Melody Holt says season 2 of 'Love & Marriage: Huntsville' will show her shining in a league of her own
The trailer for the upcoming season of Love & Marriage: Huntsville is a continuation of where the Holts left off last season. Melody will be the first star of a reality series on OWN to have a baby special. There are also clips of her and Martell in marital therapy. But, Melody is working nonstop to make all of her dreams a reality.
"After having Malani, I got right back to work and managing my businesses. I have a new skincare line that viewers will see launched on the show and I am also getting back to some of the creative arts that I love," she explained.
Melody has been working with an acting coach and has already landed a role in a play. A talented singer and musician, she's also working on new music.
As far as her relationship with her former business partners and friends, Melody did provide some insight into how things are currently.
"Kimmie and I are in a great place. We realized that we should have never been in conflict with one another. She was trying to defend family but had no idea what the issues between myself and Tisha were until she took a step back and analyzed for herself," she said.
Unfortunately, the trailer shows that things are still tense between Tisha and Melody. Last season, the two got into a war of words after Tisha continued to make comments about Melody's marriage. When Melody insinuated that Tisha's husband may have also been unfaithful, things went from bad to worse.
But Melody is asking that viewers not count out a potential breakthrough between the two, saying, "The trailer does show that there is still some tension, but just watch and see. You never know."
Melody Holt wants viewers to be inspired to "boss up"
One of the questions that Melody's fans always asks is, "How do you do it all, especially with everything that you're going through?"
For Melody, the answer is simple: you just do. It baffles her that viewers are amazed that she's not in a depressive state over the cards she's been dealt.
"What I want people to get from this season, from me, is the idea of never stopping. Whether you are pregnant or going through marital issues, it doesn't matter," she professed. "I have a can't stop, won't stop attitude. Nothing or no one will ever hinder me from my God-given purpose."
The second season of Love & Marriage: Huntsville premieres on OWN on July 11 at 8 PM EST.