'Inventing Anna': Neff Davis Fires Back at Haters on Instagram About a Hotel Concierge's Job
Since all nine episodes of Inventing Anna dropped to Netflix, the real Neff Davis has received excessive hate from viewers on social media. Alexis Floyd portrayed Davis as the concierge at the fictional 12 George luxury hotel in the Shondaland series. The fake German heiress, Anna Delvey (portrayed by Julia Garner), dropped $100 bills on the concierge desk, and Neff Davis did anything she asked. Viewers took to social media to criticize how quickly Neff "jumped" at Anna's beck-and-call in the series. However, the real-life Neff Davis schooled followers about a concierge's job when she fired back at haters on social media.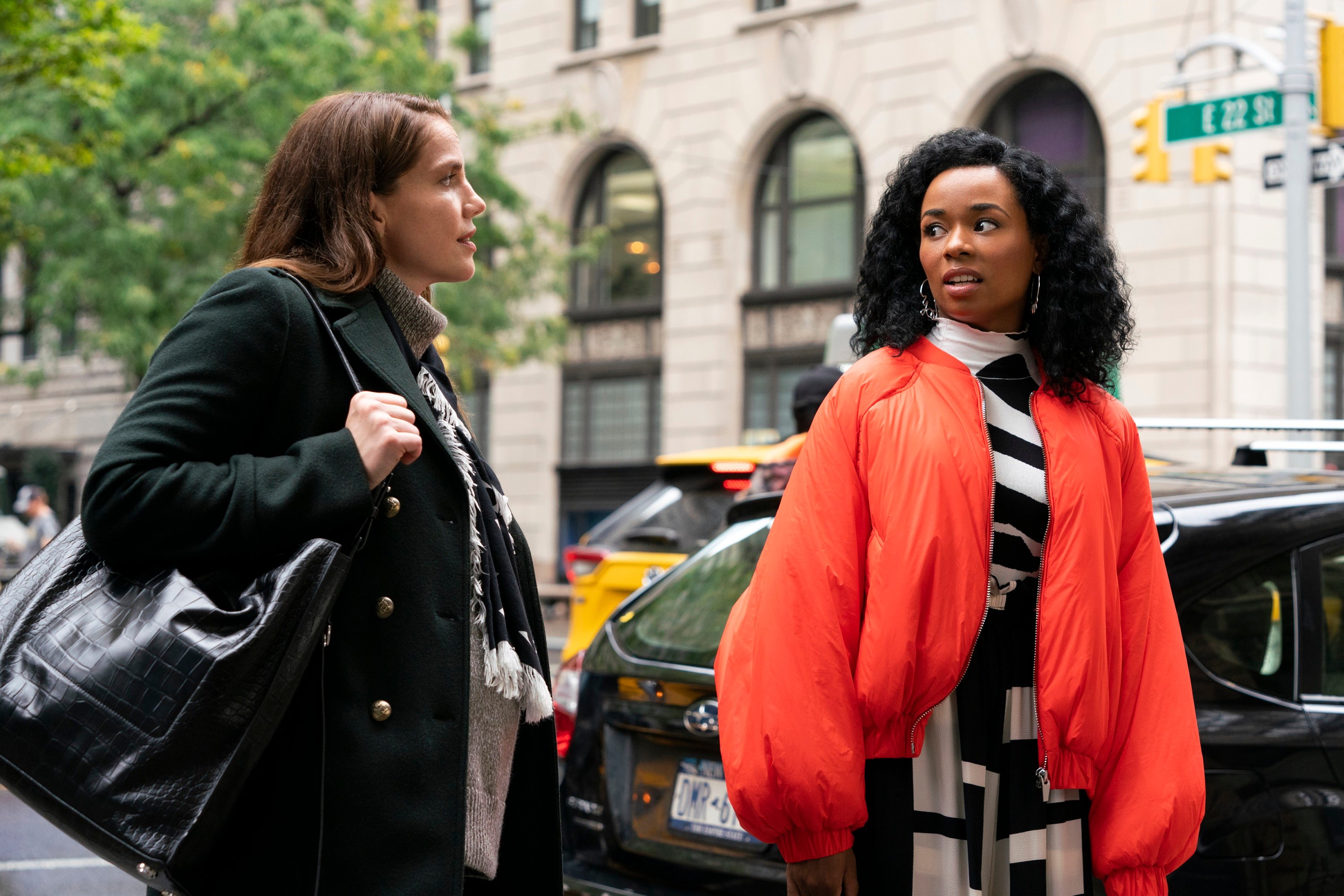 The real-life Neff Davis shared hateful comments after 'Inventing Anna' dropped to Netflix
Neff Davis consulted with Shonda Rhimes on the Netflix series, Inventing Anna, to help the production portray real-life events from Anna Delvey's life. However, the show still opens with, "This whole story is completely true. Except for all the parts that are totally made up."
Despite the disclaimer, viewers still get angry with Neff's actions in Inventing Anna and confuse them with real life. Davis shared several messages and social media comments that she received from fans of the series after it dropped to Netflix.
"I am sick that this Black girl neff was going so hard for Anna.. loser lol," Scottie Beam wrote on Twitter.
"It was messed up of that white girl to say Anna bought Neff, but she like… kinda did," Neff shared another comment she received. "She threw down money, and homegirl said 'sure how high do I jump.'"
However, Davis does not let the comments go without responding.
Neff Davis responded to haters on social media about a concierge's job
In an Instagram Story, Davis explained to her followers on social media what a concierge position entails at a luxury hotel. She worked at the 11 Howard in Soho, which became the 12 George for the Inventing Anna Netflix series.
"I didn't just 'jump' for Anna," Davis explained. "We had tons of celebs that stayed at 11 Howard. When you're a concierge, you jump for everyone. But you damn sure jump for the big money guest."
Then Davis added an example of when Sharon Stone came to the 11 Howard.
"When Sharon Stone stayed at 11H, she just wanted a room with a bathtub," Davis added. "I already had clocked out, and I still made sure she was comfortable for the night. We were sold out of accessible rooms, so she left the next day. Still tipped me 100 dollars for jumping and trying my hardest to find a room available. Because in hospitality, we jump."
Lastly, Davis told followers to take a trip to a luxurious hotel and take note of what the concierge does.
"Y'all so use to staying at the Holiday Inn you never even been to a hotel that has hospitality like 11H or other luxury hotels," she continued. "Take a trip and book a hotel that's boutique or luxury and watch how that concierge jumps for you. Little miss know it all. 
Davis thinks the hate comes from viewers blurring fiction with reality
In an interview with Vanity Fair, Davis explained that Netflix and Shondaland "made up a lot of stuff to kind of speed up [the timeline]." She no longer worked at 11 Howard when Jessica Pressler contacted Davis for the New York Magazine article. Davis cautions viewers about believing everything that happened in the show is true to life.
"I think that's a lot of the reason why I'm getting so much hate on Twitter and Instagram because they think that I really went to Rachel and was like, let's go to Rikers together," she told Vanity Fair. "No, baby, it's a show. That never happened. That's why Shonda says in the show, 'everything is real, except for everything that's totally made up.' But you know, with my character having my same name, it's hard to separate the fantasy from real."
By the time Pressler tracked Davis down, the concierge was working as a manager at a Starbucks. She was "so tired of being in Soho and dealing with rude guests."
The bottom line is that although Davis "jumped" for Delvey in Inventing Anna, that is the duty of a concierge at a luxury hotel. Additionally, not everything that happened in the Netflix series is true. Hopefully, viewers will find out more about the real-life Neff Davis in the upcoming Inventing Anna The Official Podcast.
All nine one-hour-long episodes of Inventing Anna are currently available for streaming on Netflix.