Is Allen Iverson Still Married To Tawanna Iverson?
Allen Iverson may be one of the greatest NBA stars to ever play the game but if you ask him, he's nothing without his longtime love, Tawanna Iverson.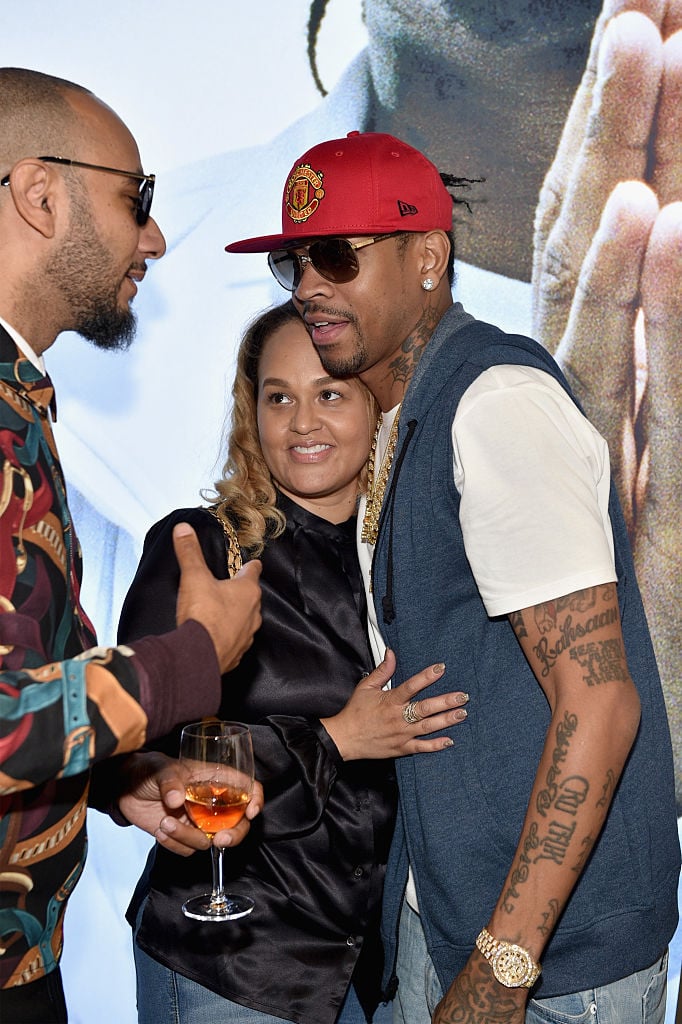 The two were high school sweethearts who tackled the world of basketball together. They've had highs and lows like most couples and divorced in 2013, but did they ever reconcile and take a trip back down the aisle? From the looks of Allen's Instagram account, it's possible that they remarried.
Allen Iverson and Tawanna Iverson's relationship 
Allen and Tawanna met when they were both 16-years-old while attending rival high schools in their hometown of  Virginia. The two had vastly different interests. Allen was a basketball and football prodigy and viewed as a "bad boy" – while Tawanna was the classic "nice girl" who spent her time in student government leadership roles.
Though they had opposite personalities, they had an instant connection. They had their first child in their late teens and she stayed strong through a prison sentence that almost cost Allen his future. Tawanna was by his side when he was drafted by the Philadelphia 76ers.
After ten years of dating and two children, Allen and Tawanna wed at a mansion in Voorhees, New Jersey in 2001. 
They have five children in total: Tiaura, Isaiah, Allen II, Messiah Lauren and Dream Alijha.
Tawanna Iverson files paperwork to divorce Allen Iverson 
There were signs of trouble early on. Just a year into the marriage, police say Allen kicked his wife out of their home during a fight while she was unclothed. He allegedly hunted her down and found her at a relative's home. A report revealed that he barged into her relatives' home with an illegal gun tucked into his waistband. The gun allegations were never proven and the case was dismissed. Allen denied that anything had ever taken place and that it was a simple domestic dispute blown out of proportion. 
Allen was also accused of infidelity throughout their marriage. Rapper Nas' ex and baby mama, Carmen Bryant, recalled their alleged affair in her book, It's No Secret.
Tawanna filed to divorce Allen twice. The first was in 2009. According to the New York Post, Allen begged her to withdraw the filing. She did but refiled for divorce within months. 
Are Allen Iverson and Tawanna Iverson still married? 
The divorce was difficult. Allen was accused of drinking heavily, gambling and blowing through his NBA fortune, which he later admitted. Tawanna claimed she had to sell valuable items of theirs to pay their children's school tuition. 
Tawanna also claimed that Allen stopped paying child support and accused him of being a serial cheater. According to Complex Magazine, at one point during the proceedings, she requested a list and the phone numbers of every woman he cheated with during their marriage. 
Allen blamed the fast NBA lifestyle for his marital and family issues. 
"You know this lifestyle," he said. "You're never home. You never get a chance to be a 24/7 daddy."
When the divorce was finalized in 2013, Tawanna walked away with a $3 million settlement. But according to Allen, despite being legally divorced, they reconciled almost immediately after the paperwork was complete.
"I've been through a divorce three years ago, we were back together not even a month after the divorce, and I had to realize, basically, she was trying to get my attention any way she could," he told NBC Sports Philadelphia in 2016. "She was at the end of the rope. There's nothing else I can do but show him how serious I am. So I'm so much more dedicated to my girl and I'm there for my kids more than I was ever there."
Since their reconciliation, the couple have focused on raising their children and rebuilding. They've lived primarily in North Carolina and Georgia since he stopped playing basketball, which Allen says have made him a lot more "settled."
Despite their ups and downs, Allen has never hid his feelings for Tawanna. During his 2016 Hall of Fame Induction speech, he tearfully praised Tawanna. 
"My number one person in the world…Um, hands down. Tawanna Iverson," he said. "Twenty-four years. Ups. Downs. But real love….Thank you for loving me the way you do. And caring about what type of person I am and what type of person that I need to be to set an example for our babies."
While it's unclear if Allen and Tawanna ever remarried, they are still very much a couple. He recently shared a photo on his Instagram account celebrating Tawanna's 44th birthday.