Will (Will Smith) and Carlton Banks (Alfonso Ribeiro) attended Bel-Air Academy preparatory school near the Banks' Los Angeles mansion. The cousins both played basketball at the uniform-mandated academy, eventually leading to a heated rivalry when Will quickly became the star of the team. Reimagined Peacock drama TV series, Bel-Air, takes a spin on this as Carlton plays lacrosse at the school instead but gets upset after discovering his family skipped his match to attend Will's game. As the '90s sitcom remains popular, actor Will Smith began selling Bel-Air merchandise in 2019, highlighting his time as a star athlete at the school. Is the Bel-Air Academy real?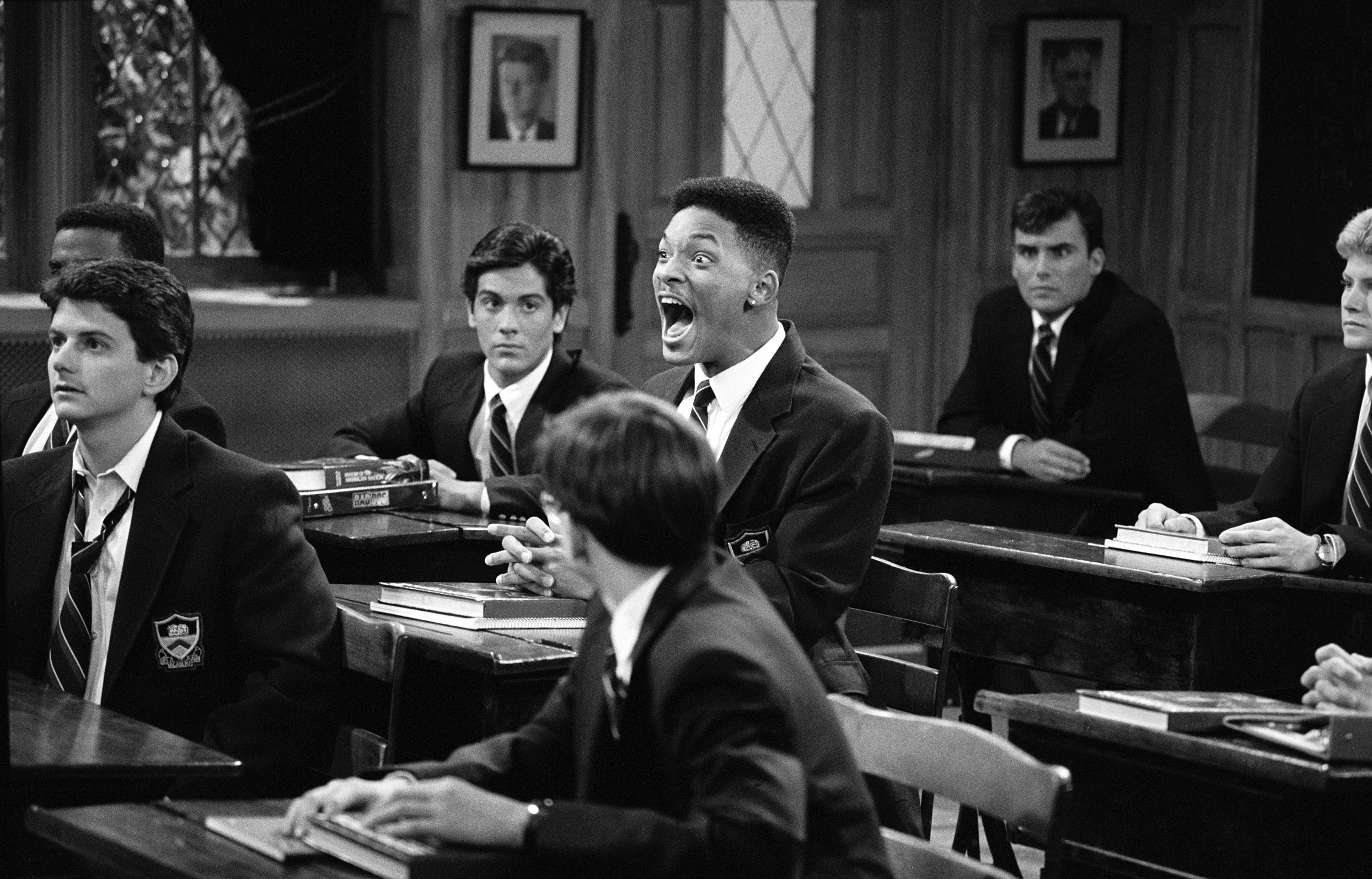 Is Bel-Air Academy really a school?
While there is a Bel Air High School and Bel Air Academy apartments located in Bel Air, Harford County, Maryland, it isn't the private school that Will Smith and Carlton Banks attend in Fresh Prince of Bel-Air and the reimagined Bel-Air.
RELATED: 'Bel-Air' Cast and Characters: A Complete Rundown
Bel-Air Academy doesn't exist as the '90s sitcom filmed in a Hollywood studio, and the 2022 drama is filmed in Burbank, California. 
Bel-Air Academy history in 'Fresh Prince of Bel-Air'
Located near the Banks' mansion in LA, Bel-Air Academy is the preparatory school that Carlton (Alfonso Ribeiro) and Will (Will Smith) attend.
Originally a boy's school, it has since integrated, and Ashley (Tatyana Ali) also began attending school there.
At one point, Aunt Vivian (Janet Hubert) taught a Black history class at the academy.
Memorable characters from the school include classmates Chad Hunt (Michael Landes) and Kellogg Lieberbaum (Michael Weiner), headmaster Wallace Thorvald (Bill Cort), history teacher, basketball coach, and gym teacher Coach Smiley (Dave Florek), and English professor, Ned Fellows (Jonathan Emerson).
Carlton and Will play sports at Bel-Air Academy in 'Bel-Air'
During Fresh Prince of Bel-Air, Will joins Carlton's basketball team and instantly becomes the star player, making his cousin jealous. In one episode, Carlton stole the basketball from Will to take the winning shot but disastrously missed, costing their team the game.
They ended up getting into a fight, and Carlton admitted he wanted support from his father when Uncle Phil (James Avery) broke up their altercation, noticing that his dad began attending the games when Will joined the team. The reimagined Peacock series Bel-Air took a more dramatic turn on the situation and their rivalry.
When Will showed up at the mansion, Hilary (Coco Jones) described her brother as "the Jackie Robinson" of lacrosse. Already the star of his basketball team in Philadelphia, Will didn't hesitate to join the Bel-Air team. The Banks attempted to attend both of their games, which happened on the same night, but ended up staying for Will's as the score became close toward the end.
Carlton flipped out on the referee during his lacrosse match, resulting in an ejection. After finding his family at Will's game instead of his match, he resorted back to his locker room and did drugs. This situation would become one of the many things to start their rivalry when Will arrived in LA. Bel-Air airs Thursdays on Peacock.
RELATED: 'Bel-Air' Season 1 Tracklist: All the Songs Featured in Episode 6, 'The Strength To Smile'