Is Benedict Cumberbatch a Stage Name? The Actor Almost Went With Something Else
Benedict Cumberbatch is a successful actor beloved by many. He's even become a meme legacy. Does he use a stage name or is Benedict Cumberbatch real?
The actor who portrayed WikiLeaks founder, Julian Assange, in The Fifth Estate, just as effortlessly as he slid into Marvel's Doctor Strange, has a name many can't remember or pronounce. Benedict Cumberbatch has often been used in satire and memes, alluding to the fact that it's a ridiculous-sounding name. Cumberbatch agrees. But let's get real: is it a stage name or a family name?
There's a Benedict Cumberbatch hashtag taking over Twitter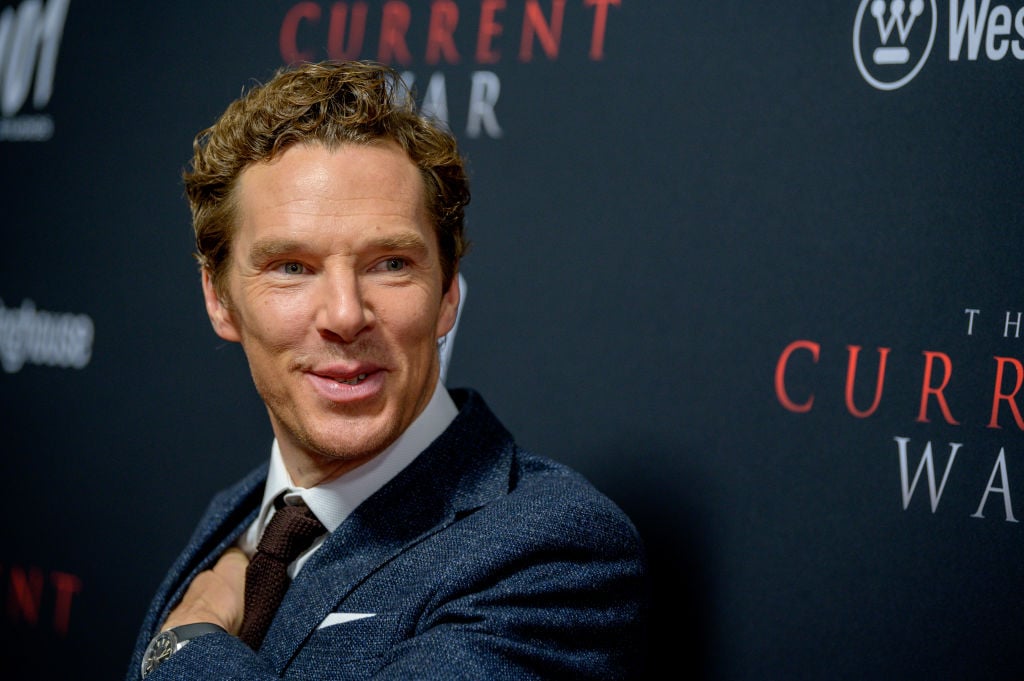 There is no greater success than becoming a hashtag on Twitter. Benedict Cumberbatch has not only conquered Hollywood, but he's also taking over social media. It's pretty ironic considering Cumberbatch himself doesn't have a single social media account.
Many facets of the Cumberbatch-obsession exists, such as the group who calls themselves "Cumberbabes," and a dedicated hashtag on Twitter, "Cumberwatch," where fans declare their devotion.
The British actor has become a pseudo "internet boyfriend" to many. The frenzy goes back to July 2010 when the first episode of Sherlock aired in the U.K, sending Twitter into Cumber-chaos. Cumberbatch's reaction to the phenomenon over his every move is relatable.
"I'm glad I'm bringing a ray of sunshine to an otherwise dull day, being imagined eating fritters shirtless," he previously told Vanity Fair, referring to tweets about him.
"But, I don't know, it makes me giggle." He admitted he doesn't "look at myself in the mirror and go, 'Yeah, absolutely! I see what they're saying!'" The actor said he sees his faults."
Other sources include dedicated Reddit threads solely used to discuss all things Cumberbatch. Some commented on a photo of Cumberbatch and Marvel co-star, Tom Hiddleston, deeming them "Hiddlebatch." In response to all the Cumber-love, he plays it cool.
"I find it laughable, silly. I mean, look [gestures towards his face]"
The point is, there is a very real thirst for the actor, but he doesn't see the appeal (typical Cumberbatch).
Cumberbatch is more than a meme, people
In a 2016 interview with Telegraph U.K., Cumberbatch gushed about his wife,  theatre director Sophie Hunter, and his two kids. The couple married on Valentine's Day, adding more Cumberbabes conversations to the internet files.
"I have a family which gives me a purpose that is greater than me and more important than me beyond my work and my public life," he said.
He went on to explain how quickly his children have grown while he's on-set working.
"Everyone says it goes by so quickly and as a new parent you really experience that, especially if you've been away for 10 days. But it's about enjoying every moment you have when you have it."
Is 'Benedict Cumberbatch' a stage name?
It won't surprise fans to know there are a billion Benedict Cumberbatch jokes out there. The star even said his name sounds like something unsavory.
In a previous interview with Katie Couric, Cumberbatch was asked if he ever thought about changing his name.
"There was one moment in the beginning of my career where I was called Benedict Carlton, which is my middle name, one of my middle names," he said, per E! News.
"And it didn't ride very well. I had sort of six months of trying to get work, and I moved agents and she went, 'Why on earth aren't you calling yourself Benedict Cumberbatch?' I said, 'Well because it sounds like a fart in a bath.'"
He continued, "But once you've got it, it kind of sticks. It's worked out all right."
He might not be referring to the Benedict Cumberbatch name generator on Tumblr that gives users their own version of the name (we got "Bonaparte Cabbagepatch"). And, he's likely not suggesting that any of the dozens of websites and articles that mispronounce his name aren't having fun at his expense.
The name may sound like a stage name, but it's his birthright. He even credits the change to the roles he played.
"It made everything fall into place," he told Rolling Stone. And he's right. With a name like Buttercup Bandersnatch, he found his place in Hollywood, whereas Benedict Carlton might not have.