Is Blake Shelton a Serious Father Figure to Gwen Stefani's Children or a Cool Friend?
Find out the exact nature of Blake Shelton's relationship with Gwen Stefani's sons.
Being a stepparent can be hard. It can be even harder if you, your partner, and your partner's ex are all world-famous musicians. That's the situation that country musician and one-time Sexiest Man Alive (as declared by People) Blake Shelton found himself in when he fell in love with legendary musician Gwen Stefani, who already had 3 kids with her ex, Gavin Rossdale, from the band Bush.
Stefani and Shelton have been going strong for a while at this point, so he is obviously a big part of her kids' lives by now. Shelton is generally a really friendly guy, so it seems like no matter how he approaches being a stepdad, he must be good at it.
Maybe he'd be like a cool friend who is kind of different from their normal dad or maybe he'd get really into being a real deal father figure to them. Either way, we're curious — just how close is Shelton with Stefani's kids?
Blake Shelton and Gwen Stefani got together after both went through divorces
Stefani divorced Rossdale back in August 2015. A month prior to that, Shelton had ended things with his country music superstar wife Miranda Lambert, who he'd been with for 4 years.
At that point, Stefani and Shelton had already been friends for a little while since they both worked as judges on The Voice. 
Going through a divorce is rough, so when the two friends found themselves in the same boat at the same time, it became a huge source of bonding. Having each other for support proved to be the very thing that helped them find love with one another a few months later. So sweet!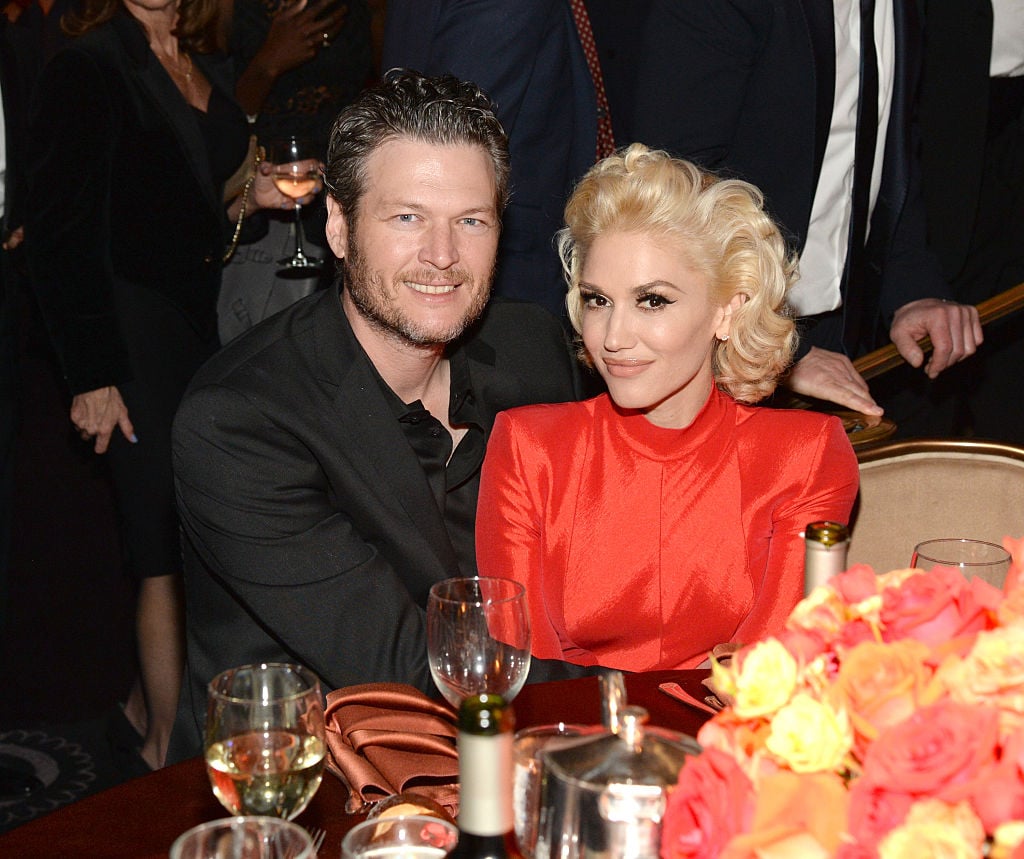 They made their relationship public in one of the most glamorous ways imaginable: with a stunning photo from the Vanity Fair Oscar party in March 2016. Stefani was asked to perform at the event, so she wore an incredible red dress that highlighted exactly why she's such a style icon.
The two have been fashionably in love and exploring new hobbies together ever since. Apparently, Shelton the cowboy even got Stefani a horse for her birthday one year and the two love to go riding together. Sounds romantic!
Stefani has 3 sons with her ex, Gavin Rossdale
Stefani and Rossdale had been married for 13 years and together for two whole decades by the time they called it quits back in 2015. They had been one of the hottest couples of the late nineties and early aughts and many people thought of them as relationship goals and were surprised when they broke up after being together for so long.
Stefani and Rossdale have three sons together: Kingston, now 14, Zuma, now 11, and Apollo, who is 6 and was born in 2014, just a year before the couple split.
So where does that leave someone like Shelton who is stepping into the picture? And what sort of stepdad has Shelton turned out to be for Kingston, Zuma, and Apollo?
Blake Shelton takes his newfound father figure role seriously
Sources suggest Shelton takes his role as live-in stepdad to Stefani's three sons super seriously. One source reportedly told Us: "Those boys look up to Blake in a big way…He's earned their respect as a father figure. He's gone from being their friend to being a serious parental influence."
Shelton also gets high praise from Stefani herself, who described him as a "good dad" when she appeared on Today back in 2019. Plus, Stefani is always posting pics and vids on Instagram of Shelton being affectionate with the kids. It seems like his bond with the boys is really special.
There also may be a new baby in the picture sooner rather than later, since a source also told Us that the couple really wants to have another child of their own at some point. We'll stay tuned because it seems like these two make for really loving parents and would love an even bigger family.