Is Bobby Flay the Most Popular Food Network Celebrity Chef?
It's near impossible to watch the Food Network for long at all these days without coming across Bobby Flay.   
Whether it be on Barbecue Addiction: Bobby's Basics, Beat Bobby Flay, or Worst Cooks in America, or any of the number of events, crossovers, or cameos that he features in with other celebrity chefs.
Since his Food Network debut in 1994, Flay has been an unstoppable force on The Food Network, and fans love him for his skills in the kitchen and his quirky attitude.  With such a talented array of chefs on the network, is Flay (or was he ever) the most popular celebrity chef?
Bobby Flay's roots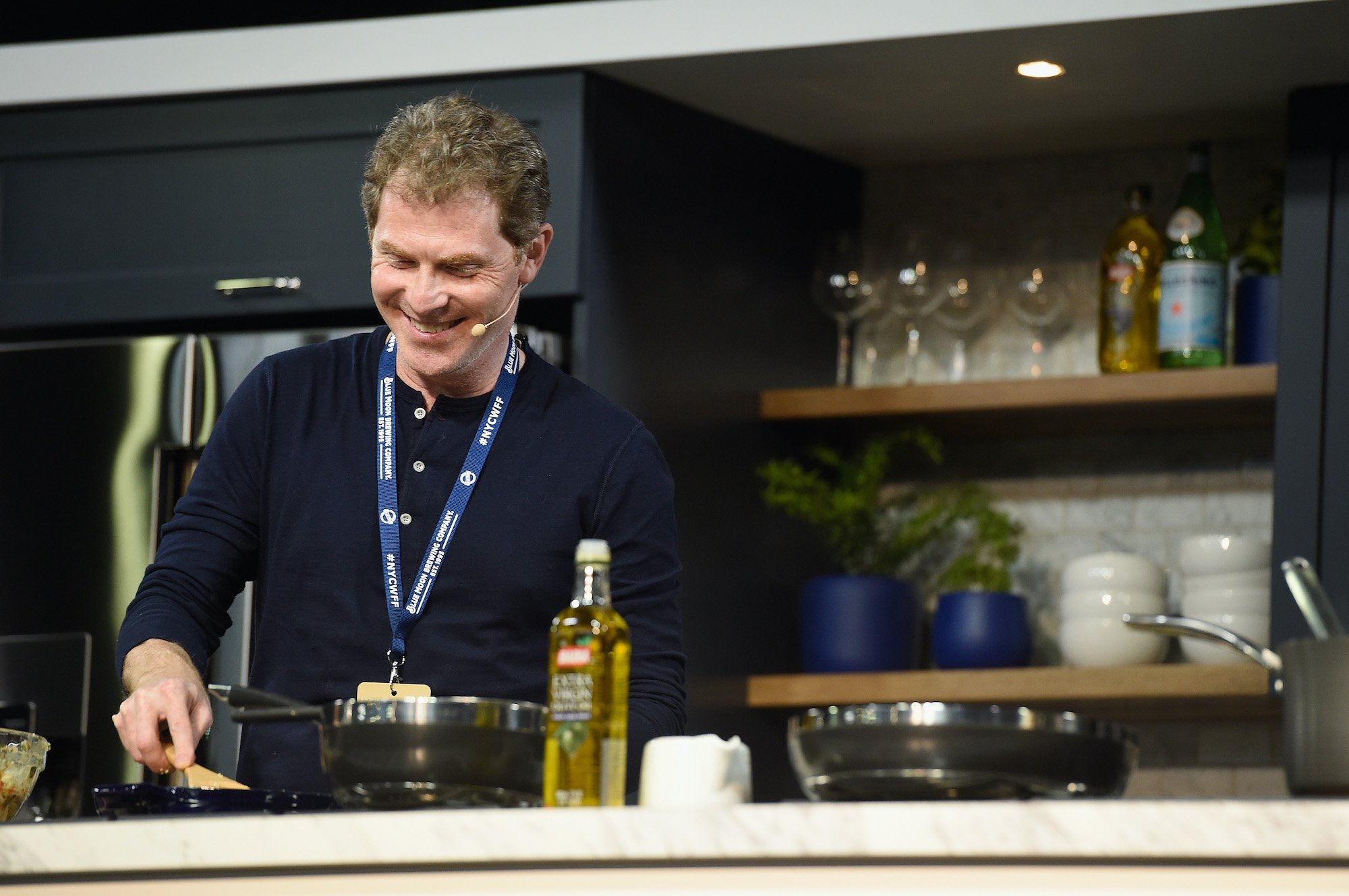 Flay is all over The Food Network these days, with three regular shows that he hosts and a seeming nonstop list of cameos, specials, and crossovers. His early career, however, was quite different. After dropping out of high school at 17, Flay worked a number of restaurant and fast food jobs before graduating from the French Culinary Institute in 1984.
After working a few jobs as a line chef and sous chef, he landed his first executive chef job at Brighton Grill in New York. Feeling like he was in over his head, he resigned from the position shortly after and became disillusioned with restaurants.
Changing gears, he worked on the floor of the New York Stock Exchange for a time before returning to cooking. When he did come back, he found a new love of Cajun and southwestern cuisine, which would define his style throughout his whole career.
RELATED: https://www.cheatsheet.com/entertainment/is-bobby-flay-married-a-brief-history-of-the-food-network-stars-behind-the-scenes-love-life.html/
A rising atar
In 1993, Flay opened his own restaurant in New York- The Bolo Bar and Restaurant. From there, his career would take off at an alarming rate. He opened numerous restaurants over the next decade, aided by the exposure of his debut on The Food Network in 1994.
His stardom would only continue to grow as The Food Network organized more and more shows involving Flay.
As he appeared in more shows, his popularity continued to grow. He has starred on or hosted over a dozen shows on the network. Today, Flay hosts Beat Bobby Flay and features on many other shows. Many of his projects are on hiatus (as much is in 2020), but Bobby stays busy. He recently opened a new Mediterranean inspired restaurant in New York named Gato.
Bobby Flay, celebrity chef
RELATED: 'Beat Bobby Flay': Is Bobby Flay Actually in the Room When Judges Taste His Food?
Flay's career on The Food Network has been meteoric, to say the least. It often seems you can't turn on the food network without seeing him on whatever program happens to be on. As one of the more animated personalities on the network, he's established himself as having one of the longest tenures of any chef on the network, and for good reason.
His talent as a chef is nearly unanimously agreed on (other than maybe that feud with Gordon Ramsey), and his outgoing personality and social media presence definitely don't hurt his renown. As one fan on Reddit put it, "I think he's the longest personality on the channel. He's kind of like an ambassador at this point."
Between his fame and his icon status as an institution of The Food Network, Bobby Flay could very possibly be called the most popular celebrity chef these days. He's almost always got endless social media buzz surrounding him always has a dedicated fan base ready to watch whatever project he's taking on next.
At the least, his personality makes some great TV, and fans will keep watching as looking as he keeps making wisecracks and delicious food.