Is BTS Really as Popular as Taylor Swift?
BTS is currently the most popular boy band in the world. They have over 40 million followers on social media as well as a combined net worth of as much as $60 million. There is no doubt that BTS is a hugely influential group.
However, BTS's popularity was brought into question recently when it was announced that the MTV Video Music Awards would debut a new K-pop category with BTS being one of the nominees. BTS fans were outraged that their favorite group is being sidelined instead of getting nominations in much bigger categories like "Artist of the Year" or "Video of the Year."
According to many internet comments, BTS has outsold a lot of America's most popular artists — including Taylor Swift — and deserve a spot at the table as much as anyone else. So is this claim true? Just how popular is BTS, really? Let's find out the answer below.
When did BTS start gaining popularity in America?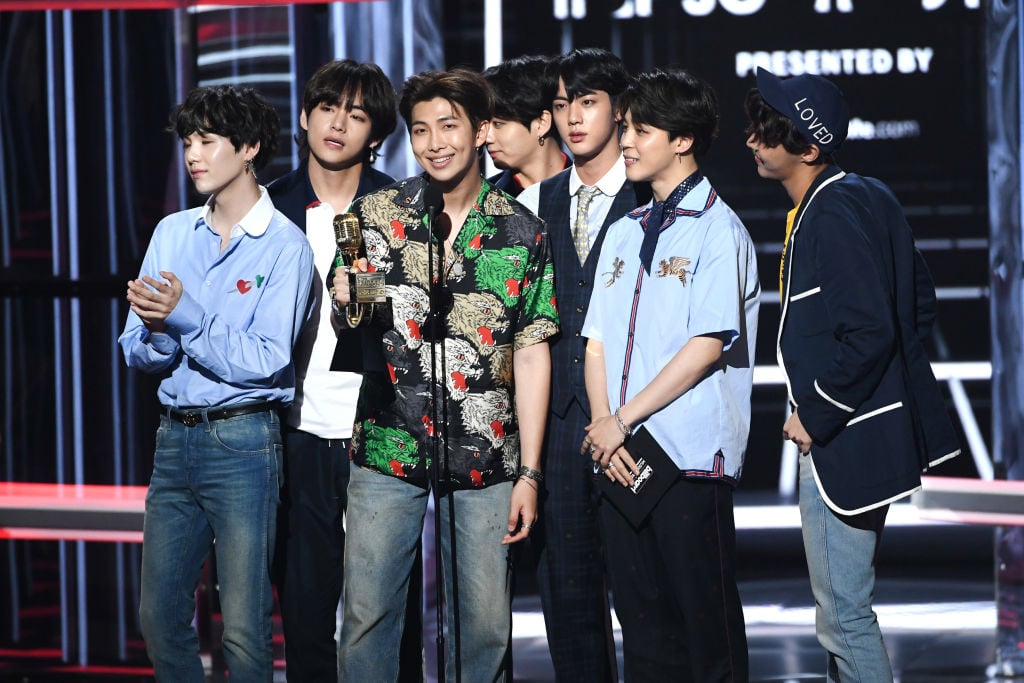 BTS became famous in South Korea in 2015 and their international breakthrough came in 2017 after the group appeared at that year's Billboard Music Award. They won in the fan-voted category of "Top Social Artist."
Since then, BTS has appeared at more American award shows and on influential TV programs such as SNL. They consistently sold-out tours in the United States and even released two movies in select theaters across the country.
Is BTS as popular as Taylor Swift and other famous American artists?
According to Market Watch, the claim that BTS is as popular as Swift is not an exaggeration. It definitely holds up.
BTS sold nearly 400,000 more albums in the U.S. than Swift, have more video streams than Swift, and even outperformed Swift at the Rose Bowl stadium by more than 100,000 tickets.
And it is not just Swift. BTS also did better than other big names at the MTV VMAs, such as the Jonas Brothers, Billie Eilish, and Ariana Grande.
"If they are only being considered for the K-Pop category simply because they are a K-Pop band, and not being recognized as a global pop phenomenon, then I think they are being a little short sold," David Bakula, a top executive at Nielsen Music, said, adding that BTS does "have the reach, the consumption and the popularity of any of those other artists that they're up against."
Why is BTS not more mainstream?
There is a question that a lot of onlookers might be wondering: if BTS is as popular as many American stars, why does the group still feel like it has not achieved much mainstream popularity?
A big part of this is because BTS does not get much radio airplay. Even though online streaming has become popular, radio airplay is still a big part of the music industry. The more an artist's songs are played on the radio, the more mainstream that artist becomes. Most popular American artists do not struggle with this, but BTS does.
Because BTS sings mostly in Korean, getting radio airplay has been a huge challenge since many radio stations are reluctant to play their music. Both BTS and K-pop fans, in general, have been trying to change this, and BTS's recent release, "Boy With Luv (featuring Halsey)", managed to become their best radio hit yet. However, even then, the amount of times it has been played on the radio is lacking for a song that landed at number 8 on the Billboard's Hot 100 chart.
BTS does understand that their choice to sing in Korean could be stopping them from becoming even bigger in the U.S., but they actually are okay with it. The guys seem to find it more important to be who they are than to get more fame. Member RM once said: "If we sing suddenly in full English and change all these other things, then that's not BTS."