Is Charlie Hunnam Still Friends With The Cast Of 'Sons Of Anarchy'?
It has been a few years since Sons of Anarchy aired its final season on FX. Most of the cast and crew of Kurt Sutter's hit biker drama have moved on to other projects, but many of them still keep in contact from time to time. While the cast reunites on a fairly frequent basis, Charlie Hunnam is usually left out of the mix, leaving fans to wonder if the actor is still friends with his former co-stars.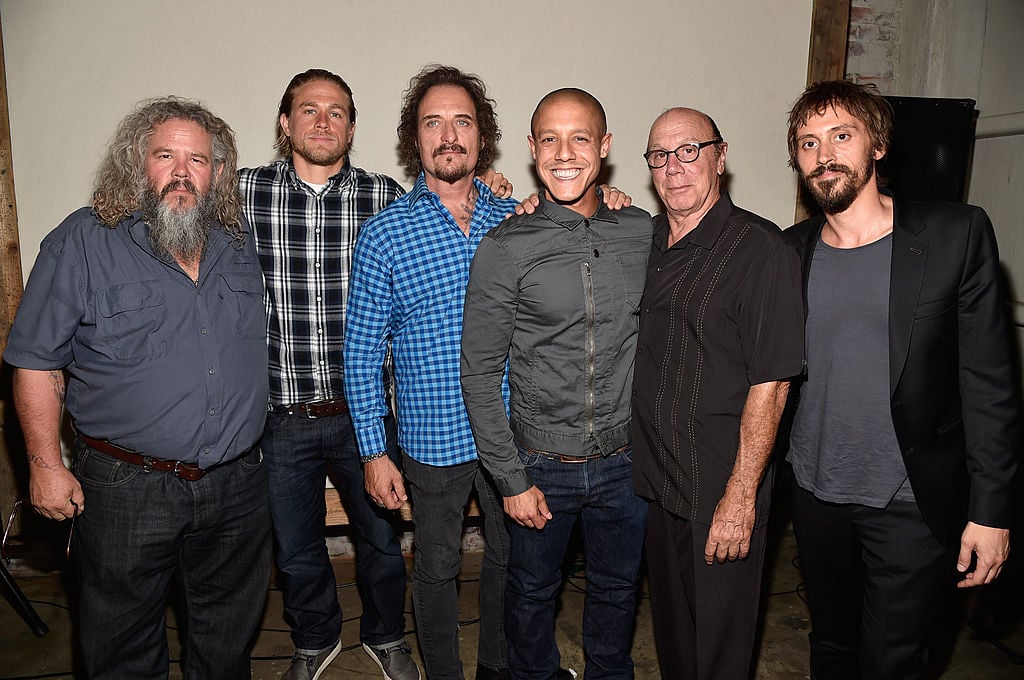 Hunnam reunites with 'Sons of Anarchy' cast
Hunnam is typically missing in action because of his busy filming schedule. The actor starred in a number of different movies since the end of Sons of Anarchy, including The Lost City of Z, King Arthur: Legend of the Sword, Papillon, Triple Frontier, and Jungleland.
Hunnam's schedule usually prohibits him from participating in Sons of Anarchy reunions, though he still makes room for some cast outings on occasion.
According to Pop Culture, Hunnam had an opportunity to meet up with several Sons of Anarchy alums at last year's Wales Comic Con, which took place in Wrexham, Wales. Theo Rossi, who played the part of Juan Carlos "Juice" Ortiz on the show, took several photos of the reunion and shared the images on social media.
Rossi, until recently was starring the Netflix series, Luke Cage. Other members of the Sons of Anarchy cast that were also present at the event were Kim Coates, Tommy Flanagan, and Ryan Hurst, all of whom posed alongside Hunnam for a quick selfie.
Will Charlie Hunnam ever reprise his 'Sons of Anarchy' role?
The reunion naturally fueled rumors about how Hunnam might return to the small screens as Jax Teller in Sutter's Sons of Anarchy spin-off, Mayans MC. Although Jax died at the end of the original series, the spin-off could bring him back in the form of a flashback, something they did in Season 1 with Katey Sagal's Gemma Teller.
Unfortunately, Hunnam has opened up about reprising his role as Jax and admitted that he does not plan on returning anytime soon.
"No, no… I had the deepest experience of my career coming out of that," Hunnam shared. "I had become that character, had become so deeply integrated into who I was, I literally didn't realize until the day we wrapped and we put him to rest and I felt I went through a period of two or three weeks of, like, real bereavement."
Hunnam could always change his mind, though Sutter has not made any comments about bringing Jax back. They would also have to work around Hunnam's busy movie schedule. But if we are honest, they would probably have no qualms about making all the right accommodations if Hunnam agreed to return.
Charlie Hunnam is still friends with Hurst
Although Hunnam has been busy promoting his latest movie, Triple Frontier, the actor still makes time for his good friend and former co-star, Ryan Hurst.
In a recent interview, Hunnam called Hurst, who played the part of Opie Winston on Sons of Anarchy, one of his best friends. After years of little interaction, Hunnam revealed that he and Hurst reunited at a Kundalini yoga studio. The two still meet up at the studio and are about to put their yoga skills to good use at this weekend's Motor City Comic Con. The friends are scheduled to lead a yoga class at the event for a crowd of lucky fans.
The two also worked on Sam Taylor-Johnson's new movie, A Million Little Pieces. Hunnam and Hurst had minor roles in the project and filmed their scenes on separate days. Unfortunately, none of their scenes were together, so fans will not get to see them reunite on the big screens.
A 'Sons of Anarchy' luncheon
In 2017, Hunnam enjoyed a special lunch outing with Hurst and Mark Boone Jr., who played Bobby Munson on Sons of Anarchy. At the time, Hurst and Boone were rocking some epic beards, which put Hunnam's trimmed look to shame. The outing happened in West Hollywood shortly after Hunnam wrapped up filming for The Lost City Z.
Apart from the upcoming appearance at Motor City Comic Con, there is no telling when we will get the next Sons of Anarchy reunion. But given how most of the cast members are still good friends, we are sure there will be plenty of opportunities in the near future.
In the meantime, there is always the second season of Mayans MC to look forward to.