Is Chevy the Most Reliable Car Company Like the Ad Says?
On the first Sunday of January, as people watched the first round of the NFL playoffs and the Golden Globe Awards, an interesting ad by Chevrolet ran repeatedly on NBC. "Chevy Surprises Competitive Owners When It Comes to Reliability," the ad said.
In the spot, a Chevy spokesman gathers the owners of four major auto brands around vehicles under wraps. He asks whether the owners would be surprised if Ford, Honda, and Toyota were named "the most reliable car company." Each group of owners says they wouldn't be surprised. (They love their cars.)
https://www.youtube.com/watch?v=o2xrEGkIdWs#action=share
But at the end, when the final wraps come off the cars, only Chevrolet vehicles remain. "Based on a recent nationwide survey, Chevy is more reliable than Toyota, Honda, and Ford," the commercial's star says.
That claim would come as a surprise to anyone familiar with reliability rankings from the most trusted nonprofit testing cars these days. In fact, if you dug into the data, you'd have to conclude Chevy's claim is dubious at best (and incredibly misleading at worst).
Consumer Reports ranks Chevy among the least reliable car companies.
Going by 2019 Consumer Reports rankings, Chevrolet ranked 23rd among 29 car brands evaluated. That made Chevy vehicles seventh-worst overall. The Traverse SUV and Silverado 2500 HD pickup showed up among the year's poorest-scoring vehicles for reliability.
But the brand had gotten worse heading into 2019. Looking at the 2018 ratings, Chevy also landed among the 10 worst. In this case, Consumer Reports evaluated fewer brands (27) and Chevy came in 18th place (10th-worst overall). Again, that was worse than Chevy's finish in 2016, when it also did not place among the 10 best brands.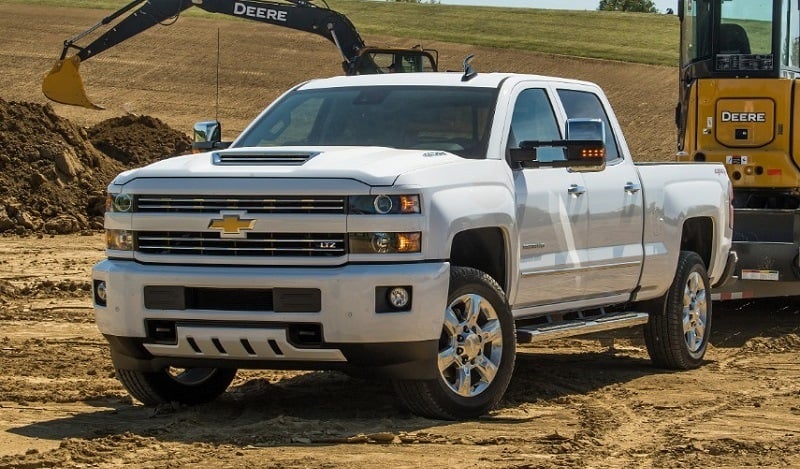 So what about those other brands Chevy bragged it was beating in its TV commercial? Well, they would be surprised to learn they were less reliable than Chevy. After all, Toyota places first or second in reliability studies every year. If you looked at the decade's 20 most reliable vehicles, 10 are Toyotas. None are Chevys.
Honda also consistently ranks among the top 10 auto brands for reliability. (Its 2019 rating was an exception.) As for Ford, the Dearborn-based automaker typically lands in the middle of the pack — but usually better than Chevy.
So where did Chevy get the data boasted about in the omnipresent TV ad?
Chevy based its claim on a 2015 study by Ipsos.
If you look at the fine print in Chevy's ad — and we recommend doing this for any car commercial — you'll see a footnote referencing a 2015 study by Ipsos. It also suggests viewers head to ChevyReliability.com to learn more about the study.
Anyone who typed in that web address would find themselves redirected to a page authored by Chevy's press team with details on the study. Apparently, market-research company Ipsos came up with the results that looked great for Chevy based on vehicles in service from December 2014 to June 2015. About 49,000 people completed the surveys.
So Chevy's claim that its vehicle scored so well on "a recent nationwide survey" doesn't really hold water. A lot can change in four years for a car model. Meanwhile, that sample looks very small compared to annual Consumer Reports surveys that include data from over 500,000 replies.
All things considered, it's a huge stretch to say Chevy's cars are more reliable from those by the other brands (especially Toyota). Saying it without any context is misleading. We don't assign Pinocchios to false or misleading claims, but this one deserves to take plenty of heat from fact-checkers.
Check out The Cheat Sheet on Facebook!