Is 'Chicago Med' on Tonight, March 23? Here's When the Show Returns
Chicago Med fans know that the show typically takes a couple of breaks from airing new episodes during the course of a season. The show was off the air at various times around the winter holidays and the Winter Olympics. However, now the show is in for another brief hiatus, and it's not clear exactly why.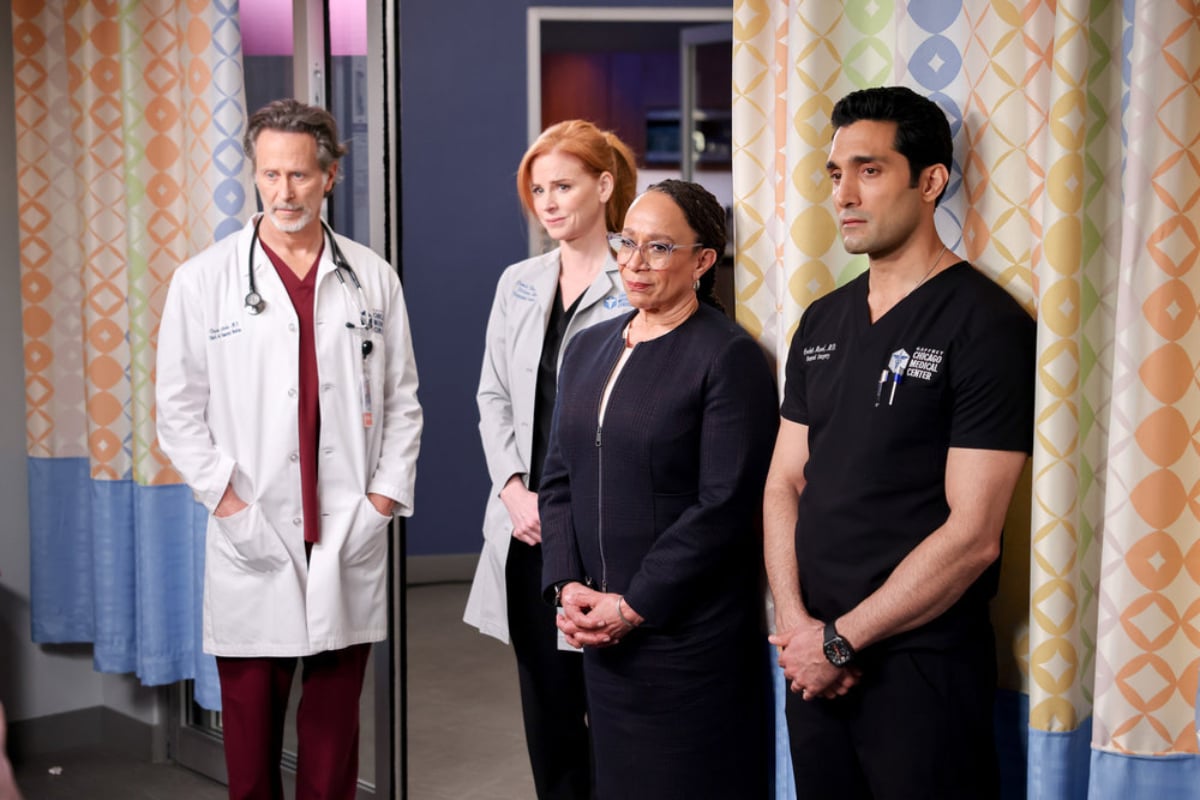 What happened in the latest episode of 'Chicago Med'?
Chicago Med Season 7 Episode 16 aired on March 16 and left fans on a bit of a cliffhanger. Dr. Dylan Scott dealt with a conflict of interest when his new undercover cop friend Milena pressured him to release a CI patient from the ED.
Vanessa Taylor had a patient whose symptoms traced back to anxiety surrounding her daughter's upcoming arranged marriage. The incident left Vanessa to reflect on her dating habits, and at the end of the episode, she left the ED to spend some time with Dr. Shentu.
Perhaps the most shocking part of the episode came when a familiar face returned. Sharon Goodwin and Dean Archer had dinner together and were joined by Dr. Hannah Asher.
Asher was an obstetrician-gynecologist at Gaffney Chicago Medical Center who left to go to rehab and get her addiction under control. She happily reports that she is almost two years sober and Goodwin wants her to come back to the hospital to get the new emergency OBGYN service in the ED off the ground.
When does 'Chicago Med' return with new episodes?
There won't be a new episode of Chicago Med tonight, March 23. Instead, NBC will air reruns of the One Chicago shows this evening, Hello Magazine reports. The show has previously gone on hiatus for the winter holidays and the Olympics, but it's not clear exactly what is causing the delay in new episodes this time around.
Chicago Med will return with episode 17, "If You Love Someone, Set Them Free" on Wednesday, April 6 at 8 p.m. ET. So far, there isn't much information about what this new episode will explore. A promo and synopsis are yet to be released, but there are plenty of questions that need to be answered when the show returns.
Chicago Med has hinted at a potential love interest between Dr. Stevie Hammer and Dr. Will Halstead. However, Hammer has been absent from the past couple of episodes, and the show has mentioned her plans to move back to Michigan to be with her husband. Will Hammer return when the show resumes? And if she does, how will that play out now that Asher, a former love interest of Halstead's, is back at the hospital?
What to expect in the rest of 'Chicago Med' Season 7
It's hard to say exactly what will happen in the rest of Chicago Med Season 7, but there are a few things that fans have to look forward to. Chicago Med executive producers Diane Frolov and Andrew Schneider previously revealed to TV Insider that Dr. Ethan Choi will return to the show in episode 18. They also told TV Line, "There are definitely plans to reunite the Halstead brothers!"
Andrew Schneider also previously teased to TV Insider "We're going to see a romantic relationship for Dr. Scott [Guy Lockard] later, we're building [that]." Perhaps this love interest could be the mysterious cop Milena. It will also be interesting to see how Dr. Charles' new relationship with his former therapist will continue to progress.
RELATED: 'Chicago Med' Season 7: Will Hammer and Halstead Become a Couple?