Is Chris Paul Married and Does He Have Any Kids?
Aside from being a great basketball player, superstar athlete Chris Paul is also killing it off the court with his family. 
There's no question that Chris Paul is one of the top points guards in the last 20 years of the NBA. But aside from being a great basketball player, Paul is also killing it off the court with his family. 
What exactly is the star guard's family situation? Is he married, and does he have any kids? While his prowess on the hardwood is well documented, his family life isn't as widely known. Here's what we know about whether Chris Paul is married and whether he has any kids. 
Is Chris Paul married?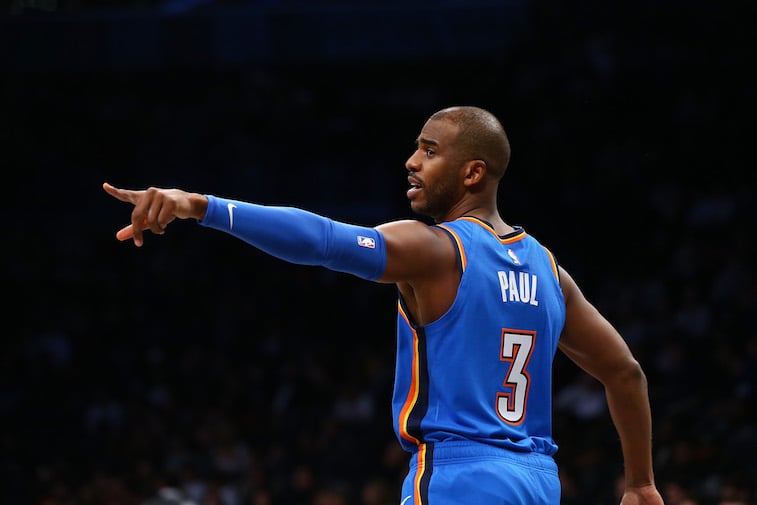 According to Essence Magazine, in 2011 Paul married his high school sweetheart, Jada Crawley. The two attended rival high schools and despite a one-year age difference, they found a way to make it work. On their wedding day, Vera Wang designed the bride's gown while Ralph Lauren provided the tux for the groom.
By all accounts, the two have a strong marriage based on a relationship they've had since they were young. Here's what she had to say about her partner in crime: 
"Our relationship has been a progression. I feel safe with Chris. He's very protective."
For Paul, his love for his wife goes beyond his love of the game. Paul stated, "I truly love Jada; she has been there for the ups and the downs. Basketball isn't going to last forever. Jada and I love spending time with each other, genuinely." 
One reporter tracked down Paul and Crawley on the red carpet for the BET Awards. She asked the two if there were any couples they emulate. Both Crawley and Paul referred to Paul's parents for their long-lasting marriage so obviously full of love as a great model and inspiration. 
Does Chris Paul have any kids? 
Paul and his wife's wedding ceremony included their two-year-old son, Chris II (also known as Lil' Chris). They had a special message for their son on their big day: 
"We never knew it was possible to love someone as much as we love each other until you came into our lives."
The couple added a second child, their daughter Camden, in 2012. Paul enjoys spending time with his children. He got an opportunity to do so at the Nickelodeon Kids Choice Awards several years back when he was "slimed."
Paul is a lucky man with a beautiful family, but how does he balance the demands of his NBA career with being a great parent? 
How Chris Paul manages the stress of NBA life with having a family
One way Paul manages to be a great parent and husband is through sheer proximity. Though he's been traded several times during his illustrious career, he's never let his family stay far away from him. He told Sports Illustrated as much in an interview: 
"I remember when Chauncey [Billups] came to the Clippers, his wife and kids were in Denver…I'll never forget, I was in L.A. with my family, my brother and his wife. I told my wife that ain't never going to be my story. She said, 'You know, that's right, whatever team you go to, tell them you have a plus-three.' Whatever team I go to, I can't be myself without my wife and kids."
For Paul, it's about prioritization. Though he strives to win a title, he doesn't let it consume him or distract him from being the best parent and husband he can be. According to Paul, "If one day I can sit over here and say I got me a championship ring but I've been the worst parent, somebody got their priorities all messed up."
Paul may not be quite the player he was in his prime, though he's still very effective for being in his mid-30s. But it's apparent that his ability as a husband and father has not diminished at all. If anything, they've only strengthened.