Is Dana White Married and Does He Have Any Kids?
The UFC is unlike many other sports organization in that its president, Dana White, is as popular as many of the fighters that he and his company promotes. That's largely because he enjoys being in front of the camera and promoting his show. However, despite this love for showbiz, he's also led a relatively private life, and there aren't many details about what he does when he's not in front of the cameras as a celebrity. But, like many people, he has a wife, and he's started a family with her. Here's a look at Dana White's private family life.
A look at Dana White's early life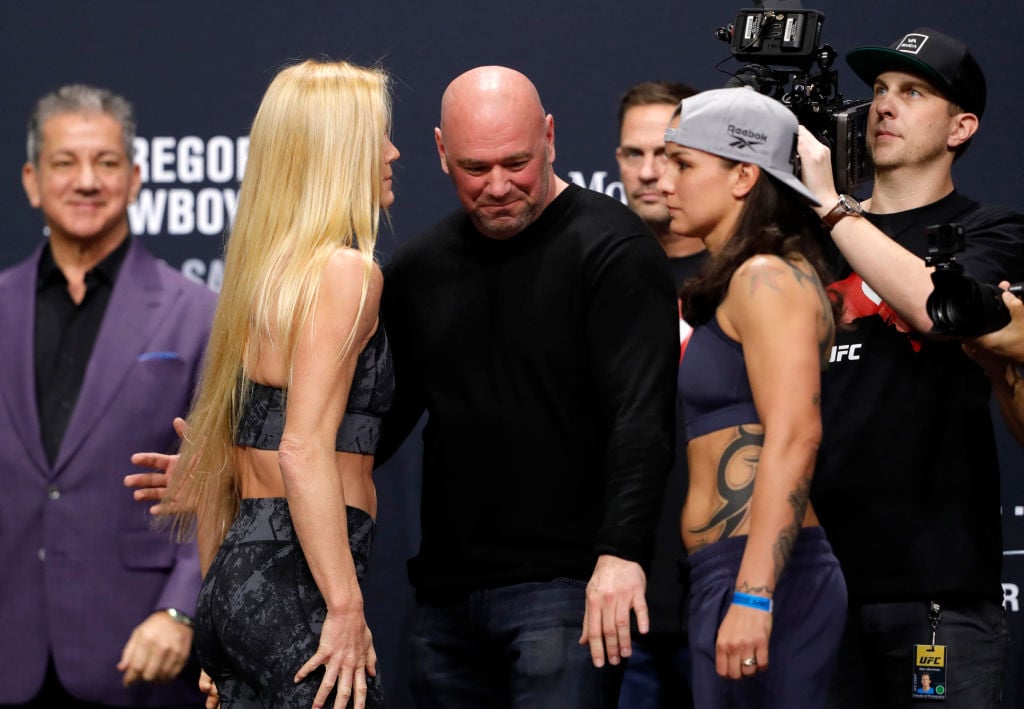 Before he became the president of the UFC, he was just a regular guy who enjoyed combat sports. The UFC wasn't a thing yet, so he just stuck to boxing. While boxing was one of his passions, his other was for his girlfriend at the time, Anne Stella, according to Distractify. 
The two first met each other in middle school, and they graduated from Hermon High School together in 1987. He then took a semester at the University of Massachusetts Boston, and he also attended Quincy College, a local community college, but he dropped out of both pretty quickly. After dropping out, White decided to pursue his passion for boxing as a means to support himself. But things went wrong pretty quickly for him. 
A wedding in Vegas
He worked in the boxing business largely by being a manager as well as training some people in Boston. However, he was doing this in mob territory, and soon, the mob demanded that he should pay them a cut if he wants to keep working. They wanted $2,500 from the future UFC president, but he didn't have it. 
So, when push came to shove, he immediately booked it out of there and moved to Vegas. Distractify said that eventually, his middle school sweetheart joined him in the desert, and they tied the knot in 1996. The two lived in Vegas for a few years until, by a stroke of luck, White found his big break. 
He ran into his childhood friends, the Fertitta brothers, while in Vegas, and the three agreed to do some business with one another when the chance arrives. In 2001, that happened, and the three men bought the UFC for just $2 million. Then, under White's presidency, the UFC has grown into a massive company, and the three sold the UFC for $4 billion in 2016. 
This massive sale has earned him and his family a lot of money as he's now worth $500 million. With this amount of money, he's been able to afford a lot of things for him and for his family.
Dana White's kids and the things he buys for them
According to Distractify, Dana White is the father of three kids with Anne, and they are Dana III, Aidan, and Savannah. Thanks to his incredible wealth, his family has access to several mansions in the Vegas area. Additionally, White likes to spoil his kids at times.
For example, Bloody Elbow reported that for Dana III's Sweet 16, his dad got him a brand-new BMW as well as Kendrick Lamar to play at the party. Not to be outdone, for Aidan's Sweet 16, his dad spent $1 million organizing the whole event. Aidan's Sweet 16 had A$AP Rocky, Migos, and other musicians as guests. On top of that, his dad also got him a custom Land Rover Defender. 
This kind of lavishness isn't new to the family since White paid $2,500 a month in fees just so he could build a pool that broke some local regulations, according to Bloody Elbow.