On Jan. 20, 2020, Ella Emhoff was one of the celebrities who stole the show at President Joe Biden's inauguration. For instance, viewers instantly celebrated her for her cool-girl fashion taste, brunette curls, and closeness with her step-mom, Vice President Kamala Harris. Ella's dad, Second Gentleman Douglas Emhoff, is Jewish. People might be wondering if his daughter is Jewish as well. Read on to find out.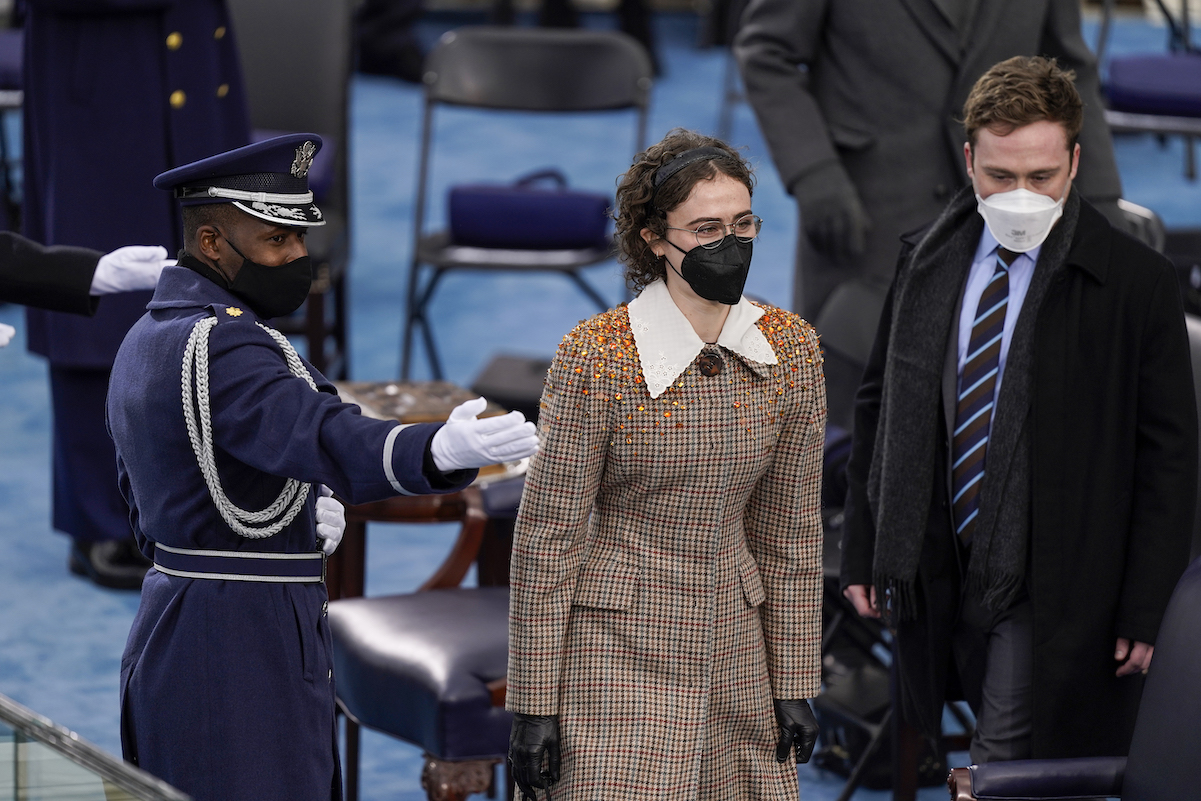 What Ella Emhoff's bond with Vice President Kamala Harris is like
Vice President Harris has talked about her bond with her stepchildren, Ella and Cole. They are the Second Gentleman's children from his first marriage with Kerstin Emhoff.
"Cole and Ella could not have been more welcoming," Vice President Harris wrote in an Elle article about meeting her husband's kids. "They are brilliant, talented, funny kids who have grown to be remarkable adults. I was already hooked on Doug, but I believe it was Cole and Ella who reeled me in."
Moreover, she revealed that the family has weekly Sunday dinners. All of the family members have a responsibility to make the meal come to fruition.
"Cole sets the table and picks the music, Ella makes beautiful desserts, Doug acts as my sous-chef, and I cook," the Vice President wrote.
Ella and Cole Emhoff refer to Vice President Harris with an adorable nickname
Vice President Harris and the Second Gentleman got married in 2014. Subsequently, it was a family discussion over how her new step-kids would address her.
"A few years later when Doug and I got married, Cole, Ella, and I agreed that we didn't like the term 'stepmom,'" she added in the Elle article. "Instead they came up with the name 'Momala.'"
The nickname could be a combination of "mom" and "Kamala." However, it could also refer to the word "mamaleh," a Yiddish word used by kids for mothers, per Kveller.
Is Ella Emhoff Jewish?
Similar to the speculation that "Momala" is a Yiddish reference, there has also been speculation that the Emhoff children are Jewish, too. A representative for Ella cleared the air on her religious beliefs.
"Ella is not Jewish," Joseph David Viola said to the Forward. Emhoff lists Viola as a contact person on her official Instagram account.
The Second Gentleman's relationship with Judaism is more recent. Viola claimed that the older Emhoff has practiced "for a few years now but out of an independent search."
"It's not something she grew up with," Viola continued. "Ella truly has no qualms with the faith, but she does not want to speak on behalf of Judaism, as she does not celebrate herself."
The Emhoff and Harris family continues to showcase what a modern, multicultural family looks like today. They have family members in Italy, India, and the United States, with many religions and races represented among them, as well. In conclusion, we can't wait to see what's next from Emhoff over the next four years.