Is Giannis Antetokounmpo Married?
Giannis Antetokounmpo has rightfully earned his nickname the "Greek Freak." For a few seasons now, NBA fans have had the pleasure and privilege of watching him play, but his ball game isn't the only game people are curious about. Many people are wondering if this NBA star is already married.
Giannis Antetokounmpo's upbringing & family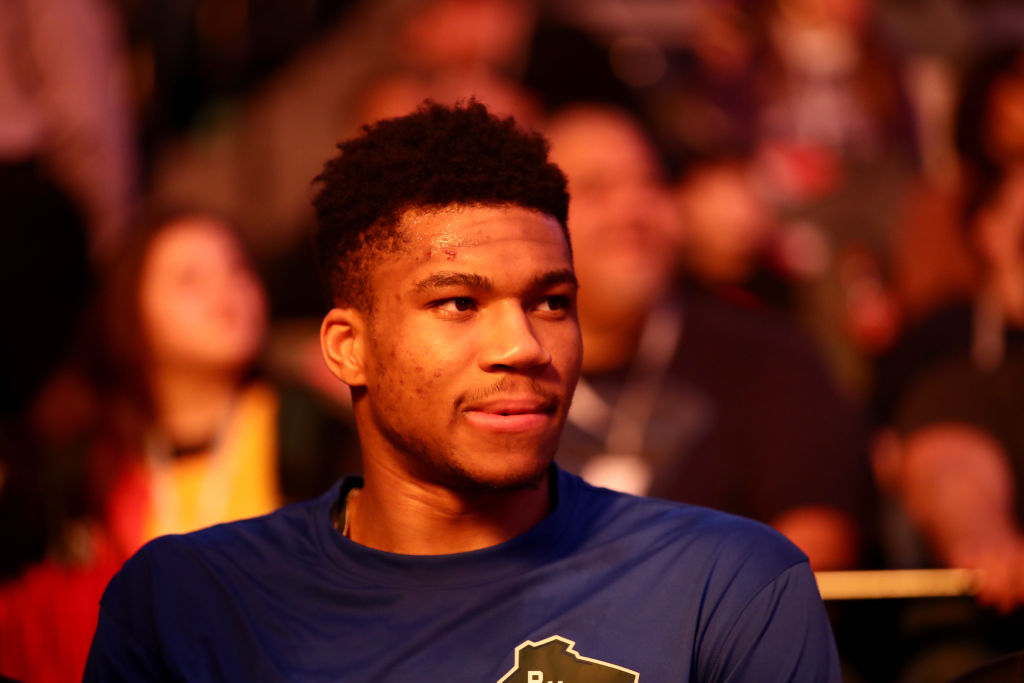 Antetokounmpo's parents, Charles and Veronica Antetokounmpo, left Nigeria to move to Athens, Greece in 1991. Antetokounmpo was born just three years later in December. Francis Antetokounmpo, Antetokounmpo's oldest brother, was living with his grandparents in Nigeria at the time. However, over the years, the family continued to grow.
In 1992 Thanasis Antetokounmpo was born, and then in 1997, the family welcomed another child, Kostas Antetokounmpo. It didn't stop there though. In 2001 Alex Antetokounmpo was born, and one more baby boy joined the tight-knit clan otherwise known as their family. With the exception of Antetokounmpo's eldest brother, the siblings grew up in Sepolia, Greece.
Antetokounmpo's parents struggled to support their family. Jobs were hard to come by in Sepolia, and providing for so many children was no easy feat. Antetokounmpo's parents were able to bring whatever money they could home through jobs like babysitting and doing handyman work. No one in the Antetokounmpo family had any idea how much basketball was about to change their lives.
It was not unusual for Antetokounmpo and his brother to head to practice basketball on an empty stomach. Despite the challenging circumstances, Antetokounmpo found a way to rise against the odds. It was his struggles that ended up bringing him closer to the game and his goals.
Panagiotis Zivach, the Filathlitikos coach during this time, won Antetokounmpo over with a little bribery. Zivach recognized determination and grit in Antetokounmpo. As a result, Zivach promised to find Antetokounmpo's parents employment opportunities as a way to get him to agree to regularly commit to training sessions.
A local neighbor in the food industry helped out by making sure the brothers had sandwiches and other food so they could sufficiently practice. Playing for Filathlitikos, the professional basketball club of Greece, was a turning point for Antetokounmpo and his basketball career.
Giannis Antetokounmpo's path to the NBA
In 2007, the general manager of Filathlitikos followed through with the team's word, and he got Antetokounmpo's parents' jobs. The Antetokounmpo family was able to move closer to where the training sessions were taking place, and in 2009 all of Antetokounmpo's hard work and sacrifices began to pay off. Antetokounmpo was chosen to be a member of the Filathlitikos youth team. This was the catalyst for Antetokounmpo's professional career on the court.
In 2012 Antetokounmpo was selected to play on the Filathlitikos's senior team. Shortly after this agreement, Antetokounmpo entered a four-year contract with CAI Zaragoza, a professional Spanish basketball club. Unfortunately, the contract put stipulations in place that did not allow Antetokounmpo to join the NBA. Luckily, when the contract ended, Antetokounmpo was more than ready.
In April 2013 during the NBA drafting process, Antetokounmpo was selected in the first round of the draft. He officially joined the Milwaukee Bucks for the 2013-2014 NBA season. Slowly but surely, Antetokounmpo won over the crowds and fans with his impressive skills and stats. In 2016, in a game against the Brooklyn Nets, Antetokounmpo became the youngest player in Milwaukee Bucks history to earn four triple-doubles in one season.
A few months after making history, Antetokounmpo extended his contract with the Milwaukee Bucks for an additional four years in September 2016. The contract was valued at $100 million. Currently, Antetokounmpo is still playing for the Milwaukee Bucks where his brother, Thanasis Antetokounmpo, has since joined him. Talk about dreams coming true.
Is Giannis Antetokounmpo married?
Since Antetokounmpo has gained fame and recognition, many people are wondering what the deal is with his marital status. Antetokounmpo's social media portrays a happy relationship with Mariah Riddlesprigger. From joining Antetokounmpo's family vacations to joking around with his brothers, it definitely seems like this couple could have already tied the knot. Not to mention Riddlesprigger & Antetokounmpo's recent announcement sharing with the world that they have a baby on the way. It can be easy to assume these love birds are married, but as of right now, the soon-to-be parents are still enjoying the dating life.
From his career to his love interests, there is an overwhelming amount of speculation when it comes to Antetokounmpo's life. Just because Antetokounmpo hasn't mentioned any wedding plans yet doesn't mean they aren't already in the works. Fans everywhere eagerly are looking on to see where the future will lead this beloved player.