Is It Travis Scott's Fault Kylie Jenner Can't Move On?
Jenner and her crew consistently stick to the line that they are now just friends and co-parents, but a recent interview with Scott shows he may want more.
Travis Scott and Kylie Jenner, despite constantly being in the public eye, do find a way to keep some things private. After all, Jenner's pregnancy was kept under wraps until the birth of their daughter, Stormi.
The pair split in September of 2019 after a seemingly happy two-year relationship. Now the media and fans alike are looking for clues as to whether or not the couple will ever get back together.
Jenner and her crew consistently stick to the line that they are now just friends and co-parents, but a recent interview with Scott shows he may want more.
What has Kylie Jenner said about the breakup?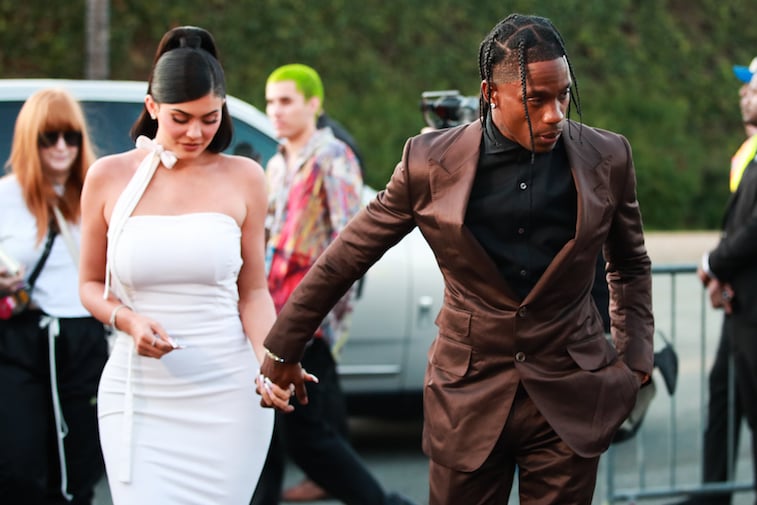 The wake of the breakup sent rumors flying about Scott's infidelity, so much so it seems to be taken as fact, but no one directly involved has confirmed such rumors.
In a tweet to fans just after the breakup, Jenner wrote, "Travis and i are on great terms and our main focus right now is Stormi our friendship and our daughter is priority."
Since that tweet, she's hasn't posted on the matter and instead focuses her Twitter posts on her cosmetic line, Kylie Beauty.
Looking at her Instagram, fans can see that the last time Jenner posted photos with Scott was in August of 2019 for the release of his Netflix documentary, Look Mom I Can Fly.
This may have been a sign of the impending breakup because Scott looked disinterested in Jenner in most of the photos, and fans took notice. July was the last Instagram post of them together before that and the caption read, "partners in crime 4 evaaa."
This prompted fans to respond with comments such as, "You sure bout forever," and "If only that was true."
In December, when rumors were spreading that Jenner was wearing an engagement ring, Kim Kardashian put stop to them telling Ellen:
"I think that they are really just close friends and co-parenting amazingly. The big ring, definitely they're not engaged. And I think she's wearing it on a different finger. I do know that she—I think she bought that herself… But, yeah, I don't know the status if they're together or not. I don't think they are."
What does Travis Scott have to say?
Scott has been a little more telling in his social media posts. After the split, he posted an Instagram story that read, "It's really affecting when u see false things said about u once again these false stories about me cheating are just simply not true." 
In December he seemed to lament the loss of the relationship tweeting, "Stay one wit family. The only thing  that truely matters."
It was his recent interview with XXL magazine, however, that has really raised some eyebrows. Speaking about their daughter Stormi he said, "Her mom and I came up with the name Stormi together. I love her mommy and I always will. The hard part about relationships is just trying to be in one without a million outside voices interfering."
Many took this to mean that he wants to get back together with Jenner and that the break-up wasn't caused by infidelity, but the pressures of fame.
Have Kylie Jenner and Travis Scott been spending time together?
Though many fans want the two to get back together, and it appears Scott may still have some lingering feelings, not many public signs are pointing that way. A source close to the family told E!, "Regardless of what their relationship status is, there's no doubt they will all be together for Christmas."
Whether they did or not, neither posted about it and in fact, Jenner shared photos of just her and Stormi in front of the Christmas tree Christmas morning.
A recent interaction over Scott's Instagram post about making curly fries is giving some rooting for the couple a little hope. Jenner replied to the photo just days ago with a blue cap emoji, indicating she thinks he's lying about making the fries.
The comment received nearly 2,000 replies, and she soon after posted a throwback photo to when she was pregnant.
Though these interactions may signs that there are still feelings, they certainly don't sound any wedding bells. For now, it looks like only Scott and Jenner know for sure where their relationship stands, and where it might go in the future.