Is Janet Jackson's Beauty Mark Fake?
People notice changes in their favorite celebrities and will scrutinize every shift. One such mystery is whether Janet Jackson's beauty mark is real. 
Being a successful music icon like Janet Jackson means your image is in the public view for everyone to see and analyze. People will notice changes and they will scrutinize every shift. One such mystery is whether Jackson's beauty mark is real. 
Janet Jackson has been a musician for over 40 years
Jackson has been making music for 40 years and her hard work has earned her massive success. She has earned her status as an icon in R&B and pop music along with Grammy Awards and many other accolades. It wasn't always easy, though. 
As the youngest child in the famous Jackson family, Jackson has been in the spotlight pretty much since she was born. She even appeared in her family's variety show in Las Vegas. As Jackson grew up she didn't want to continue her music career and planned to study business law in college. Her father, Joe Jackson, encouraged her to release her self-titled debut album, thus starting her solo career.
Janet's album was released in 1982, the same year her brother, Michael Jackson, released his record-breaking album, Thriller. Janet didn't even like her first two albums, blaming a lack of creative license in creating them. She went on to release her break-out album, Control, in 1986. This album contained the number one hit, "When I Think of You."
The year 1989 was when Janet truly earned her superstar status with her Rhythm Nation 1814 album. She continued to grow as an artist through the '90s with her albums, Janet and The Velvet Rope. She went through a major fallout after her Super Bowl halftime performance in 2004 but has continued to release albums. Janet's latest album was released in 2015 but it is rumored she is working on an album to drop in 2022.  
Fans speculate about Janet Jackson's beauty mark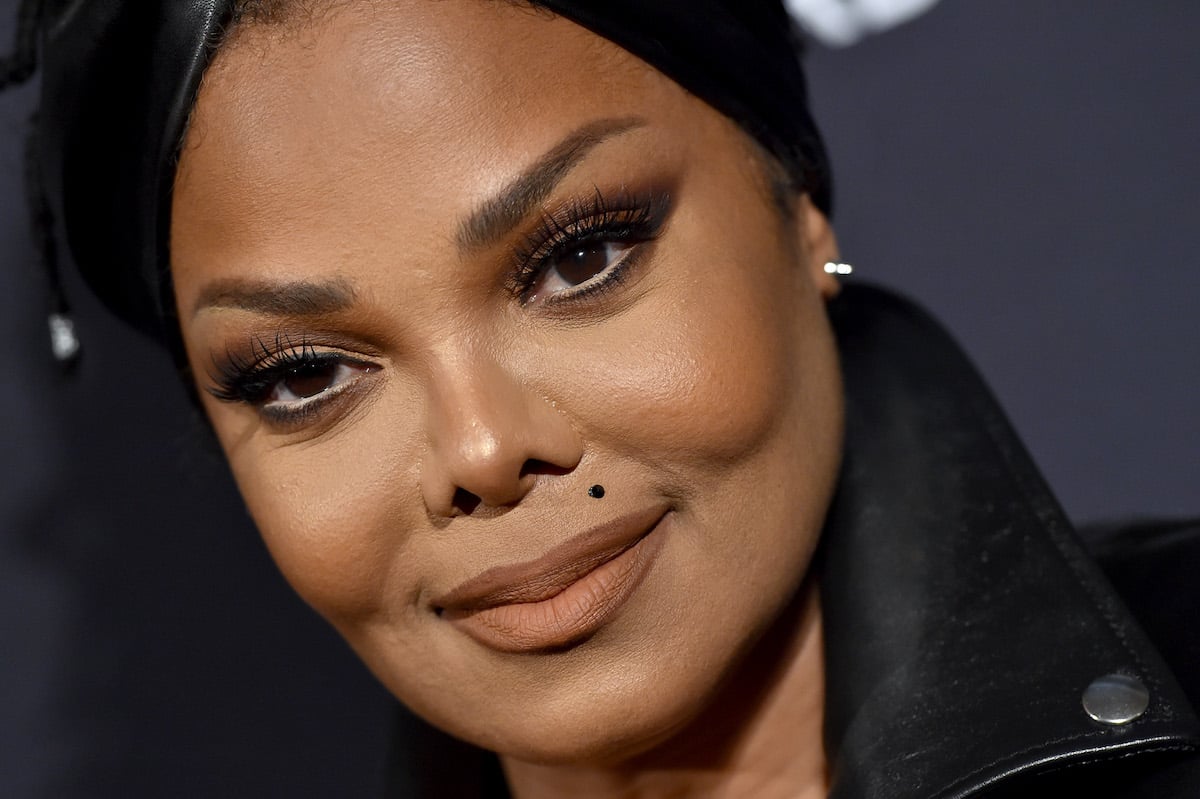 Janet has grown up in the public eye. She has gone from "precocious little girl to teen actress to singing superstar," as Life & Style Magazine reports. Over the years, fans have speculated about whether her changing appearance has anything to do with plastic surgery. 
When Janet just started out, she was young and baby-faced. As time marched on, her nose seemed to take on a more slender and defined appearance and her eyes became more prominent. By the '90s, Janet showed that she loved to wear more pants and suits with lots of black pieces. Janet worked hard to maintain a performer's body thanks to her U.S. tour in the early 2000s.
More plastic surgery rumors started when Janet's nose showed a more defined tip in 2005. Then, in 2009, her cheekbones appeared higher. However, Janet claims her high cheekbones are due to her not becoming too thin and "gaunt."
One aspect of Janet's appearance that fans question is her beauty mark right above her lip. The beauty mark has been used throughout the centuries to accentuate various aspects of the face. It fell out of favor by the '60s and early '70s. Then, Cindy Crawford and her famous mole entered the scene. Since then, other pop icons have sported beauty marks proudly. According to The Baltimore Sun, Janet's beauty mark is "penciled in, it is believed."
When looking at pictures of Janet throughout the years, it appears the beauty mark first made an appearance around 1990 when she was in her mid-twenties. The mark has grown bolder over the years. It is absolutely possible that the mole has simply grown over the years.  In an Instagram post from 2019, Janet posted a beautiful picture of her close-up, in full makeup, and with her beauty mark on full display. 
Beauty marks, or moles, can appear later in life
So, the question is if Janet could have a mole appear later in life. According to Medical News Today, the answer is yes. New moles can indeed appear in adulthood. 
The important thing is for people to understand what moles are and why it's important to get them checked. A new mole appears "when melanocytes, the pigment-producing cells in a person's skin, proliferate or duplicate, producing the characteristic moles they see on the surface. Melanocytes contain a pigment that gives moles their distinctive coloring."
Moles can be benign or cancerous. They can appear due to UV radiation exposure, having fair skin, a weakened immune system, or even genetics. If you notice a new mole, it is important to get it checked by a dermatologist to determine if it is cancerous or not. The key is to catch it early. Early detection of problematic moles greatly increases the survival rate.