Is John Astin Still Alive? What We Know About Him Now
Few moviegoers remember his small part in West Side Story, but John Astin's portrayal of Gomez Addams in the short-lived TV series The Addams Family made him a celebrity in the 1960s. His acting career dates back to the '50s, so you might be wondering if John Astin is still alive. Here's what we know.
John Astin: From science nerd to stage and screen actor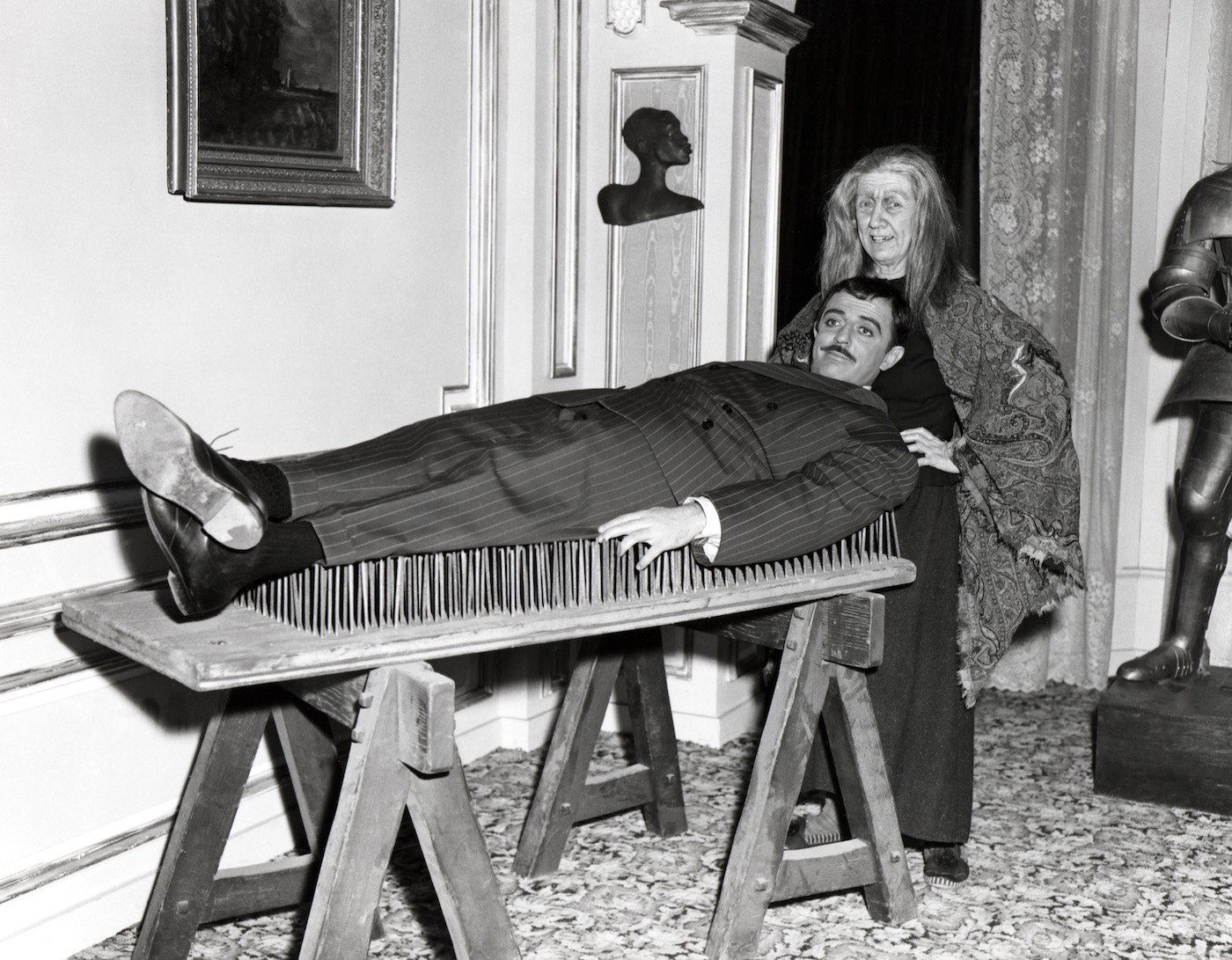 Born John Allen Astin in Baltimore, Maryland, on March 30, 1930, the boy who would grow up to be Gomez spent most of his childhood in Washington, D.C. Like his physicist father, Astin excelled at arithmetic and science and was awarded a math scholarship to attend Washington & Jefferson College after graduating from high school in 1948.
By all accounts, Astin was well on his way to a science degree when he and a friend attended a production of Thornton Wilder's Our Town. Everything, including his college major, changed after that, The Famous People reports. Astin transferred to Johns Hopkins University, where he graduated with an arts and sciences degree in 1952. Today, a theater at the university is named for him.
As a grad student, Astin attended the University of Minnesota, where he appeared in dozens of plays before making the move to New York. Like many aspiring actors, Astin got a janitorial job at an off-Broadway theater and worked as a part-time radio ad personality. The gigs weren't glamorous, but they paid the bills as he auditioned for acting work around town.
Ultimately, the auditions paid off with a commendable and "electrifying" appearance in George Bernard Shaw's Major Barbara, AllMusic reports.
Then Hollywood called
Toward the end of the 1950s, Astin's friend and future Odd Couple star, Tony Randall, convinced him that Hollywood was the place to be. Recently married, Astin changed coasts and didn't spend much time as a struggling actor. A minuscule role as a detective in the 1960s The Pusher didn't make him memorable, but it opened the door to parts on several TV shows, including Maverick, The Donna Reed Show, The Twilight Zone, and The Asphalt Jungle.
Astin's first role in a major motion picture was small but added the classic teen gang musical West Side Story to his growing résumé. Starring Natalie Wood as Maria, Russ Tamblyn as Riff, Richard Beymer as Tony, and Rita Moreno as Anita, the modern retelling of Shakespeare's Romeo and Juliet garnered 10 Academy Awards, IMDb reports. Watch for Astin at the beginning of the high school dance scene when Maria and Tony lock eyes and fall in love.
Astin's personal life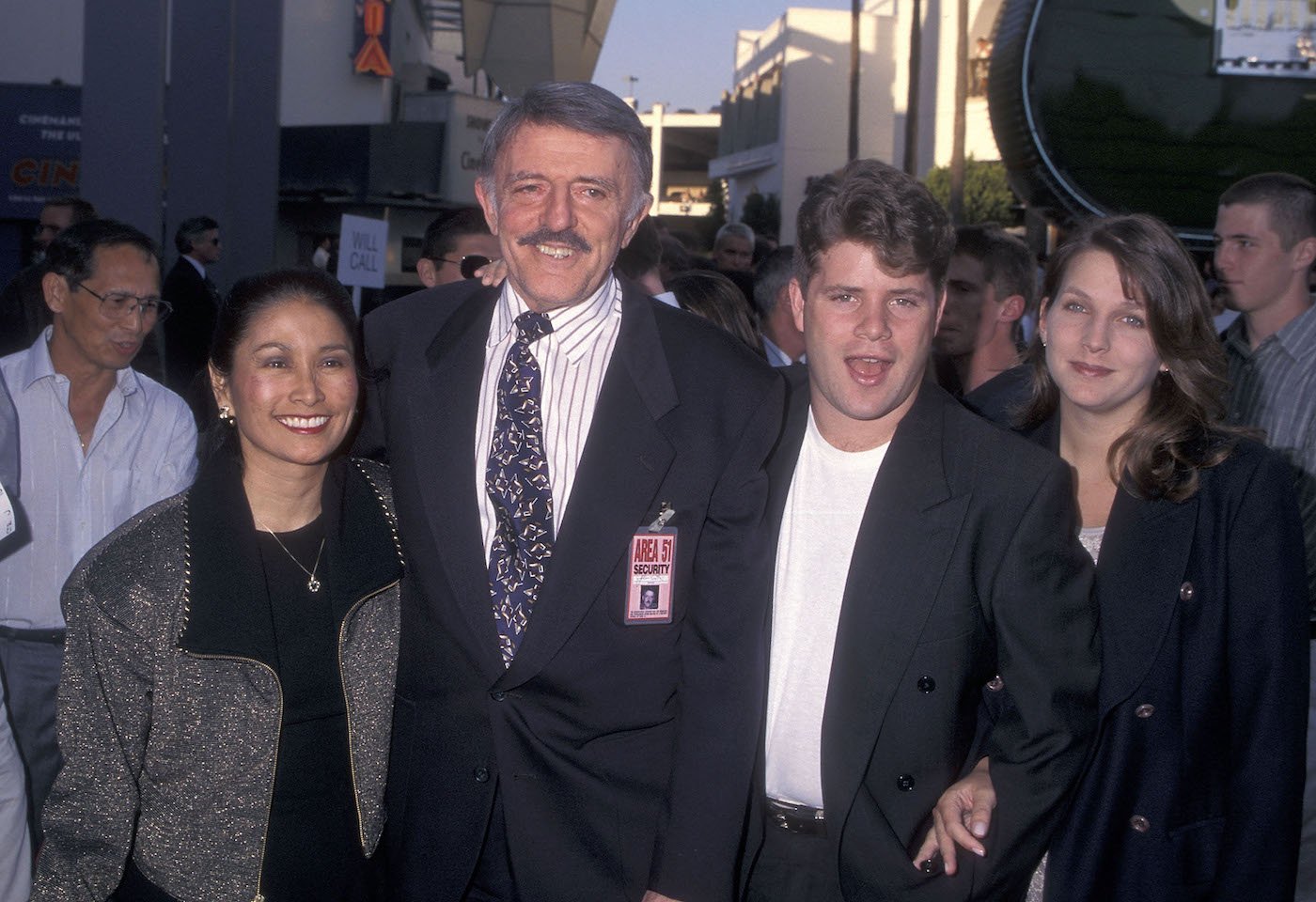 Love and companionship are common themes in Astin's long life.
His marriage to actor Suzanne Hahn lasted from 1956 to 1972 and produced three sons.
Two months after he and Hahn divorced, Astin married Oscar-winning actor Patty Duke. At the time, Duke was a mother to 1-year-old Sean, whom Astin adopted at age 3 (yes, Sean Astin of The Goonies, Lord of the Rings, and Stranger Things fame). The couple had another son, Mackenzie, and the marriage lasted 13 years.
In 1989, Astin wed his current wife, Valerie Ann Sandobal.
And, yes, he is still very much alive.
'The Addams Family' and beyond
Based on macabre cartoons published in The New Yorker from 1938 to 1998, The Addams Family revolved around a charming albeit ghoulish clan headed by patriarch Gomez.
Suave and spooky, Gomez was the perfect comic foil to Carolyn Jones' Morticia Addams. Other notable cast members include former child actor Jackie Coogan as Uncle Fester, Ted Cassidy as butler Lurch, Lisa Loring as Wednesday Addams, and Ken Weatherwax as Pugsley Addams.
The original Addams Family TV series ran from 1964 to 1966. After the final wrap, Astin kept his comedic talents tuned to TV. He made guest appearances on shows such as Love, American Style; The Partridge Family; McMillan and Wife; Get Christie Love!; Night Court; and Marcus Welby, M.D. He even guest-starred as a villain in the ultra-campy Batman. In 1977, Astin reprised his role as Gomez in the made-for-TV Halloween With the New Addams Family.
He also appeared in a string of movies, including National Lampoon's European Vacation and both versions of Attack of the Killer Tomatoes.
After that, you might think John Astin would be ready to retire. Instead, he lent his voice to numerous TV shows, including The Wild Thornberrys, Pinky and the Brain, and Duckman. His latest movie, Starship II: Rendezvous With Ramses, is in post-production, IMDb reports.
Astin may be slowing down, but he shows no signs of stopping. Now 91 years old, he is the theater program director and Homewood professor of the arts at Johns Hopkins Krieger School of Arts and Sciences.
RELATED: 'The Addams Family': Playing Gomez Inspired John Astin to Quit Smoking