Is Johnny Depp In A Band?
Learn more about Johnny Depp's music career outside of acting, including his work with bands like Hollywood Vampires.
Johnny Depp is a famous actor best known for playing Captain Jack Sparrow in Disney's Pirates of the Caribbean. But Depp isn't just an award-winning Hollywood star. He's also a talented musician.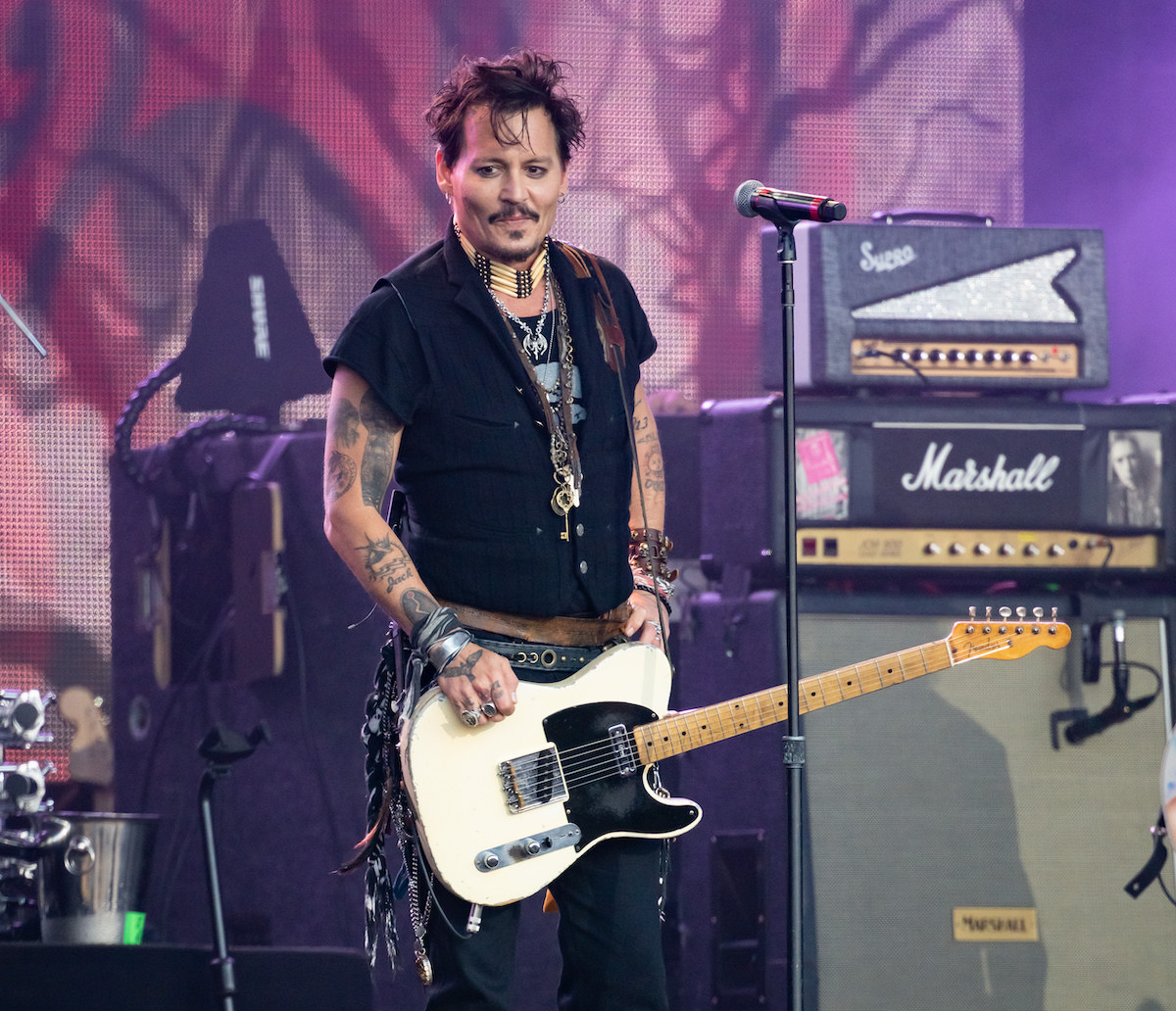 Johnny Depp has been in dozens of films 
Depp got his start as an actor in the 1984 horror movie A Nightmare on Elm Street. After that, Depp landed deals that solidified him as a teen idol, including the role of Tom Hanson on 21 Jump Street.
Throughout his career, Depp has taken on iconic roles in several of Tim Burton films, including: Edward Scissorhands, Dark Shadows, Sleepy Hollow, Charlie and the Chocolate Factory, Ed Wood, Alice in Wonderland, and Sweeney Todd. 
Outside of his career with Burton, Depp is a staple in movie franchises like Pirates of the Caribbean and J.K. Rowling's Fantastic Beasts and Where to Find Them — at least, until he stepped away from the role due to his legal case with Amber Heard. 
In addition to being a successful actor, Depp is something of a musician. 
Johnny Depp has been in bands like Pink Grenade and Rock City Angels 
Before Depp's acting career took off, he was a member of the Rock City Angels, a glam band that originated in Florida. After they landed a recording contract with New Renaissance Records and relocated to Los Angeles, Depp joined the group. In 1986, Depp was a rhythm guitarist for Rock City Angels, just before he debuted on 21 Jump Street. He only played with the Rock City Angels for one year. 
Later, in 2014, Depp joined the band Pink Grenade. The nine members in the band, which included Depp, heiress Bim Fernandez, and publicist Johnathan Hay, avoided publicity at all costs to remain anonymous. The band's first single, "Let's Take It Naked," was released in January 2014. The following year, Depp moved on to yet another musical venture.
Johnny Depp is currently in a supergroup called Hollywood Vampires 
In 2015, Depp once again lent his musical talents to another group — Hollywood Vampires. Together with Alice Cooper and Aerosmith's Joe Perry, the band performs covers of 1970s rock hits. 
Cooper's drinking club inspired the name of the band. In the 1970s, Cooper hosted the Hollywood Vampires club, which included artists like John Lennon, Ringo Starr, Keith Moon, and Micky Dolenz. 
The Hollywood Vampires band put out a self-titled album in 2015 of mostly cover songs featuring artists like Dave Grohl, Pauly McCartney, and Slash. The band's second album, Rise, debuted in 2019. 
Johnny Depp sings and plays multiple instruments in Hollywood Vampires 
As Cooper explained to Billboard, Hollywood Vampires is a collaborative effort. Depp plays the slide, rhythm, and lead guitars, as well as the keyboards. The actor sings backing vocals, but when the band performs David Bowie's "Heroes," Depp sings lead.
Ironically, Cooper said Depp fought him about singing initially. 
"He said, 'I'm not a singer,'" Cooper told the music outlet. "And I said, 'Johnny, you did Sweeney Todd!' And he said, 'Oh yeah, I did. I forgot about that.'" 
Where to see Johnny Depp perform with Hollywood Vampires 
According to the Hollywood Vampires website, Depp fans can see the band on tour in 2021. At this time, it looks like their tour dates are mostly in Europe. They currently have 16 concerts scheduled throughout 2021.