Is Kenya Moore Banned From Bravo's 'Real Housewives of Atlanta' For Life?
Fans of Bravo's Real Housewives of Atlanta were shocked to learn that former Miss USA, Kenya Moore, would not be returning for Season 11 of the highly-rated reality series. During her tenure on the Real Housewives franchise, fans watched Moore struggle with finding meaningful romantic relationships and her desire to be a mother. However, in 2017, all of Moore's dreams came true. The twirl-loving housewife, married her husband, businessman, and restaurant owner Marc Daly after a whirlwind romance, and the newlyweds welcomed their first child, a daughter, Brooklyn Doris Daly, on November 4, 2018.
Unfortunately, since her new husband is a private person, Moore refused to showcase her new life on Real Housewives of Atlanta. As a result, she was not offered a peach for Season 11, and it instead went to Marlo Hampton. According to Radar Online, hiding her wedding from show producers, and her husband's refusal to be seen on camera were the main reasons Moore's contract wasn't renewed.  Though the new mom seemed to take her firing in stride at first, a recent stunt might have just gotten her banned for the show for life.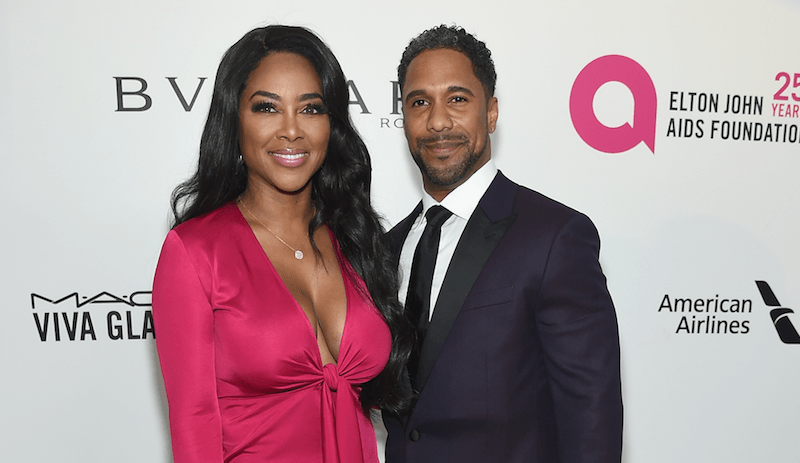 A massive stunt
According to Radar Online, Moore recently crashed one of Real Housewives of Atlanta's tapings. She showed up at a party for Cynthia Bailey who was debuting her new Peach Bellini drink with Seagram's Escape. Things might have been OK if a then-pregnant Moore hadn't used the event as an opportunity to confront fellow housewife, NeNe Leakes. A source close to the ladies on the show revealed, "That didn't work because NeNe wants nothing to do with her."
Bravo wasn't too pleased about the drama either. If Moore thought that her appearance would entice Bravo to hand her a new contract, she was very wrong. Atlanta Black Star reported, "Kenya did not have a deal with Bravo or the production company to get compensated for being at Bailey's "exotic escape" party. She had been offered an appearance fee before the season started, for $1,500 each time she filmed, but she turned that down. The editing won't be done until the beginning of the new year, and the network might not want Kenya at all."
In fact, the network was rather agitated by the entire thing, which leads folks to believe that Moore won't ever be back on Real Housewives of Atlanta. Radar Online reported, "Kenya overplayed her cards… She thought by showing up and creating drama it would get her back on the show. It won't."
https://www.instagram.com/p/BkLoPp5DuYc/?utm_source=ig_embed
Keeping hope alive
Though her initial stunt didn't get her peach returned to her, Moore probably isn't done twirling for us on TV. Back in June 2018, she posted a long caption on Instagram promising her fans that they would see her journey as a mother and a wife one way or another. She wrote,
#FAKERHOANEWS .No one has EVER asked me to be a friend to show… .fact: I am THE housewife that has had THE highest rated episodes the past 3 seasons… even last year having missed 3 episodes. .#Fact: the Barcelona New Lineup didn't work…The fans have spoken. I've never been called boring .#Fact love me or hate me I may not be the "fan favorite" (my sister @kandi is and well deserved) but thank you for being invested in my life and continuing to contribute to the success of #RHOA and my success in my career on all levels. Don't worry #teamtwirl you will get to see #babytwirl and all that I'm experiencing as a new wife and mother-to-be one way or another. You will see my raw truth… the good the bad and the ugly one way or another. Fact# I am good effing TV! .Fact# I will be a HW or nothing at all.
We suppose only time will tell if Moore will return to Real Housewives of Atlanta or not, but being unwilling to let the cameras into all aspects of her life doesn't exactly bode well for her.