Is Kris Jenner the Reason Kourtney Kardashian and Scott Disick Never Married?
Kourtney Kardashian and Scott Disick had one of the most infamous relationships in reality television history. The former couple was first seen together on the premiere episode of Keeping Up With the Kardashians back in 2007 and had an on-again, off-again relationship for many years.
The show saw the pair through breakups, pregnancies, and almost a potential wedding. However, the two never went through with the nuptials seeing as momager Kris Jenner intervened and convinced Kardashian to wait.
So, we wonder: Is Jenner the reason Kardashian and Disick never married or was tying the knot just never in the cards for them to begin with?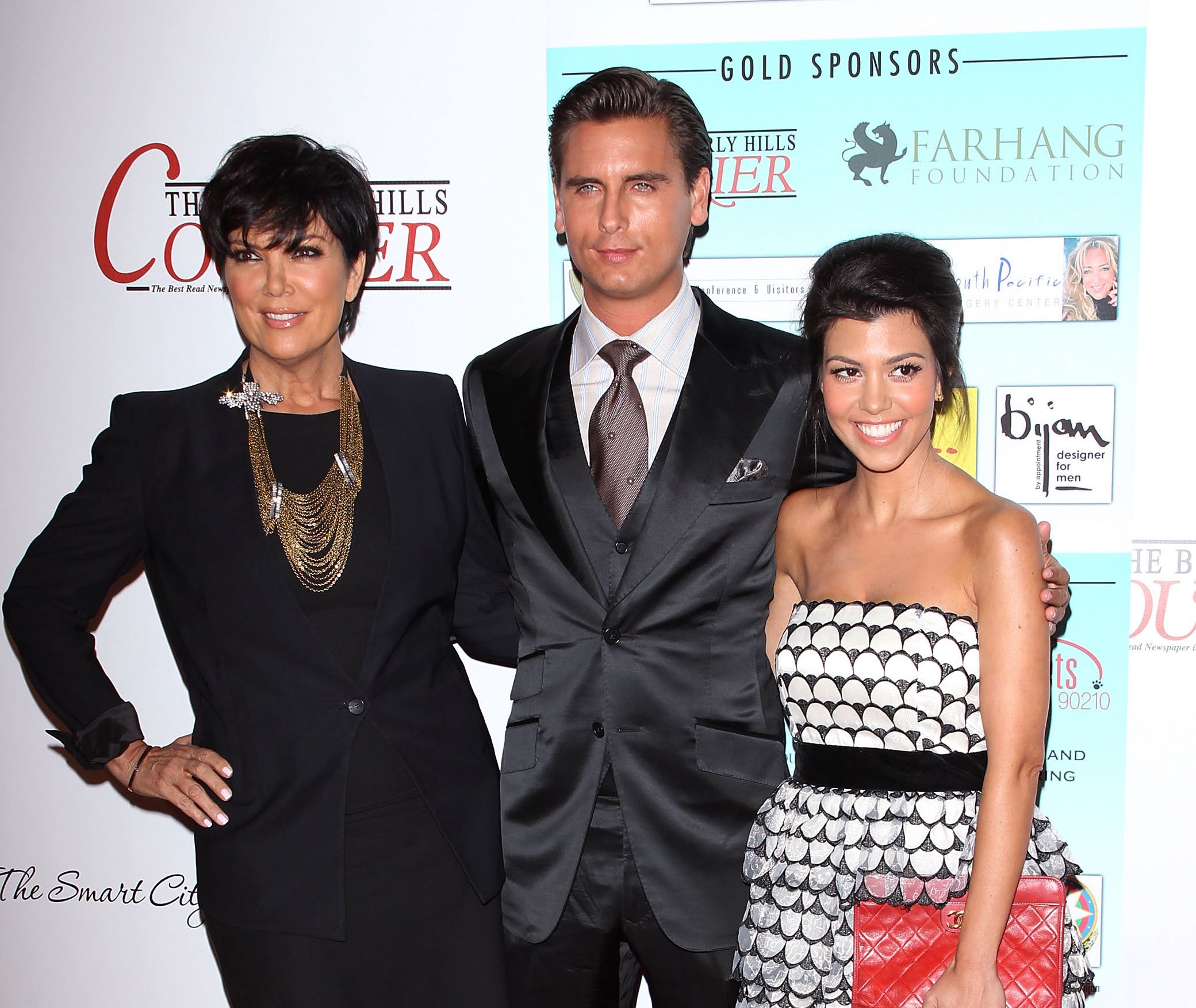 Kourtney Kardashian and Scott Disick almost got married in season 1 of 'KUWTK'
In the fourth episode of the first season of KUWTK, Kardashian and Disick made the bold decision to get married in Las Vegas.
Seeing as they had been dating for a while and were happy together, the couple wanted to make their relationship official by having a quintessential shotgun wedding in Sin City.
"Would you hate it if I asked you to marry me right now?" Disick asked Kardashian, to which she replied, "Yes, I want to."
RELATED: 'KUWTK': What If Kourtney and Scott Actually Got Married in Season 1?
It wasn't long after they decided to get hitched that the rest of the Kardashian family caught word of Kourt and Scott's plans. Though Kardashian's sisters were understanding toward the situation, Jenner wasn't happy with the plan and expressed concerns over the Poosh founder getting married in Las Vegas.
"They want to get married today? I am totally devastated," she said. "I feel really weird about this whole thing. She's rushing it a little bit."
Though Kim Kardashian West tried to mediate the situation by bringing up the fact that she got married in Las Vegas at 19-years-old, Jenner still couldn't get on board with her oldest daughter tying the knot with Disick.
Later on in the episode, Jenner expressed her reservations to Kardashian and convinced her to hold off on marrying Disick so that she could have a wedding with all her family and friends present.
Did Kourtney Kardashian ever want to marry Scott Disick?
Though Jenner stopped Kardashian and Disick from getting married in Las Vegas, it's possible that the mother of three wouldn't have gone through with the wedding had the famed momager not been there.
In 2016, insiders told Page Six that Kardashian had been hesitant to marry the New York native, which many believe was mainly due to his excessive partying habits and alcohol use.
"She's made comments to her family about how his behavior [with money and partying] is exactly why she never married him," an insider explained. "He doesn't largely have a job beyond his club appearances and paid Instagram posts and hasn't given up drinking."
A year later, Disick revealed during an episode of KUWTK that he'd proposed to Kardashian in the past. However, she turned him down saying she was "happy with the way things are."
RELATED: Why Some People Are Bummed Kourtney Kardashian Might Never Get Married
But Kardashian's hesitations weren't the only thing stopping her from marrying Disick.
In an interview with Oprah Winfrey in 2012, Kardashian admitted that witnessing her parents' divorce when she was young had an effect on her view of marriage.
However, the idea of getting married isn't entirely off the table for Kardashian. While appearing on E! 's In the Room in March 2020, the mom of three revealed that she's still open to marriage.
"I feel like I'm really content [right now], but I think if it was the right situation, I think it's something that I would want," Kardashian shared. "But, I don't feel like it's missing."
Scott Disick still wants to marry Kourtney Kardashian one day
Since calling it quits for good in 2015, both Kardashian and Disick have moved on with other people, all while remaining dedicated co-parents to their three kids.
Today, Disick is in a relationship with 19-year-old model Amelia Hamlin while Kardashian is dating Blink-182 drummer Travis Barker.
Though the former flames are happy with the people they are with now, Disick is still holding onto hope that he and the Poosh founder will one day tie the knot.
In a sneak peek clip from the upcoming season of KUWTK, Kim Kardashian West asks the exes, "So when are you guys going to get back together?"
RELATED: Kourtney Kardashian and Scott Disick Caught Asleep Together in New' KUWTK' Trailer
"Wherever Kourt stands, I stand with her… forever," Disick replies. "I love you. And I'm ready to marry you, right here, right now. Kourtney knows that eventually we'll get married, and live a good life."
Though Kardashian wasn't on board with Disick's romantic idea, it's good to know that not all hope is lost that the pair could possibly find their way back to each other. We'll just have to wait and see what the future holds.