Is Marvel's 'Eternals' on Disney+, Netflix, or Other Streaming Services?
After a series of pandemic-related delays, Eternals is finally here. The Marvel superhero movie is playing in theaters all over the country. But is Eternals on Disney+, Netflix, or any other popular streaming services? 
What's the 'Eternals' release date?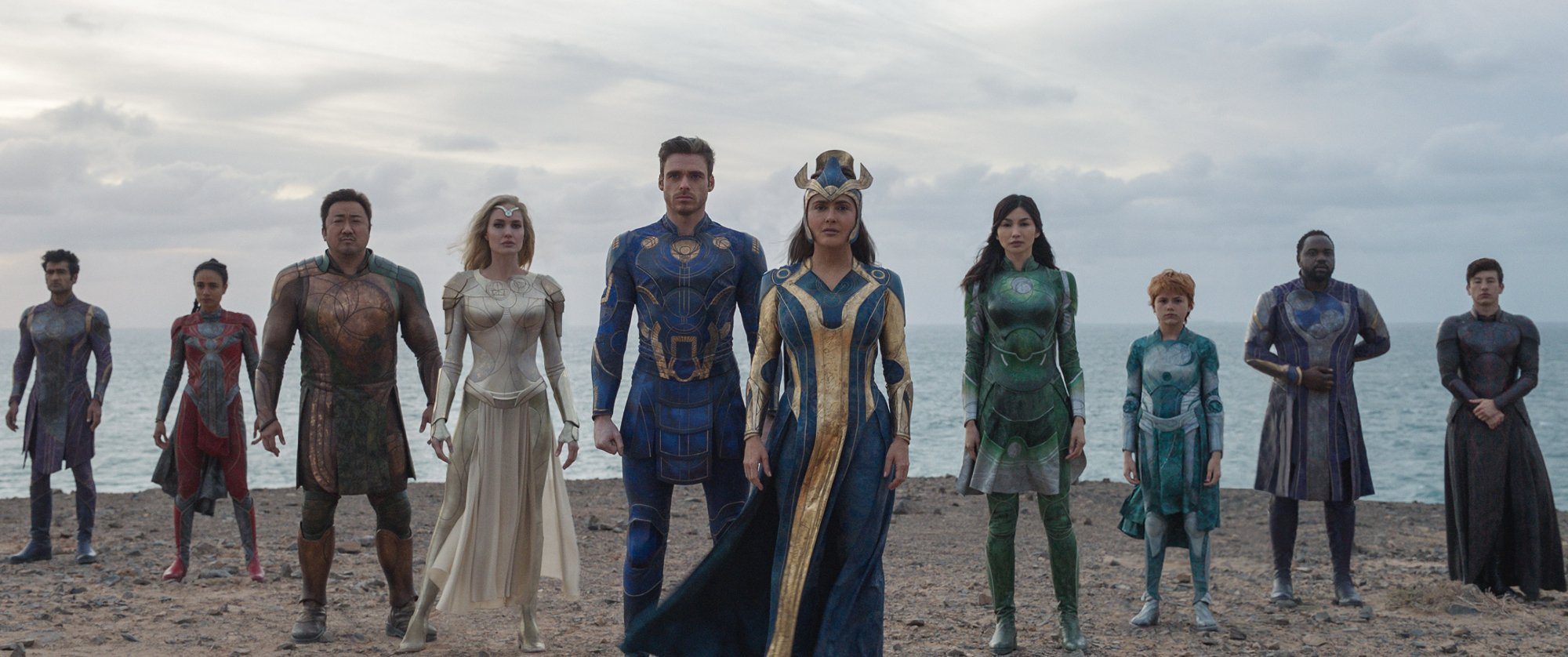 Fans have been waiting for Eternals to release for quite some time. The movie was initially scheduled for a February 2021 premiere. But due to the pandemic, Marvel shifted their schedule and gave most of their Phase Four films later opening dates.
After an Oct. 18 premiere in LA, Eternals was released in U.S. theaters on Nov. 5. The film comes from Academy Award-winning writer and director Chloé Zhao. Its star-studded cast includes Lauren Ridloff, Angelina Jolie, Salma Hayek, Brian Tyree Henry, Richard Madden, Kit Harington, Gemma Chan, and Kumail Nanjiani.
The Marvel Cinematic Universe project follows a group of cosmic immortals called the Eternals who've hidden out on Earth for centuries. The celestial superheroes reunite when their counterparts, an evil group called the Deviants, arise to threaten them.
Is 'Eternals' on Disney+ Premier Access?
Marvel is a Disney company, and most of the MCU catalog is available on its streaming service. But unfortunately, Eternals is not streaming on Disney+.  
Disney released Black Widow in theaters and on Disney+ simultaneously, charging subscribers an additional $29.99 for Premier Access. And many hoped they would do the same with Eternals.
But theaters are now fully open. And in recent days, films like Free Guy and Shang-Chi and the Legend of the Ten Rings have seen astounding box office numbers. So, it's very likely that Disney and Marvel want to bank on Eternals (which cost a whopping $200 million to make) with an exclusive theatrical release. 
Is there a scheduled 'Eternals' Disney+ release date?
Eternals may not be on Disney+ yet. But there's a good chance the movie will hit the streamer soon. Black Widow was available 45 days after its theatrical release. So if Marvel and Disney follow a similar schedule, Eternals should be on Disney+ just in time for the Christmas and New Year holidays. 
Is 'Eternals' on Netflix?
Netflix is one of the most popular streaming services around. And it has carried plenty of Marvel titles, including exclusive series like Daredevil and Luke Cage. 
But as of now, Eternals is not on Netflix. And it doesn't look like it will be on the streamer anytime soon. 
Is the new Marvel movie on Hulu, or any other streaming service?
Home viewers may be wondering if Eternals is streaming on Hulu, HBO Max, or other popular services. Unfortunately, the film is not on any digital platform. 
For now, the only way fans can watch is to head to a movie theater. Schedules vary by location, so viewers will need to check their local theater listing for dates and times.