Is Meghan Markle Jealous That Kate Middleton Will Be Queen?
From the moment she joined the royal family in 2018, it was clear that Meghan Markle was never going to be another Kate Middleton. Although there is a level of competition between Prince William and Prince Harry, sources claim that a rivalry does not exist between Kate and Meghan, both of whom know their roles within the royal family. But is Meghan secretly jealous that Middleton will be Queen someday?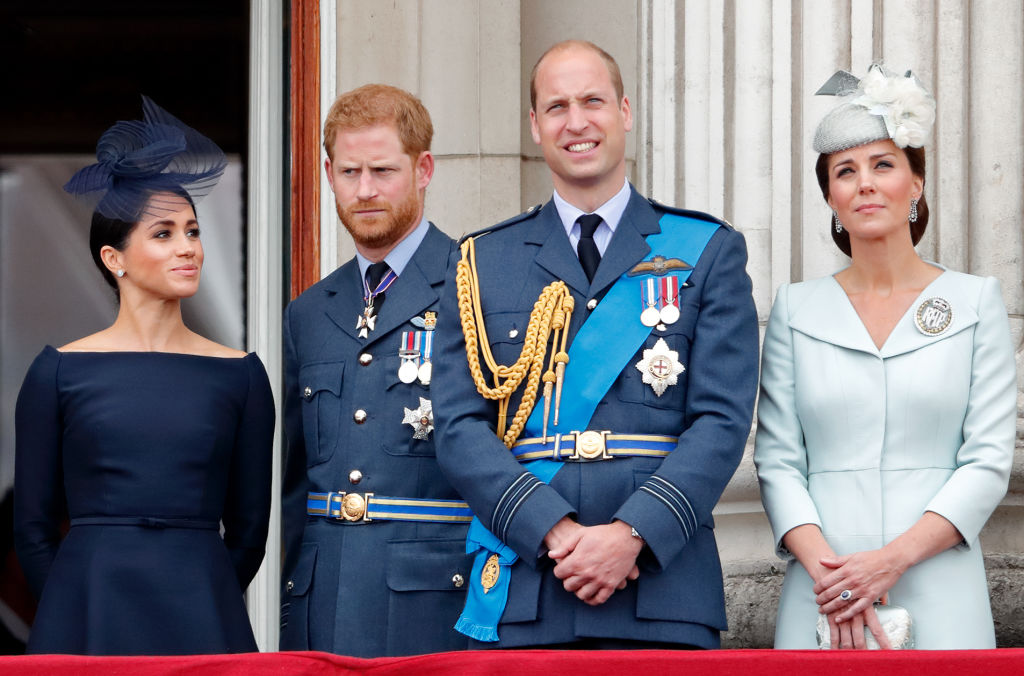 Kate Middleton and Meghan Markle are on different paths
The Cambridges and Sussexes have been the subject of many divisive rumors over the past few years. While Meghan struggles to adjust to life as a royal, Middleton has had over a decade to prepare for her future in the family.
And while they currently share similar duties and have teamed up for charitable work in the past, an inside source told People that Meghan knows Kate is on a different path.
"Meghan is very aware that Kate will be Queen; their roles are very clear," the insider dished.
The source added that Kate Middleton and Meghan Markle come from completely different backgrounds and have few similar interests. And while Kate was introduced to the royals at a young age, Meghan was an adult when she tied the knot with Harry.
Because of their differences, the two often find it hard when they are compared to each other. What is even more challenging is the fact that they are both at different stages in life. The only thing they really have in common is their motherhood, but they also approach that in a different way.
Is there a divide in the royal family?
A few weeks ago, Harry and Meghan opened up about living in the royal family in a shocking documentary titled Harry and Meghan: An African Journey.
In their respective interviews, Meghan Markle admitted that dealing with British tabloids has been rough while Harry all but confirmed that he is feuding with William.
A few weeks later, the couples appeared together in honor of Remembrance Day, though their interactions sparked even more rumors about their fractured relationship. In fact, despite appearing at multiple events together, Harry and William kept their interactions strictly professional.
To make things worse, Prince Harry and Meghan Markle recently confirmed that they will not be joining the rest of the royal family for Christmas at Sandringham. Instead, the Duke and Duchess of Sussex will be spending the holidays with her family in Los Angeles.
The royals celebrate Queen Elizabeth's anniversary
While royal watchers continue to speculate on Meghan and Kate's relationship, Queen Elizabeth and Prince Philip are celebrating an incredible 72 years of marriage.
Her Majesty and Philip exchanged vows in a gorgeous ceremony inside Westminster Abbey in November of 1947. In honor of their 72nd anniversary, members of the royal family took to social media to congratulate them on the longevity of their union.
Prince William and Kate Middleton were among the first to release a statement congratulating the couple for another year of marriage. Kensington Palace also shared a few kind words of support, along with some photos of the couple when they were younger.
Prince Harry and Meghan Markle quickly followed their lead and shared a heartfelt message of their own on Instagram. The couples' relationship may be at odds, but they certainly put up a united front in public.
What will happen to Prince Harry and Meghan Markle?
In light of everything that has happened in recent weeks, Harry and Meghan's future in the royal family remains in serious doubt.
Even before their shocking documentary, the couple faced rumors that they were planning on moving out of England. Reports surfaced that they were looking for a quieter life in Africa or California.
Harry even commented on the moving rumors following the couple's tour of South Africa. Although the region is very dear to Harry's heart, the Duke of Sussex revealed that moving to South Africa is probably not in the cards.
Until we hear more, Harry and Meghan are scheduled to fly to Los Angeles to spend time with her mother, Doria Ragland, over Thanksgiving. The two, along with their son, Archie Harrison, are expected to remain in the states until after Christmas.
They have not commented on the rumors surrounding Meghan Markle's relationship with Kate Middleton.