Is Meghan Markle Richer Than Kate Middleton?
The two young duchesses, Meghan Markle and Kate Middleton have quite a bit in common: A flair for fashion, a passport filled with travel stamps, well-dressed children and royal titles.
The ladies don't have to spend their own money on these expenses since they became members of the royal family, but which Duchess is more wealthy?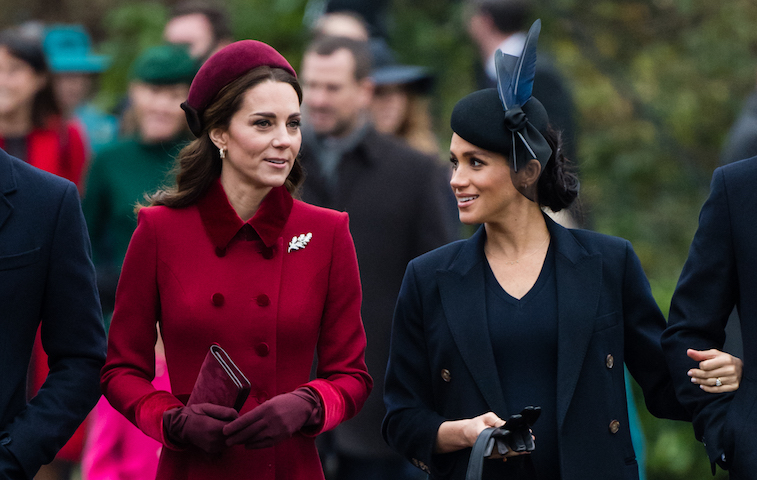 Meghan Markle before becoming royalty
Some people might assume Meghan Markle must be wealthier than Kate Middleton. Meghan, after all, had a long and successful stint as an actress before she became a member of the royal family.
Meghan has thousands of promo photos showing her wearing designer clothing, and appearing at classy events. She made millions in her role as Rachel Zane on the TV show Suits, and her fame makes it seem obvious she has amassed a bit of wealth.
Meghan Markle's other roles
Meghan appeared in Suits for seven consecutive seasons. However, that was not all she accomplished in her career before her marriage to Prince Harry.
In addition to her role in Suits, the duchess appeared as one of the lovely suitcase girls on the game show, Deal or No Deal. She has also had roles or appearances in several feature films including Horrible Bosses, Remember Me, and Dysfunctional Friends.
Kate Middleton before she married Prince William
Kate Middleton, on the other hand, was an art student studying Art History at St. Andrews University before she met and married Prince William. Later, she held down a part-time job as a buyer for the children's department at Jigsaw, but it didn't last more than six months.
We know that she also worked part-time in her parents' business, their multi-million dollar company Party Pieces, for a time as well but she has never had to juggle a full-time job.
She brings into her marriage vast sums of money via trust funds, and in part from of her parent's business. However, as it stands, she can save and invest most of those funds because she does not have to spend any of her own savings on living expenses, thanks to an annual royal income from the Duchy of Cornwall.
Kate's other finances
On the outside, it looks like Kate does very little to earn her own money, but she has enormous social value as a member of the royal family. Several times Kate has been named to Time Magazine's 100 most influential people in the world, which adds to her ability to affect change and also amass wealth.
Then there is also what is known as the 'Kate Middleton effect' which is when the wardrobe choices she makes have a positive economic impact on the U.K. fashion industry because fans of the duchess often will purchase items if Kate, or her children, have worn them.
Is Meghan Markle richer than Kate Middleton?
According to Celebrity Net Worth, Meghan currently has a net worth of $5 million, while the Duchess of Cambridge's net worth is double Meghan Markle's at $10 million.
However, if Prince William were to take over the role of king, the couple's fortune, and thus Kate's net worth, would significantly increase.
When Markle married Prince Harry, she also was able to experience the financial benefits of being a member of the royal family. Meghan Markle no longer has to spend any of her own money on her day to day expenses. Prince Harry and accounts of the royal family will take care of all her necessities.
The final tally
All things considered, it turns out that of the two duchesses, Kate Middleton has acquired much more independent wealth than Meghan Markle.
Time will tell if Kate can hold on to that head start, or if Meghan's social influence will help her to surpass Middleton's fortune.