Is Melania Trump Younger Than Donald Trump's Daughter Ivanka?
All families are different. Blended families are becoming increasingly common, and sometimes that means unusual age gaps happen. Like in the case of the Trump family.
Most people know that Donald Trump's wife, Melania, is much younger than he is. The businessman turned President of the United States met the Slovenian supermodel at a party in Manhattan when he was 52 and she was 28. That age gap doesn't sound too awful – until you consider that Trump was already 24 when Melania was born in 1970.
However, one question that so many people have – is Melania Trump older or younger than Donald Trump's daughter, Ivanka Trump?
Who was Donald Trump married to before?
Before Donald and Melania were a thing, Trump was married to Ivana Trump for a long time. The pair wed in 1977 and then divorced in 1992. Over the course of their marriage, the couple had three children – Donald Trump Jr., Ivanka Trump, and Eric Trump.
Donald's wife Ivana Trump was also a model. Their first baby, Donald Jr., was born in 1977 – that's seven years after his future wife Melania. Ivanka came next in 1981, making her 11 years younger than her new stepmother Melania Trump. Eric Trump was born in 1984.
Are Trump's grandchildren older than his son?
Having that much of an age gap presents a few other interesting quirks. Donald Trump met Melania in 1998 and the two were married in a lavish Palm Beach ceremony on January 22, 2005. Even though Trump was already 58 when he got married, Melania had no children and wanted to have a family with Donald. At this point Trump had 4 kids – the three with Ivanka and a daughter, Tiffany, who he shared with his second wife Marla Maples.
But Donald agreed to expand his family again. Just a little over a year after the Melania and Donald Trump got married, Barron Trump was born on March 20, 2006.
How old are Donald Trump's grandchildren?
Here's the interesting part: Since Trump's other kids were adults when he married Melania, that means some of Barron's nieces and nephews are very similar in age to him. Donald Trump Jr. has five children who were born in 2007, 2009, 2011, 2012, and 2014. Ivanka's kids were born in 2011, 2013, and 2016. Eric Trump has one child born in 2017.
That means Barron's eldest niece Kai is only one year older! Do all the nieces and nephews call him Uncle Barron even though they're so close in age? It's possible!
Do Melania and Ivanka Trump get along?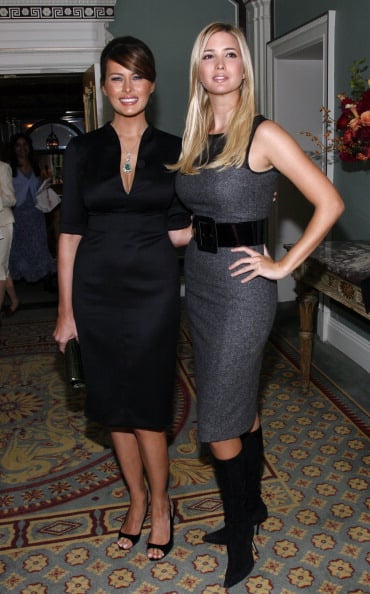 Now that Donald Trump is president, many family members are involved in the administration, including his daughter Ivanka. Obviously, Melania is the First Lady. But do Melania and Ivanka get along, especially since they're so close in age?
The relationship between the women isn't too close, but there's no apparent animosity either. As Melania said in a 2016 interview about Trump's other children, "They are grown-up. I don't see myself as their mother. I am their friend, and I'm here when they need me."
It seems the door to friendship is open is Ivanka wants to use it.