Is Michael Jordan a Grandfather?
In case you missed it, six-time NBA champion Michael Jordan is officially a grandfather. The former Chicago Bulls star's daughter, Jasmine Jordan, welcomed her first child with boyfriend, Rakeem Christmas, this past spring. The couple shared some adorable photos of the little guy on social media just in time for Mother's Day — confirming that the NBA legend is now a grandfather.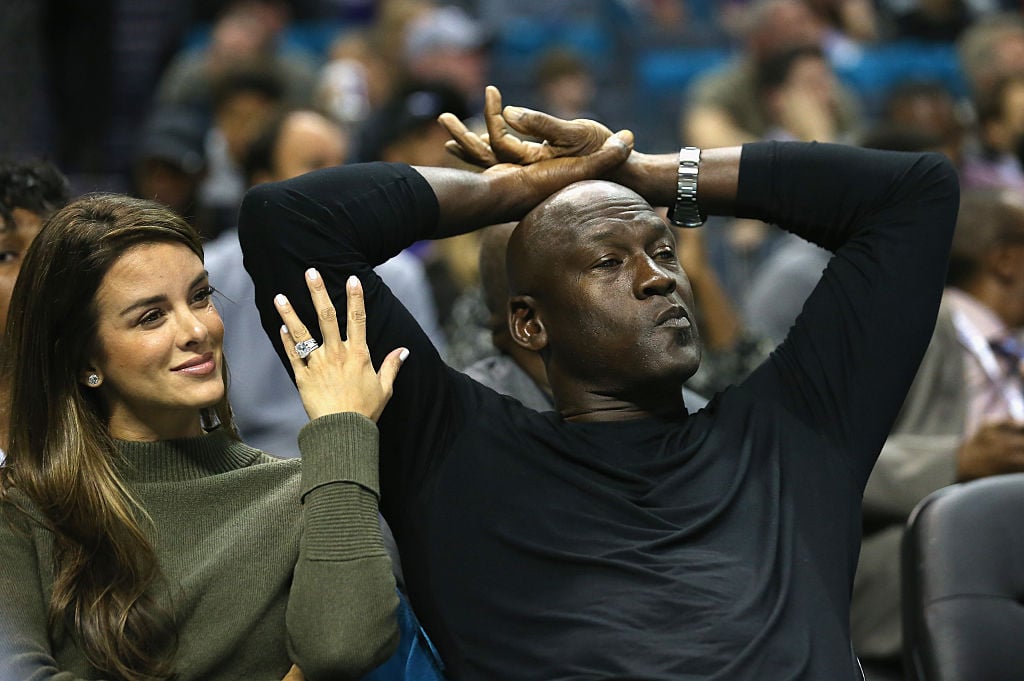 Jasmine Jordan and Rakeem Christmas welcome new baby
Back in May, Jordan shared a photo of her baby boy tugging on her finger on Instagram.
"Just In Time • I Love You Son #1stMothersDay," she wrote alongside the pic.
A tattoo of the number 25 is visible on Jordan's finger, which is the number of the jersey Christmas wore when he played for Syracuse University.
Christmas also confirmed the news by sharing a cartoon drawing of his family on his social media account. The cartoon was done with a Family Guy theme and featured his newborn wearing his old college jersey.
"I don't know what I did to deserve you and our awesome kid, Happy 1st Mothers Day!" Christmas shared.
The two did not, unfortunately, reveal the name of the child, but they have been calling him Baby Rakeem since February. They also used the initials, RMC, for the baby shower, which could stand for Rakeem Michael Christmas.
Jordan and Christmas originally met while attending Syracuse University, where she majored in sports management and he played for the basketball team.
Christmas started on the university's basketball team, which reached the Final Four in 2013. He also averaged an impressive 17.5 points per game in college and later played for the Indiana Pacers for a couple of years.
The two announced their engagement in 2018, though it is not clear if they have tied the knot just yet.
Inside Michael Jordan's family tree
Michael Jeffrey Jordan was raised in a family of seven and has two brothers and two sisters: Larry Jordan, James R. Jordan Jr., Deloris Jordan, and Roslyn Jordan.
The basketball legend has been married two times. He tied the knot with Juanita Vanoy in 1989 in a marriage that lasted for over a decade.
The couple parted ways in 2002 and tried to make it work over the next four years. They ultimately gave up on the union in 2006. Jordan agreed to pay Vanoy $168 million as part of the divorce settlement.
That's an enormous stack of cash, yet it doesn't compare to Jordan's total net worth, which is estimated to be around $2 billion.
In 2013, Jordan got hitched once again to his girlfriend, Yvette Prieto, whom he had dated for several years. The pair exchanged vows inside the Bethesda-by-the-Sea Episcopal Church.
As far as his children are concerned, Jordan has six kiddos from both of his marriages. He and Vanoy share Jeffrey Michael Jordan, Marcus James Jordan, and Jasmine Jordan.
He had his other three children, with Prieto, including a set of twins.
Jordan launches new charity
Apart from his new status as a grandfather, Michael Jordan recently launched a new charity in Charlotte, North Carolina.
Jordan, who owns the NBA franchise, the Charlotte Hornets, funded two medical clinics in the city. The clinics are located in low-income parts of Charlotte and will give greater access to medical care for individuals and families that do not have health coverage.
For his part, Jordan gifted $7 million to launch the project, which is called the Michael Jordan Family Medical Clinic.
After the launch, an emotional Jordan released a statement reaffirming his commitment to the community of Charlotte. Michael Jordan also assured the city that his work is not finished and that he will continue to give back to the community, especially when it comes to the less fortunate.
With thousands of children in the area needing health insurance and immunizations, Jordan's new project came at the perfect time.
Jordan made millions playing in the NBA, where he won multiple championships with the Chicago Bulls. He made the bulk of his fortune, however, through endorsements.
This includes long-lasting partnerships with Nike, which controls the Jordan Brand, Gatorade, and Hanes.
Michael Jordan's family members also contributed to the new clinic, though it is unclear how much they put into the project.