Is Mick Jagger Married, and Does He Have Any Kids?
With more than half a century of performance credits to his name, veteran rock 'n' roller Mick Jagger is one of the most recognizable faces in music.
Anyone who's ever turned on a radio is certainly familiar with songs such as "Honky Tonk Women," "19th Nervous Breakdown," and "(I Can't Get No) Satisfaction." What you might not know is whether the 75-year-old rocker is married or if he has any kids.
Here's what we found out.
Birth of the Rolling Stones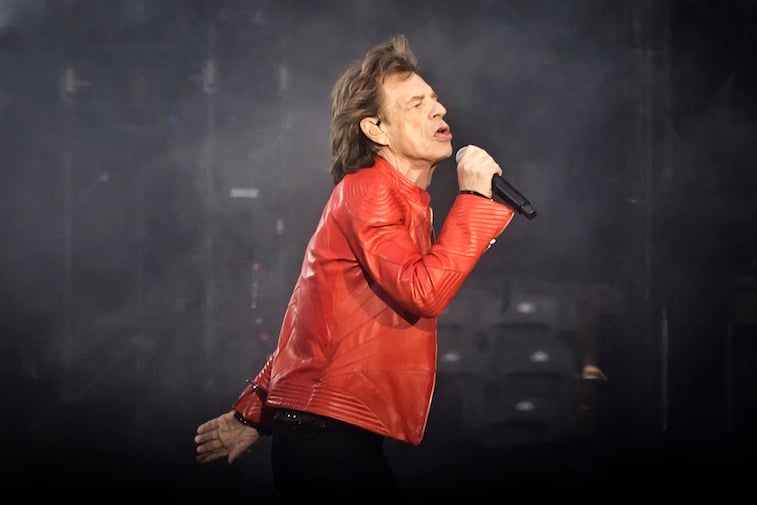 Born Michael Phillip Jagger in Dartford, England on July 26, 1943, the future lead singer of the Rolling Stones met a would-be guitarist named Keith Richards when he was 4 years old. A dozen years later, the pair re-encountered one another on a train where they discovered each other's interest in American R&B music.
Richards and Jagger became inseparable and soon joined a little English bar band led by the cherubic and troubled Brian Jones. Dubbed in deference to an old Muddy Waters song, the Rolling Stones showcased the talents of bassist Bill Wyman, drummer Charlie Watts, and keyboardist Ian Stewart. The rest is, as they say, rock 'n' roll history.
The endlessly energetic performer is quite the ladies man
Jagger's romantic exploits are almost as well-known as his songs. Shortly after achieving fame, the Rolling Stones frontman was linked with British fashion model, Chrissie Shrimpton. For a while, the world assumed that the pair would wed, but they broke up instead.
In 1964, a convent-educated teen chanteuse by the name of Marianne Faithfull recorded the Jagger-Richards song, "As Tears Go By." Two years later, Faithfull and Jagger were a very public item in the swinging London scene. As she revealed to the UK Daily Mail, Faithfull almost became the mother of Jagger's first child but suffered a late-term miscarriage in 1968. The pair never married.
Enter Marsha Hunt and Baby No. 1
The inspiration for the Stones' song, "Brown Sugar" gave birth to Jagger's first legally acknowledged child. Philadelphia native Marsha Hunt was -and remains- married to Mike Ratledge of the band Soft Machine.
Nonetheless, the statuesque Black model embarked on a ten-month love affair with Jagger and bore the singer's daughter, Karis, on November 4, 1970. As Hunt told the Daily Mail, Jagger did not participate in his daughter's life until she was 12 years old.
Second child for Jagger
While Hunt was pregnant with Jagger's first child, the singer became involved with a Nicaraguan beauty by the name of Bianca Pérez-Mora Macias.
Less than a year later, on May 12, 1971, the jet-setting pair tied the knot. On October 21 of that year, Jade Sheena Jezebel Jagger was born in Paris. The Jaggers divorced in 1979, says IMDB.
Babies No. 3, 4, 5, and 6
Tall Texan Jerry Hall sashayed into Jagger's life in 1976 and was his partner until 1999. The pair were apparently married in a ceremony in Fiji in 1990, but the marriage was ultimately declared invalid.
During the course of their very public life together, Hall gave birth to two daughters and two sons. Elizabeth Scarlett Jagger was born in 1984, and James Leroy Jagger arrived the following year.
Georgia May Jagger made her earthly debut in 1992. Five years later, Gabriel Luke Jagger was born. Today, Jerry Hall is married to Australian media mogul, Rupert Murdoch.
Mick's seventh child
When Jerry Hall split with Jagger, she cited the singer's infidelity as the biggest reason for their contentious breakup.
One of the women with whom Jagger had an affair while living with Hall was Brazilian fashion model, Luciana Gimenez who gave birth to the randy frontman's sixth child, Lucas Maurice Morad-Jagger, on May 18, 1999.
Baby No. 8
In 2016, Jagger was already a 73-year-old great-grandfather when his decades-younger ballerina girlfriend, Melanie Hamrick, delivered son Deveraux Octavian Basil Jagger in New York City on December 8.
The Daily Mail notes that the couple have no intention of marrying and do not live together. Jagger did, however, agree to pay the handsome sum of $150,000 per year until his eighth child reaches the age of maturity.
Today, the father of eight kids who range in age from 2 to 48 is not married and there are no signs he'll tie the knot again, at least not any time soon. Will the 75-year-old rockstar sire any more children? We'll let you know if he does.