Is Miranda Lambert's Problem With Blake Shelton or Gwen Stefani?
It has been over four years since Miranda Lambert and Blake Shelton called it quits, yet there is still bad blood between the former spouses. Lambert and Shelton have both written songs about their divorce, and they subtly threw shade at each other during this year's Country Music Association Awards. But is Lambert's beef with Shelton or his girlfriend, Gwen Stefani?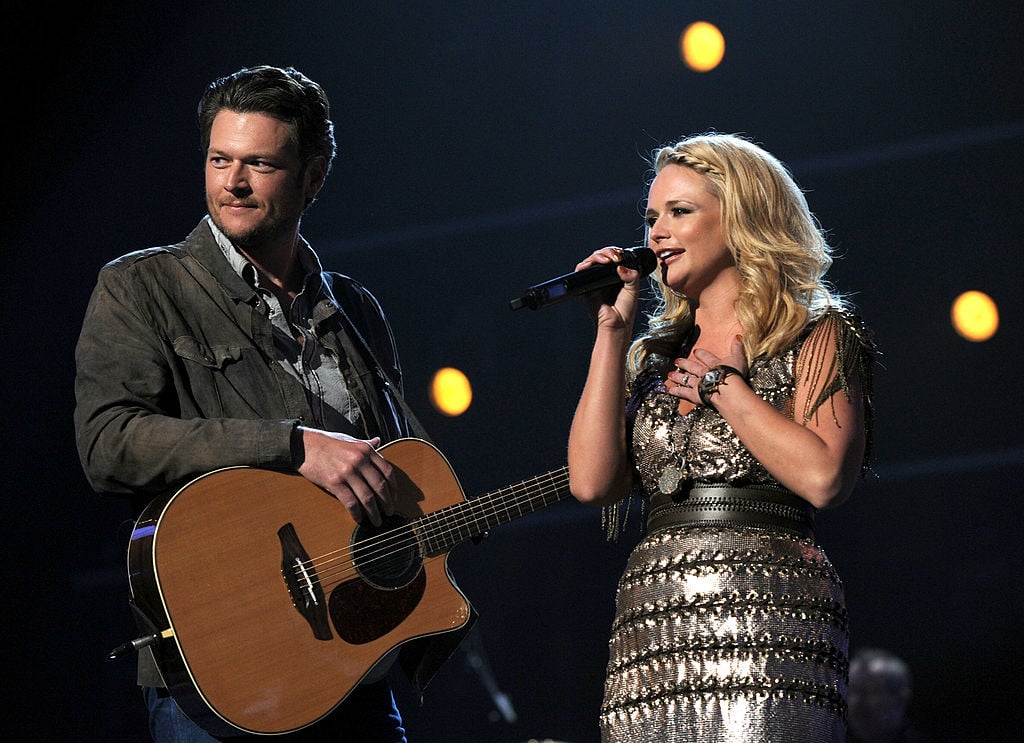 Is Miranda Lambert holding a grudge against Gwen Stefani?
Shelton and Lambert were one of country music's hottest couples when they tied the knot in 2011. Although their marriage appeared great on the surface, cracks began to appear early on.
The couple faced a lot of cheating rumors and their busy schedules only heightened the stress on their relationship. Things came to a head in the summer of 2015 when they both decided to get a divorce.
A few months later, Blake Shelton fell hard for his Voice co-star, Stefani. Their romance seemingly made a new headline every day, which probably was not easy for Lambert to stomach.
While Miranda Lambert quickly moved on as well, her relationships did not last. Shelton, on the other hand, is still dating Stefani and the two are expected to exchange vows in the near future.
We do not know if Lambert holds a grudge against Stefani for how quickly she snagged up Shelton, but we do know that the country singer holds a few regrets about how things turned out.
Lambert opens up about divorce
Although it has been four years since the divorce, Lambert rarely talks about it in public. That changed, however, in a recent interview in which Lambert finally opened up about the split.
The country star began by talking about how all of the reports surrounding the divorce took attention away from her music. While Miranda Lambert knows that fame is part of her job, she is still getting used to the extra attention.
"When everyone's worried about your personal life, it makes you feel like, 'Well, if you could just spend some of that time talking about my actual art, that would be great!'" she stated. "But I guess I asked for it, getting into this business"
She went on to reveal that her previous album, The Weight of These Wings, was a lot more emotional than her newest project, Wildcard, which has a lot more punch to it.
Lambert did not, unfortunately, say anything about why her marriage to Blake Shelton did not work out. Unless one of them comes out and spills the tea, we probably will never find out what really happened.
Major Shade at the CMAs
In the meantime, there is still some bad blood between Shelton and Lambert. Not only have the two written songs about their split, but they recently shaded each other during the CMAs.
After Shelton performed one of his latest hits at the award ceremony, everyone in the audience gave him a standing ovation — except Lambert and her husband, Brendan McLoughlin.
According to Yahoo, Miranda Lambert did not get up from her seat following Shelton's performance and failed to even clap for him. She also reportedly left the ceremony during a commercial break, which was taken as a huge insult to Shelton.
Blake Shelton, of course, is not completely innocent. He also did not clap when Lambert's name was mentioned for the Female Vocalist of the Year award.
We may not know if Lambert's problem is with Shelton or Stefani, but it is clear that both parties have a lot of issues to work out.
Blake Shelton and Miranda Lambert move on
After their divorce, Shelton started dating Stefani, who had also recently gone through a split of her own from Gavin Rossdale. The pair sparked up a romance in the fall of 2015 and have been going strong ever since.
Although they have faced a lot of engagement rumors, Shelton and Stefani have yet to take the big plunge.
For her part, Lambert is now married to McLoughlin. The two tied the knot in a secret ceremony early this year after only dating for a couple of months.
In a recent interview, Lambert gushed over her new husband and revealed that she moved quickly because she knew he was the one. So far, things appear to be going smoothly for the newlyweds.
Miranda Lambert has not addressed the recent rumors surrounding her beef with Blake Shelton and Gwen Stefani.