Is Pentatonix Doing a Christmas Special This Year?
This band is back with another Christmas album, titled We Need a Little Christmas. However, some fans are wondering if Pentatonix will return to NBC with an all-new "Holiday Special."
Here's what we know about this acapella group and their Christmas-related projects. 
Pentatonix recently released a holiday album, 'We Need a Little Christmas'
Fans might be physically distant from Pentatonix, but this group is still spreading their love through music. During November 2020, this award-winning band released their Christmas album, titled We Need a Little Christmas. 
This album featured new covers of holiday songs like "12 Days of Christmas," "Once Upon a December," as well as the original song, "Thank You."
"I feel like, especially this year, that love and that joy, and that sense of bringing everyone together is really needed," singer Kirstin Maldonado said of the album during an interview with Billboard. 
The first song to debut off of this collection was "Amazing Grace," the music video earning millions of views on YouTube in the process. However, this wouldn't be Pentatonix's first Christmas album.
The group won Grammy Awards for their holiday productions, with some music videos earning well over 100 million plays on YouTube. Pentatonix even appeared in a number of holiday specials that aired on television.
In the past, the Pentatonix members performed holiday specials on NBC 
Pentatonix shared their holiday wishes with a few appearances in New York City and Disney World. They've also had multiple holiday specials broadcast on the television network, NBC. During 2019, the group set off to solve a Christmas mystery during the NBC special Pentatonix: A Not So Silent Night. 
The first of their NBC holiday specials, A Pentatonix Christmas Special, debuted in 2016 and featured Reba McEntire, Kelly Clarkson, and covers from the band. Dolly Parton even gifted the singers Christmas sweaters. 
In 2017, another music-filled production, A Very Pentatonix Christmas, debuted on NBC. This holiday special had performances from Jennifer Hudson, Darci Lynne Farmer, and some of Pentatonix's friends, each of them sharing their holiday wishes with the acapella group.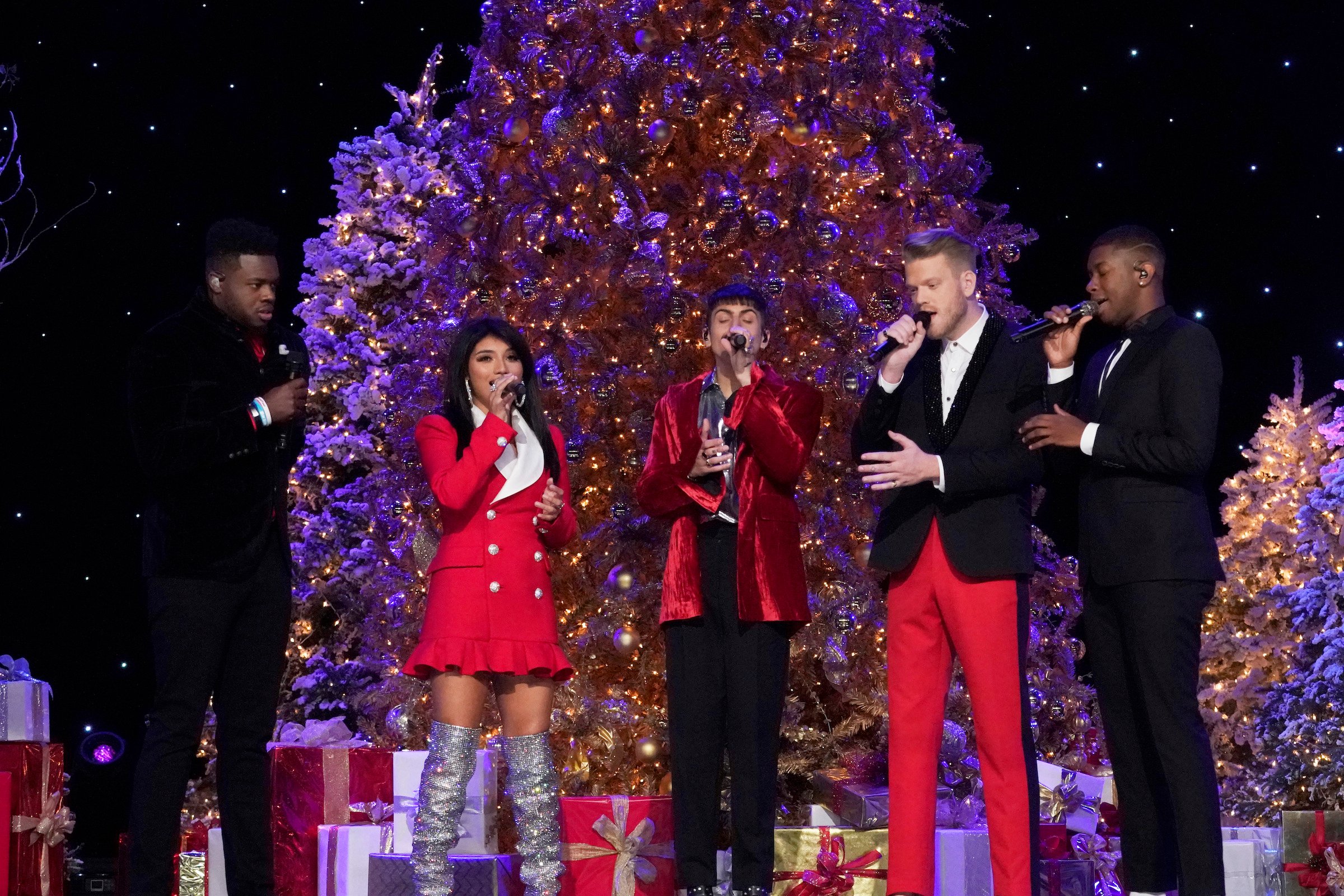 Is Pentatonix doing a Christmas special in 2020?
There's no word regarding if, or when, Pentatonix will premiere a holiday special in 2020. Most live performances of this group have been postponed due to the coronavirus (COVID-19) pandemic, meaning that having a live audience seeing them perform new songs is pretty unlikely. 
That doesn't mean a holiday special is completely out of the question. The group has been together for music videos like "Amazing Grace" and "Mad World." Presumably, more information regarding future projects will be announced in the coming weeks.
In the meantime, fans can listen to We Need a Little Christmas, which premiered in November 2020. There are also award-winning Pentatonix songs, including "Dance of the Sugar Plum Fairy" available for streaming on Spotify and Apple Music.