Is Prince Charles Stuck Paying For Prince Harry and Meghan Markle's Security Because of Princesses Eugenie and Beatrice?
When Prince Harry and Meghan, Duchess of Sussex announced their plans to "step back as 'senior' members of the royal family and work to become financially independent" there were plenty of questions that had to be answered. One of those was about the couple's security going forward.
After the pair retreated to Vancouver Island, they still had an armed security team with them. But the Canadians have made it clear that they will not be footing the bill for that much longer. Now, it's believed that Harry's father, Prince Charles, will have to pay for the Sussexes' security protection because of his nieces, Princess Beatrice and Princess Eugenie of York.
What Canada said about no longer paying for the Sussexes' security
On Feb. 27, Canada's Public Safety Minister, Bill Blair, revealed that the Royal Canadian Mounted Police had been providing protection for Harry and Meghan for the past few months but would stop picking up the tab in the "coming weeks." The prince and retired actress will officially step down from royal duties on March 31 and it is believed that will also be the date the RCMP services will cease.
"The Duke and Duchess of Sussex choosing to relocate to Canada on a part-time basis presented our government with a unique and unprecedented set of circumstances," Blair said in a statement to CBC News. "The RCMP has been engaged with officials in the U.K. from the very beginning regarding security considerations. As the Duke and Duchess are currently recognized as Internationally Protected Persons, Canada has an obligation to provide security assistance on an as-needed basis."
He added, "At the request of the Metropolitan Police, the RCMP has been providing assistance to the Met since the arrival of the duke and duchess to Canada intermittently since November 2019. The assistance will cease in the coming weeks, in keeping with their change in status."
Will Prince Charles pay now and what does that have to do with Beatrice and Eugenie?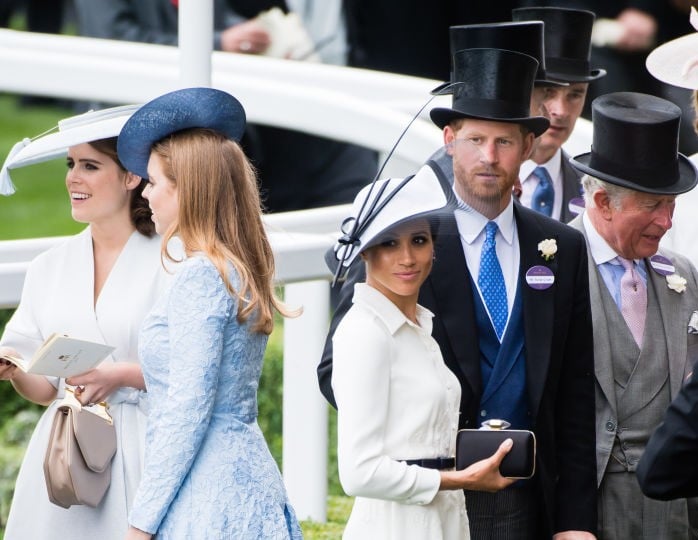 The hefty cost of protecting the Duke and Duchess of Sussex is estimated to be between $10 million to $30 million a year. Now, there are reports the pair will look to the future king to pay that bill.
Royal expert Marlene Koenig spoke to The Express and said that Prince Charles may take care of the security detail for his son and daughter-in-law due to a precedent set by Princesses Beatrice and Eugenie.
"A position in the line of succession does not mean you are entitled to protection. But if you are not a working royal you are not entitled to taxpayer-funded protection," Koenig said. "Precedent York girls do not have taxpayer-funded."
She added, "I want the Sussex[es] is to be successful on their own merits but they want the protection it should be on their dime. Most likely the bank of dad will be funding the security in the short term which is not financial independence. I am fond of H&M but in order to be on their own they can't take money from dad."
Read more: Queen Elizabeth II Gave Meghan Markle This Honor But Snubbed Her Granddaughter Princess Eugenie