Is Queen Elizabeth Above the Law? Can the Monarch Break Rules and Avoid Arrest?
The royal family is forever in the public eye. They have a loyal following of fans, probably even more so than the world's most famous movie stars. People love to watch their magical weddings and catch the first glimpses of adorable royal babies.
The royal family also makes invaluable contributions to society–none more so than Queen Elizabeth II. She may be the most beloved monarch in British history. From her involvement with the British Red Cross to her annual Christmas broadcasts, Queen Elizabeth continues to build a strong relationship between the royal family and the people of the UK. 
Who is Queen Elizabeth II?
Queen Elizabeth II–or Elizabeth Alexandra Mary–was born in London on April 21, 1926. Her parents were King George VI (Prince Albert, Duke of York, at the time of Elizabeth's birth) and Elizabeth Bowes-Lyon. She also had a younger sister, Margaret. 
The family spent their days between homes in London and Royal-Lodge. The girls were tutored in a variety of subjects, including math and history. They also took singing, dancing, and art lessons. Elizabeth enjoyed the luxuries of a royal life without having to spend much time in the public eye–until the beginning of WWII.
In 1940, Elizabeth began a radio broadcast directed at the British children who had been evacuated from their homes or separated from their families. The 14-year-old future queen was calm, self-assured, well-spoken, and incredibly inspirational. The public loved and admired the young monarch. 
Elizabeth's success with the radio broadcast encouraged her to engage with the public on a broader scale. She made her first public appearance in 1942, inspecting the loyal soldiers of the Grenadier Guards.
The future queen immersed herself in public life in 1945, when she volunteered with the Auxiliary Territorial Service. The group of British women aided the war effort. Elizabeth learned to drive and perform numerous mechanic skills. The experience was short, but she learned a great deal about her fellow countrymen. 
Elizabeth was not originally in line for the crown. In 1936, her grandfather died, which propelled his eldest son to the title of King Edward VIII. Edward, however, made a choice that changed Elizabeth's life. Like something out of a love story, Edward chose a beautiful American over the crown. Her father was crowned in 1937 and her mother became Queen Elizabeth. When her father died in 1952, the young woman became Queen Elizabeth II. 
Queen Elizabeth II became a beloved monarch
Elizabeth's coronation ceremony on June 2, 1952, was the first-ever to be televised. People around the globe watched as the 27-year-old assumed her father's duties. The young queen quickly became a well-respected, admired leader for the UK and the Commonwealth. Her generosity and dedication to her people were evident, and she prided herself on serving her country. 
In 1947, Elizabeth married her long-time love, Prince Philip The pair had been close since she was just 13 years old. Some members of the royal family felt that Philip wasn't a suitable match, as he didn't have enough money and he was a foreigner. Elizabeth gave birth to her first child, Charles, in 1948. Two years later, she had a daughter, followed by two more sons in 1960 and 1964. 
Elizabeth immediately embraced her responsibilities as queen. She strengthened ties with local and foreign leaders, and became close friends with Prime Minister Winston Churchill. She also wanted to strengthen the royal family's relationship with the public. In 1957, she televised her first annual Christmas broadcast, in an effort to share this special holiday with her people. 
Queen Elizabeth II has ruled longer than any other monarch in British history. Her extensive overseas travels and involvement in public organizations have helped her establish incredible relationships with people around the globe. She may not have expected to be a queen one day, but she certainly fits the role. 
Is Queen Elizabeth above the law?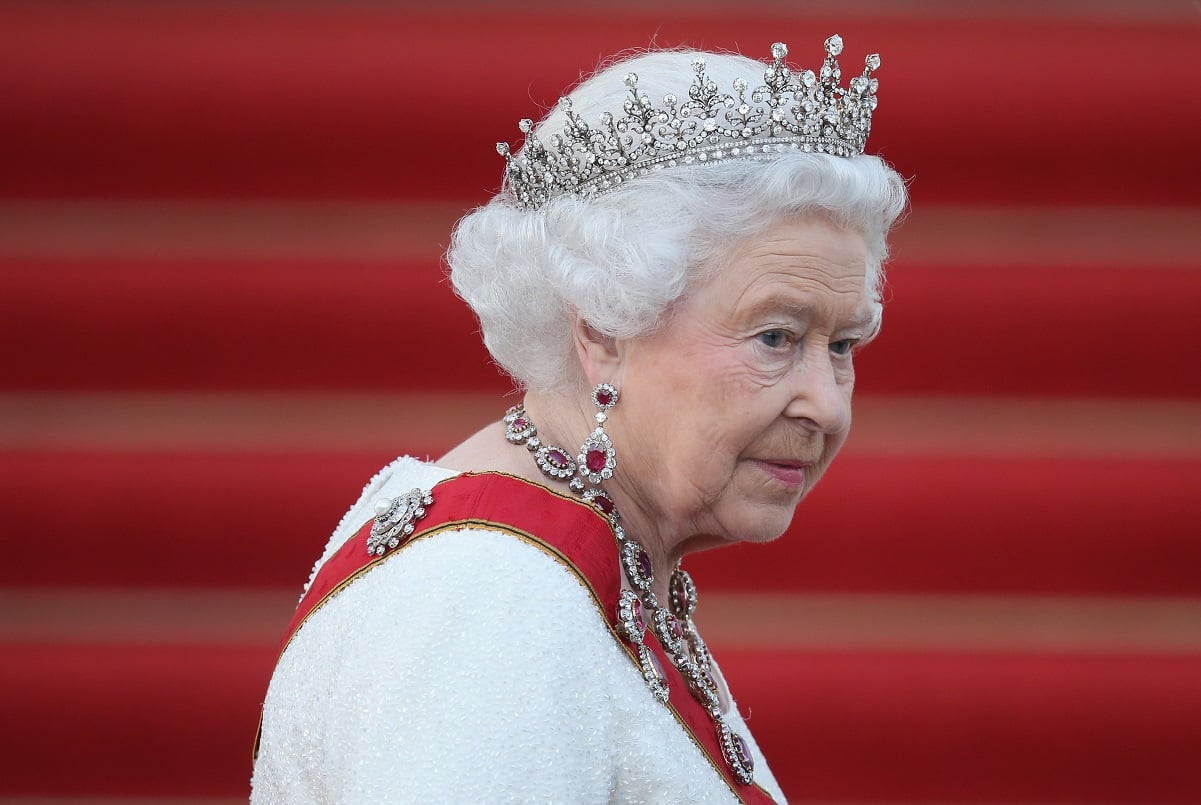 As a queen, one would expect to enjoy certain privileges. There was a time when monarchs had complete control of the legal system, and it was treason to challenge them. There were two reasons why challenging the monarchy resulted in such severe punishment.
Originally, monarchs were thought to have been sent by God to rule over the people. So it would have been against people's religious beliefs to challenge a king. The severe consequences of treason also acted as protection for the rulers. If a  king was thought to be weak, then others might try to overthrow him and take his crown. 
Today, although things are very different (no one is beheaded for treason), the queen is still immune to prosecution. Technically, Elizabeth could steal a candy bar from the corner store and get away with it. 
Queen Elizabeth II is at the heart of the justice system in the UK. She may not actively administer justice, but she could if she wanted to. The queen is technically Head of State, and she will hold that office for her whole life, she will always have that immunity.