Is Rachael Ray a Member of the 'I Hate Mayonaisse Club'?
Rachael Ray is among a select group of people who hate everything about mayonnaise. The celebrity chef has been very outspoken about her dislike of the ingredient and has even invited members of the I Hate Mayonnaise Club to appear on her show. So why does Ray hate mayonnaise so much?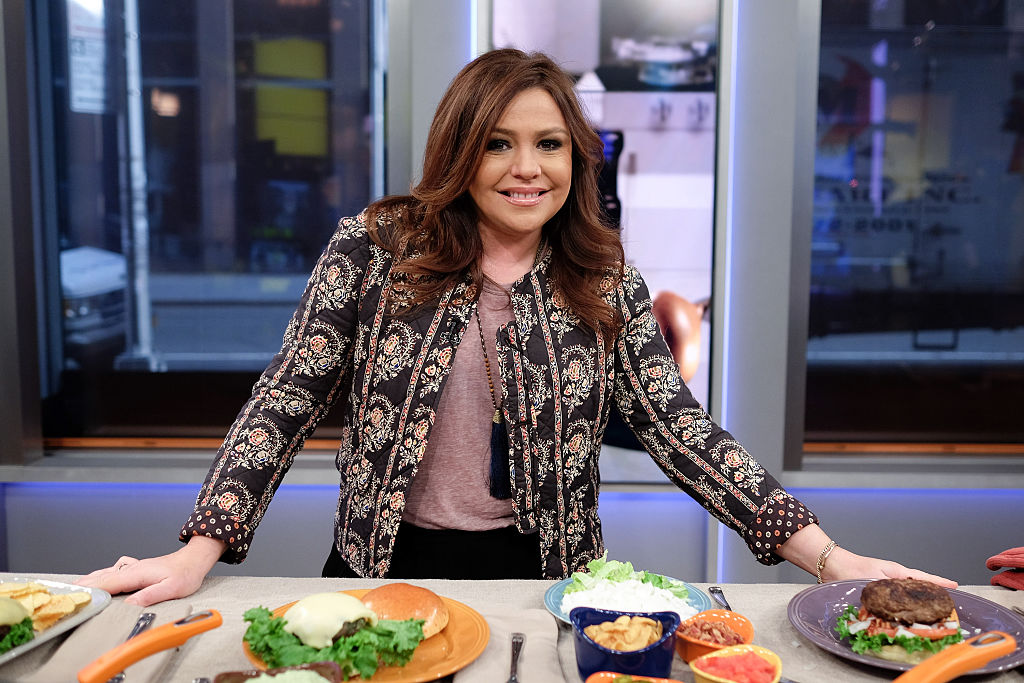 Inside Rachael Ray's hatred for mayonnaise
Back in the mid-2000s when Ray was a rising star on the Food Network with her 30 Minute Meals show, Ray came clean about her hatred for mayonnaise and even came up with a few mayo-free recipes for dressings.
According to Everything Rachael Ray, this includes a recipe for spicy salsa salad dressing, which debuted on 30 Minute Meals back in the day. The ingredients list for the recipe could not be simpler (a bunch of lime juice, some EVOO, salt, pepper, and salsa), and Ray recommended throwing it on some cabbage and red bell pepper slices instead of coleslaw.
The mayonnaise substitutes did not end there. Rachael Ray also created a slew of potato salad recipes that did not include the use of mayonnaise.
The multitude of mayo-free recipes makes it clear that Ray is not a fan of mayonnaise. But that is just the start of Ray's contempt for the widespread ingredient.
Is Ray a member of the I Hate Mayonnaise Club?
In 2006, the producer of Ray's show, The Rachael Ray Show, contacted the founder of the I Hate Mayonnaise Club, Charles Memminger, about sending some of the group's merchandise for the show.
According to Star Bulletin, Memminger was happy to send Ray some of the group's paraphernalia and a membership certificate in time for a special taping.
Ray interviewed a guest named Julie for the segment, who also agrees that mayonnaise is disgusting. They also showed a membership certificate for the I Hate Mayonnaise Club, which further solidified Ray's hatred for the product.
While some fans might be surprised to learn about Rachael Ray's hatred for mayonnaise, there are many people who agree with her stance on the subject.
What is the I Hate Mayonnaise Club all about?
Out of all the condiments in the world, none is as divisive as mayonnaise —you could make an argument for blue cheese, horseradish sauce, or cilantro. But the dislike for an ingredient that is nothing more than emulsified egg yolks, lemon juice (or vinegar), and oil runs so deep that people actually bond over it.
There are websites, Facebook groups, and Reddit forums that celebrate a community hatred of mayonnaise. And none is more popular than the I Hate Mayonnaise Club.
There are many reasons why mayonnaise disgusts people, and for many of the haters it all boils down to sensory problems. Some chalk it up to its room-temperature consistency, while others claim it resembles more of a pudding than a spread.
Whatever the reasons, groups like the I Hate Mayonnaise Club are growing larger every year, and they might take solace that people like Ray are among their ranks.
Other than Rachael Ray what celebrity chefs also dislike mayonnaise?
While Ray is clearly not a fan of mayonnaise, she is hardly the first celebrity chef to feel that way toward the popular condiment — and she probably will not be the last. Barefoot Contessa Ina Garten has also expressed a dislike for mayonnaise — even though she does use it as the base for a lot of sauces — and does not understand why it gets so much traction in recipes around the world.
The hatred for mayonnaise goes beyond celebrity chefs. Jimmy Fallon and Barack Obama have also expressed a dislike for the condiment, though it is unclear if they have ever considered joining the I Hate Mayonnaise Club.
Ray has not commented on the reports surrounding her dislike of mayonnaise. After hosting her popular series, 30 Minute Meals, for 11 seasons, she rebooted the show in 2019.
Rachael Ray has hosted a number of shows on the Food Network, including Tasty Travels, Inside Dish, and $40 a Day. She also competed against Guy Fieri in Rachael vs. Guy: Celebrity Cook-Off in 2012.