If you haven't heard the name Ramy Youssef, don't worry, you're about to. There's a lot of buzz going around about the New York-born comedian. While Youssef has been in the business for over a decade, it's only recently that fans have really begun to talk.
With Daniel Craig set to end his time as James Bond, an unexpected candidate has emerged. During a recent interview Youssef told Page Six, he doesn't just want to be the next 007, he will be the next James Bond. So just who is this emerging star? Where did he come from, what is he doing, and who's in his life?
Who is Ramy Youssef?
When Ramy Youssef stepped up to accept the award for "Best Performance by an Actor in a Television Series – Musical or Comedy," at the 2020 Golden Globes, he didn't wait long before he addressed the elephant in the room. To some, the award was a well-deserved honor for a talented comedian, to others, the reaction was more like, "Who?"
Within seconds of stepping on the stage, Youssef joked, "Look, I know you guys haven't seen my show," he continued, "Everyone's like, 'Is this an editor?'" To which the star was met with laughter. The fact is, while Yousef has received critical praise for his lead role on the semi-autobiographical Ramy, there are still many viewers who have never heard of the show, let alone watched it.
The 28-year-old actor was born in Queens, New York to Egyptian parents. He was raised Muslim and makes a point to make his religion part of his comedy stand-up routine. Though his first credited spot was in 2009, his first "big" role came when he played Kevin in the Scott Baio sitcom See Dad Run.
But things didn't really get going until a few years later. In 2017, Youssef appeared as an Upnext Comedian on Comedy Central's Colossal Clusterfest. That same year, he had a guest arc on Mr. Robot. At this point, he began appearing on popular talk shows. It wasn't long before people realized, "This guy's pretty funny."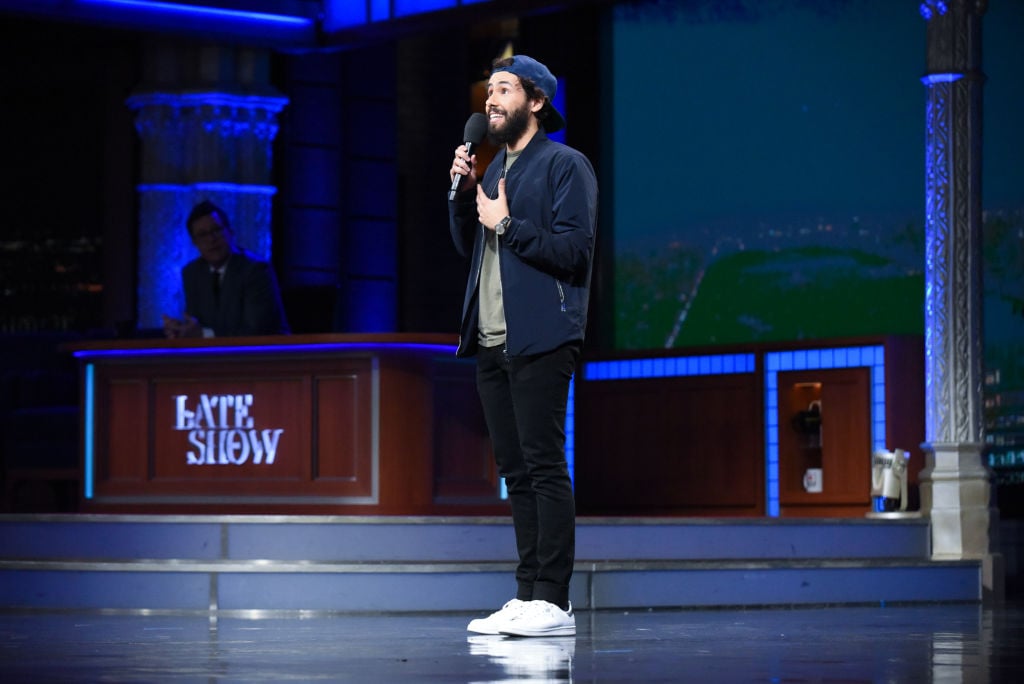 Inside 'Ramy'
The Hulu series Ramy has been getting a lot of attention. Not just because it's funny, but because it is the first major show to focus on an Arab Muslim family living in America. Youssef told EW in 2019, "I knew I wanted to make something about Arab Muslims," noting, "I've never really seen stories about us in America, at least where you had versions of our characters that weren't framed by violence."
Ramy deals with the main character's struggles to balance his religion with being a millennial in America. Ramy, the main character, is what Youssef calls "Allah carte." He's a practicing Muslim, but he's also lenient on the rules he chooses to follow. Youssef aims to show what NPR calls, a "realistic portrait of the Arab Muslim experience."
Is Ramy Youssef single?
Youssef's character on the show has a girlfriend. Their relationship is part of what the show explores when it comes to Ramy's culture and religion. But is the actor in a relationship in real life?
This part appears to be somewhat of a mystery. According to the gossip site, Who Dated Who, Youssef dated Good Trouble star Maia Mitchell from 2012 to 2014. But beyond that, there's no real mention of anyone special in the actor's life. Aside from a June 2019 Rolling Stone piece that references the comic's remarks that he "Doesn't have a girlfriend with whom he can grab fro-yo," the actor has remained silent on the subject. By the looks of it, Youssef appears to be single. Either that, or he's mastered the art of keeping his private life away from the paparazzi.