Is 'RHOA' Star Kenya Moore Still Feuding With Vivica A. Fox?
Kenya Moore and Vivica A. Fox both started their careers in the 1990s. Moore became famous for being the second Black woman to win Miss USA in 1993. The win would elevate Moore's career into movies and television. On Fox's end, the actor appeared in The Young and the Restless in the 1990s before venturing into films like Independence Day and Set It Off.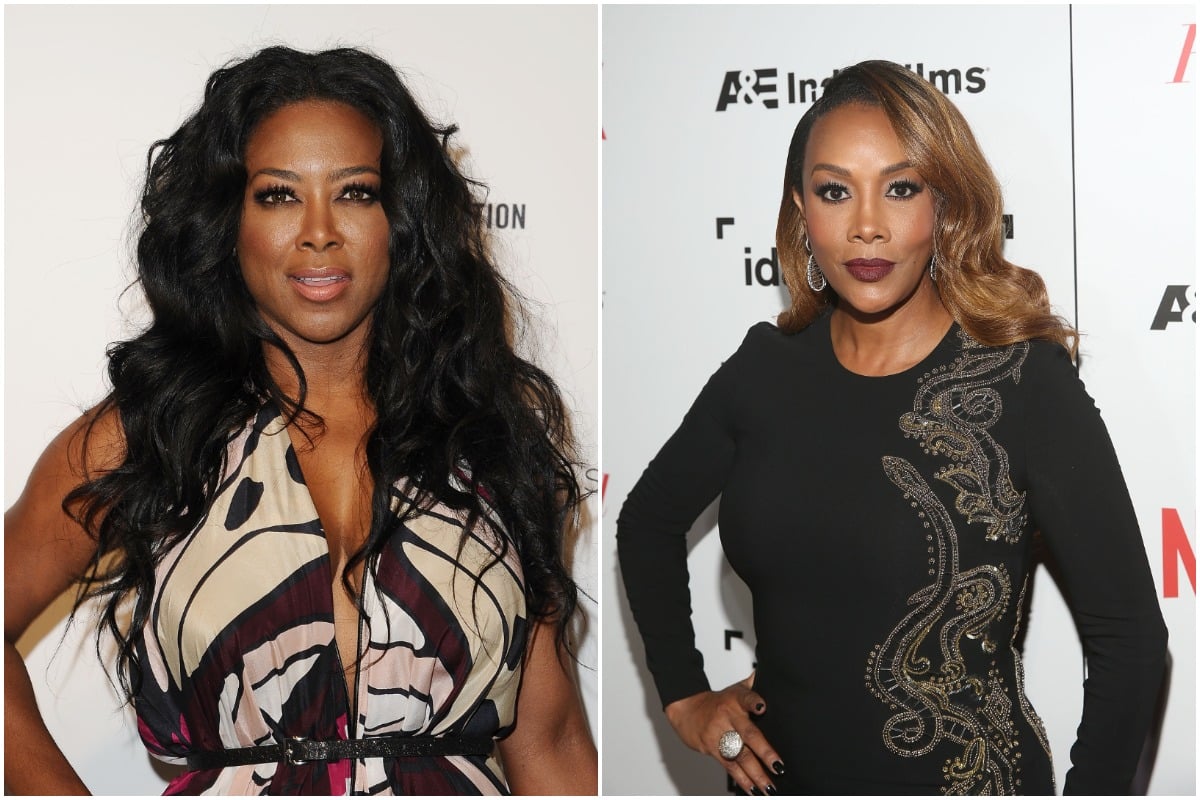 Kenya Moore and Vivica A. Fox's feud began when they appeared on 'Celebrity Apprentice'
In 2014, Moore and Fox appeared on Season 14 of Celebrity Apprentice. Although they were friends from their years in Hollywood, their relationship turned sour as the show continued. Moore and Fox engaged in long screaming matches on the show during its courtroom scenes. Additionally, Moore shared that Fox's behavior throughout the season was due to "menopause." Fox responded to the allegations by calling Moore a "toxic trick" and a "dirty ass b*tch."
RELATED: 'The Wendy Williams Show': 'RHOA' Star Kenya Moore Revealed She Dated Kanye West, Said It Was a 'Disaster'
The feud between Moore and Fox escalated when an unflattering message from Fox appeared on her Twitter account. Once she saw the post, Fox accused Moore of stealing her cell phone to post the tweet. Moore denied the claims from Fox and shared that she was upset by the accusation. 
"To steal your phone? I'm not a thief," Moore said. "I respected this woman. I always had respect for her. She sat here and took this to a disgusting level. She called me all kinds of names in the book."
Vivica A. Fox recently said her feud with Kenya Moore 'ain't ever going away'
After Fox and Moore left Celebrity Apprentice in 2014, their feud continued online and in interviews. In 2018, Fox took offense when Moore said her acting skills haven't changed throughout her lengthy career, per Bravo. 
RELATED: Vivica A.Fox Shared How Jada Pinkett Smith Felt About Her Kissing Will Smith in 'Independence Day'
Although their feud seemed to simmer down after Moore's 2018 comment, Fox reignited the drama between her and Moore in May 2020. On an episode of Cocktails With Queens, host Claudia Jordan asked Fox about her run-ins with Moore. While Jordan is friends with Fox and Moore, Fox told Jordan she wouldn't want to speak to Moore again. She said their past issues are more significant than her willingness to forgive Moore. 
"F*ck that b*tch. Nope, nope, nope," Fox said on Cocktails With Queens. "That one ain't never going away."
Fox also noted that even though she hasn't forgiven Moore, she and Jordan will remain friends and co-hosts.
"I'm a Leo; I'm a lion. When these goddamn claws come out, baby, it's on like popcorn," Fox continued. "I love you, and you know you helped me get through that. But that one right there? No, ma'am."
Where Kenya Moore and Vivica A. Fox stand today
While Fox is seemingly not ready to forgive Moore for her actions on Celebrity Apprentice, the RHOA star wants to make amends. The mother of one appeared on The Wendy Williams Show in December 2020. During the interview, Moore entered the "hot seat" where Williams asked her about some of her past feuds. Williams mentioned Moore's altercations with Fox, former RHOA star Kim Zolciak-Biermann, and actor Michael Rapaport.
RELATED: 'The Real Housewives of Atlanta' Resumes Filming With New COVID-19 Precautions
Moore reflected on the three rivalries and said her beef with Fox is the one she regrets the most. Additionally, Moore said she reached out to Fox for forgiveness recently. Unfortunately, Fox hasn't responded to Moore. 
"Before we did Celebrity Apprentice, we were friends," Moore told Williams of Fox. "And I recently heard her say that I had hurt her, and I had never heard her say that before. And as a woman hearing that, it really broke my heart because I do have love for Vivica even though we beef. To me, it was superficial. But, I wanted to apologize to her, and I still do, but she didn't take my phone call."