Is 'The Bachelor' Not Allowed to Say 'I Love You'?
Bachelor Nation fans have seen many a bachelor drop those 3 little words — but is the Bachelor not allowed to say I love you?
The Bachelor has been on the air for nearly two decades, and it has taken many twists and turns along the way. However, while the rules, format, and talent pool they pull from change, the basic rules remain the same.
There's a strict code about what the titular bachelor is allowed to say to contestants for a show about finding love. One thing that is strictly forbidden, however, may surprise people. Is The Bachelor not allowed to say 'I love you'?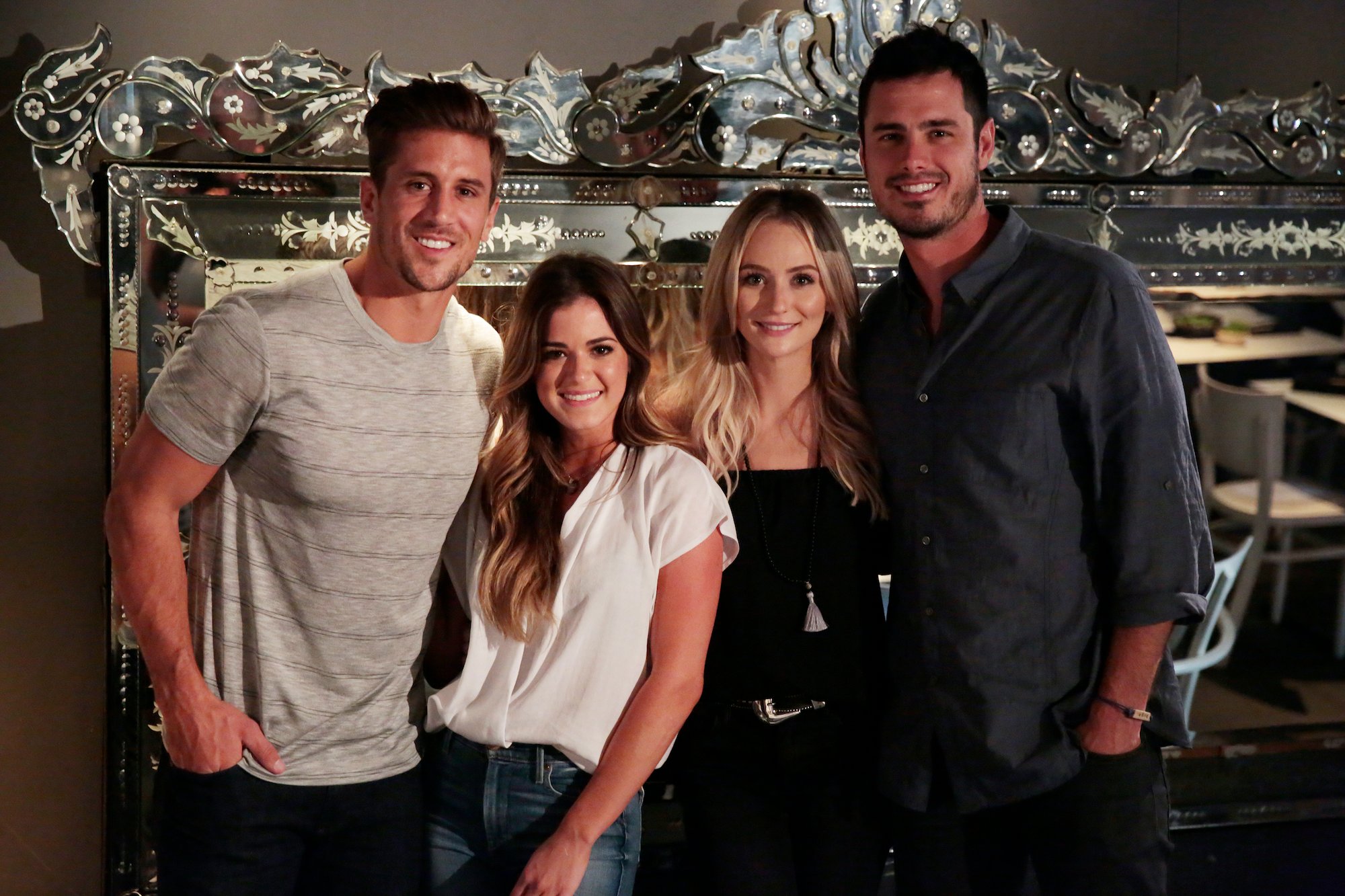 'The Bachelor's' shifting tides
While the 21st-century has been about movie and television universes, few probably consider The Bachelor to be part of the same genre as Marvel or Star Wars. 
After all, it now boasts several spin-offs, with canceled shows like Bachelor Pad also having their moment. However, The Bachelor's brand goes far beyond the series that kicked it off. 
Bustle notes how The Bachelor kicked off a craze of dating shows that it also outlived. While some have been successful, few have the power and the brand recognition that ABC's favorite dating property does.
True love has been struck, lost, and left in a void since the show's first premiere. Perhaps, the pursuit of lifelong love is made more difficult by the omission of three words from any season of its many properties. 
Can 'The Bachelor' say 'I love you'?
According to Pop Sugar, racecar driver Arie Luyendyk was the man after the young ladies' hearts in 2018. Striking up a solid rapport with several of his would-be suitors, Luyendyk had contestants, including future-wife Lauren Burnham and Becca Kufrin, declare their love for him. It wasn't that surprising. Luyendyk was as handsome as he was charming. 
However, it tested an unspoken rule behind the series. Despite being a show about one man looking for love among a group of beautiful women looking for the same, they aren't supposed to declare love until the finale. Luyendyk explained his thought process when the two potential suitors blindsided him. 
"Watching previous seasons, the Bachelor doesn't usually reveal how he feels about somebody," he said, adding that it's an "unspoken thing," not a rule. "I went and asked production, 'Can I tell this person how I feel about them?' And they said, 'Yeah, of course, do whatever you want.' So I did." (per Pop Sugar)
While the rule is constantly broken, it's there for a valid reason. After all, if a Bachelor declares his love for a woman early on, it could take away from the later intrigue. Furthermore, if he declares it to several contestants, it could cheapen the ultimate pursuit of love on which the series hinges.
Luyendyk isn't the only Bachelor who has broken this role, however. It's become something of an unspoken tradition among several memorable members of its cast. 
What are 'The Bachelor' rules?
According to a piece on Distractify, the unofficial ban on "I Love You" isn't some ironclad ruling that gets people in hot water. Contestants and Bachelors are allowed to say the words. They're just guided not to do so. As such, people like Luyendyk do so without any major fallout. He isn't alone.
Brad Womack threw it all to the wind when he declared his love for Emily Maynard in season 15. Chris Soules told two women he loved them in season 19 before giving the rose to another party.
Distractify also notes how season 20's Ben Higgins dropped the three words despite not knowing about this unwritten rule. According to him, the rules are implied but never explicitly stated. 
"They say, 'Do this how you think you should do this,' and you don't always know the best answer to questions, and sometimes you do develop feelings you don't expect. What I committed to was expressing those feelings, but no one ever said, 'Don't do that, don't do this!'"
The Bachelor is high on intrigue, but it's clear that there's no one clear way to make it to the history books. Whether one follows the rules or forges their own, this commitment to chaos is why the series has been going strong for as long as it has, and while contestants may not be allowed to declare their love, the fans do every week when the series airs. Other rules for 'The Bachelor' include contestants having to go through a credit check, must be at least 21 years old, and also get psychological evaluations.