Is 'The Bachelor' on Tonight, Feb. 28, 2022? New Spoilers Revealed for the Next Episode
The Bachelor has kept a fairly regular schedule this year, but we know ABC loves to surprise us with the occasional change. A few weeks ago, Monday Night Football took the usual slot for The Bachelor. But, is The Bachelor on tonight, Feb. 28, 2022? Find out when the next episode airs and what Reality Steve revealed about what's next for Clayton.
[Warning: This article contains spoilers for this season of The Bachelor with Clayton Echard.]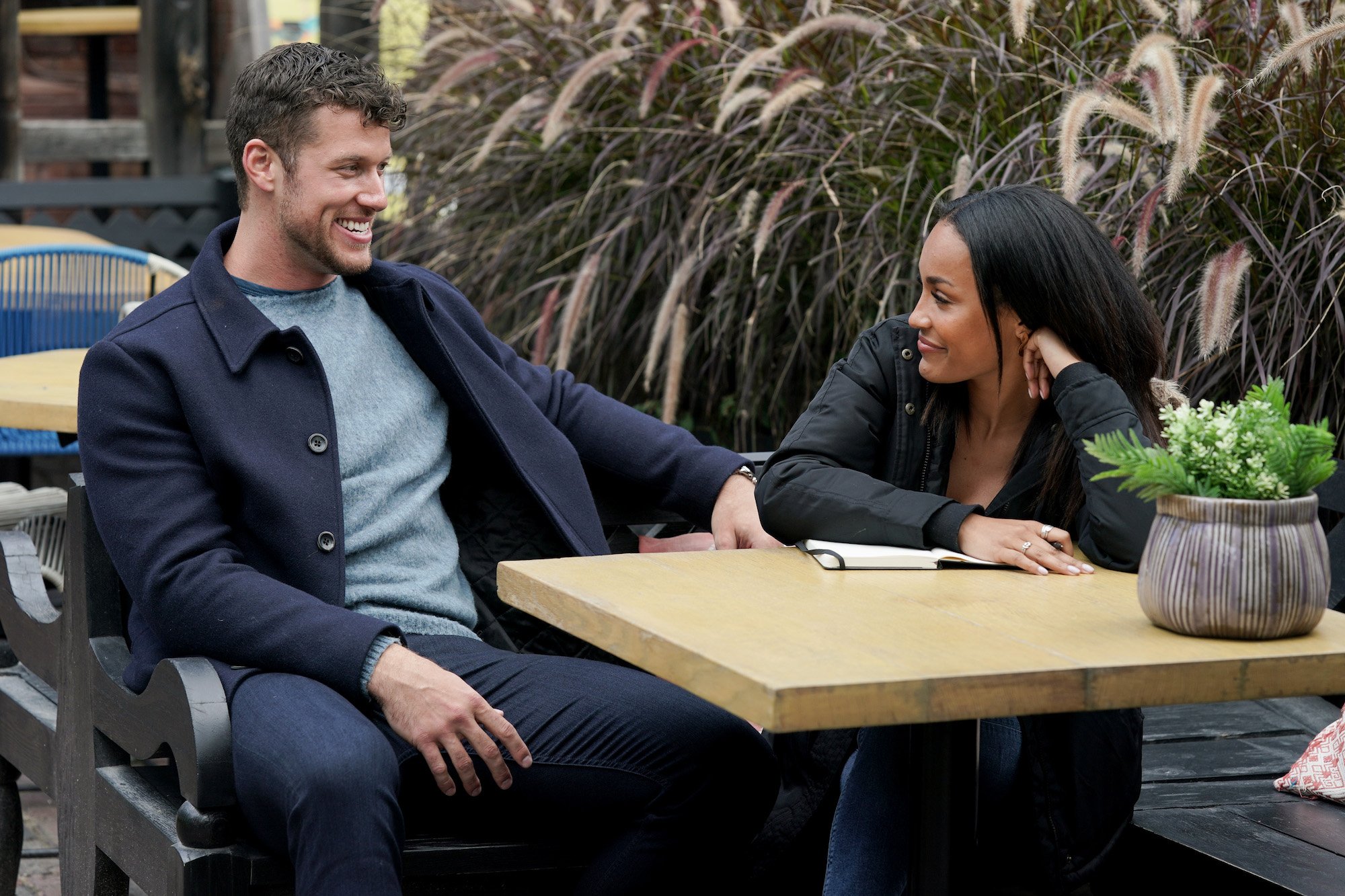 Is 'The Bachelor' on tonight, Feb. 28, 2022, on ABC?
This season of The Bachelor has been a wild ride. Audiences watched many different arguments erupt between the women, which often took time away from the potential romances brewing between Clayton Echard and some of the ladies. However, you're in luck because The Bachelor is on tonight. The season's eighth episode continues on ABC at 8:00 p.m. EST.
RELATED: 'The Bachelor': Reality Steve Believes [SPOILER] Eliminates Herself From Clayton Echard's Final Three
What does tonight's episode of 'The Bachelor' hold?
Now that we know Clayton's season of The Bachelor is on tonight, here's what's in store. ABC's synopsis reads, "It's time for hometowns! For the first time in two years, the Bachelor will visit the hometowns of his final four women to meet their families and immerse himself in each of the ladies' lives. On dates led by the women, Clayton will learn jiu-jitsu, go kayaking, hike in the Rockies, and free-fall 80 feet, but the real adventure still lies ahead. Will these experiences bring clarity, or will Clayton have to send home someone he's falling in love with?
The four women who will vie for Clayton's heart are the following:
• Gabby, 30, an ICU nurse from Denver, Colo.
• Rachel, 25, a flight instructor from Clermont, Fla.
• Serene, 26, an elementary school teacher from Oklahoma City, Okla.
• Susie, 28, a wedding videographer from Virginia Beach, Va."
What does Reality Steve reveal about tonight's episode?
The reality blogger has been upfront about not knowing exactly how Clayton's season of The Bachelor ends. He recently updated his website with his thoughts regarding the final three. Many fans believe Clayton ultimately proposes to Rachel at the end of this season, but Reality Steve isn't so sure. 
In a new post, he wrote, "When Clayton was doing pre-season interviews, he said he'd 'found love' this season. Obviously never said whether he was engaged or not, but once he said that, I assumed that meant he chose someone and, considering we've only had Juan Pablo, Colton, and Matt in the last 12 seasons or so not propose, I assumed he was engaged and I just needed to find out to who. That's now changed. I don't believe he ever got engaged at the end of this season."
Reality Steve does, however, know that Clayton sends Serene Russell home after the hometown dates. This leaves Gabby, Susie, and Rachel as the final three women competing for Clayton's heart. 
We know Clayton tells two of the women he was intimate with both of them, but a recent appearance on a podcast muddies the waters on what that exactly means. Clayton told listeners the scene isn't what it appears to be. This hints that his confession of intimacy might not mean he slept with two of the women.
Regardless, as we hurtle toward the final few episodes of this season, fans will finally learn the truth behind Clayton's decisions. Tune in to The Bachelor tonight on ABC to watch as the drama unfolds.
RELATED: 3 Women from Clayton Echard's 'The Bachelor' Cast Who'd Be Perfect for 'Bachelor in Paradise'