Is 'The Bachelor' On Tonight, March 7, 2022? Reality Steve's Spoilers for the Women Tell All and More
Is 'The Bachelor' on tonight? Get ready for tensions to be running high as fans watch the 'Women Tell All' tonight on ABC.
We're almost to the end of the road as The Bachelor lead Clayton Echard gets ready to make his final decision. Bickering between the ladies during this season has shifted much of the focus off the romantic connections. However, now that Clayton has whittled his choices down to the final three women, tensions are running higher than ever. So, is The Bachelor on tonight, March 7, 2022, on ABC? Here's everything you need to know about the upcoming episodes, including spoilers for the "Women Tell All."
[Warning: This article contains spoilers from Clayton Echard's season of The Bachelor.]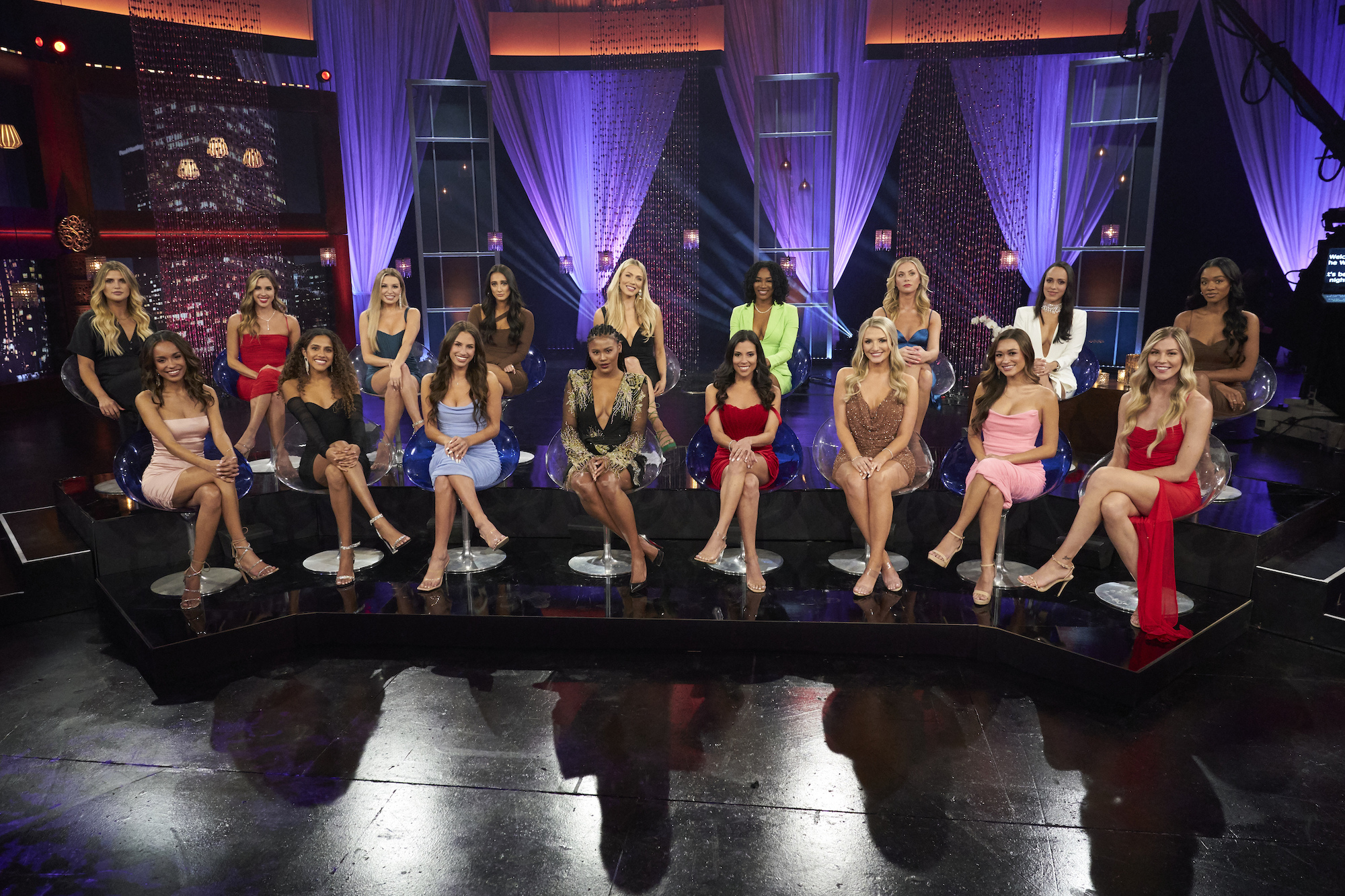 Is 'The Bachelor' on tonight, March 7, 2022, on ABC?
The Bachelor schedule stayed pretty consistent this season. Monday Night Football caused fans to miss out on one Monday night slot usually reserved for the show, but that was it. The rest of the season's episodes aired in their usual spots. The Bachelor with Clayton Echard is on tonight, March 7, 2022, and will air on ABC at 8:00 p.m. However, fans shouldn't expect to see Clayton continuing on his quest for love. Instead, tonight's episode is the always-dramatic "Women Tell All."
Who attended tonight's 'Women Tell All' episode of 'The Bachelor?'
The "Women Tell All" episode brings back several of the current season's ladies as they air out their grievances and talk about their personal experiences on The Bachelor. 
According to the ABC synopsis for tonight's episode, "Get ready for a night of drama, laughter and maybe even a few tears when Clayton's former flames reunite for the first time. Seventeen women will come together to hash out their differences, clear up any misunderstandings and apologize (or not) for bad behavior; but will it all be taken in stride, or will some ladies be hung out to dry? Later, the pressure is on when the Bachelor himself, Clayton, steps into the hot seat—these women aren't holding back! Plus, a few special surprises and everyone's favorite—bloopers!"
Earlier this month, Bachelor spoiler extraordinaire Reality Steve revealed who attended the "Women Tell All" taping. Seventeen women total showed up to discuss any and all things, Clayton Echard, along with some drama of their own.
Serene Russell
Sarah Hamrick
Mara Agreat
Shanae Ankney
Genevieve Parisi
Sierra Jackson
Jill Chin
Lyndsey Windham
Elizabeth Corrigan
Cassidy Timbrooks
Hunter Haag
Kate Gallivan
Marlena Wesh
Kira Mengistu
Eliza Isichei
What can fans expect to see during tonight's 'Women Tell All?'
Reality Steve revealed several spoilers regarding this season of The Bachelor and recently surprised fans with news about the "Women Tell All." This episode, in particular, often sees the season's villain return to explain the reasoning behind their behavior. However, folks shouldn't expect to see a big change from Shanae. 
According to the reality TV blogger, "Shanae basically said she didn't even want to be there but 'had' to be, which I'm assuming insinuates that producers made her go. Shanae never apologized for anything she did. During her hot seat, they brought Genevieve on stage to sit next to her and she asked her why she called her an actress. Shanae then threw out the accusation that Genevieve f***** 'Matt the Bartender' and Aaron Clancy. Matt was I guess a bartender in Toronto. And Aaron did appear once in an IG story of Genevieve's, but there was nothing to back she'd slept with either of them. Just Shanae accusing her of it."
The Bachelor is on tonight, and the drama starts at 8:00 p.m. on ABC. Those without live television can stream the episode the following day on Hulu.