Is The Kansas City Chiefs Superstar QB Patrick Mahomes Married?
Patrick Mahomes' MVP season with the Kansas City Chiefs catapulted him into NFL stardom. Now that he is in the spotlight, fans cannot help but wonder about his life outside of football. Off the field, Mahomes is in a committed relationship with his girlfriend of seven years, Brittany Matthews, but are they ready to take things to the next level?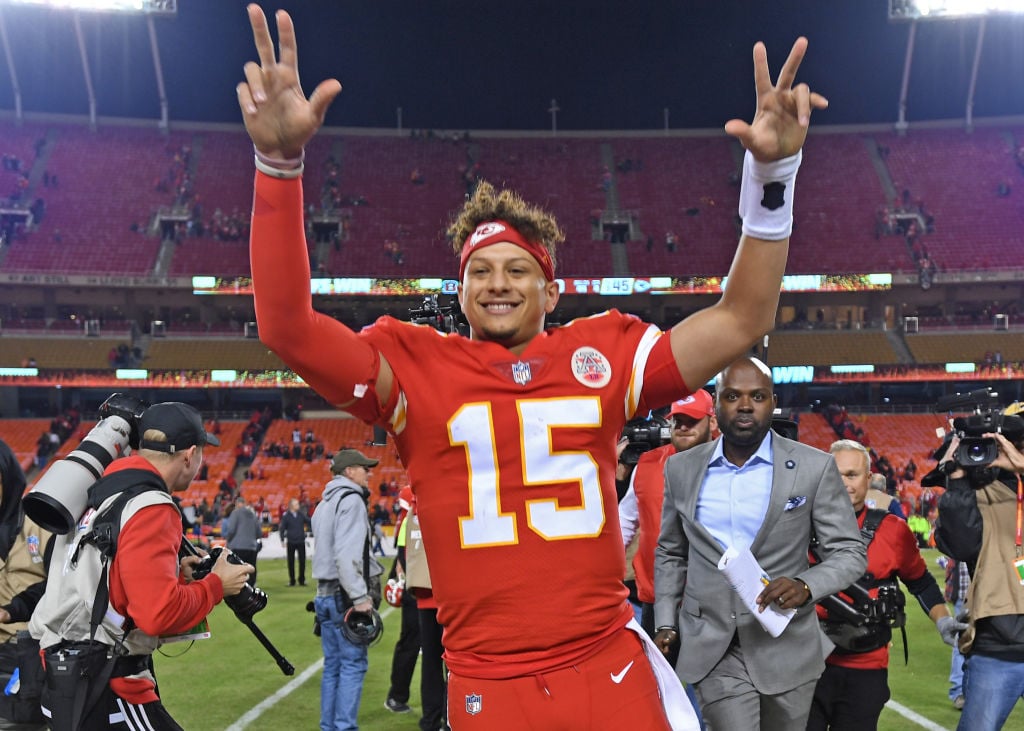 Inside Patrick Mahomes' dating life
Mahomes and Matthews have been dating since they were teenagers in high school. The couple just crossed over the seven-year mark and celebrated their anniversary with some heartfelt words on social media. When it comes to exchanging vows, Matthews hinted that there could be a wedding in the mix, but only when they decide the timing is right.
"7 years, the greatest 7 years with you! Lots of life changes, lots of growing, lots of surprises, lots of memories! Cheers to a lifetime with you. P.s- to everyone that's gonna ask when we are getting married, the answer is whenever we want," Matthews shared.
The Chiefs star also shared a special note on social media for Matthews. Mahomes echoed her comment about having seven years under their belt, adding a "love you" hashtag at the end. The anniversary comes after a busy spring for couple.
According to Heavy, the two attended the Final Four matchup to support Texas Tech and later appeared on Good Morning America. While it sounds like they are committed to taking things to the next level, they have not made any official announcements.
Brittany Matthews and Patrick Mahomes adopt two pit bulls
When they aren't showing up for college basketball games or appearing on daytime talk shows, Matthews and Mahomes spend a lot of their time raising their two dogs, Steel and Silver. The couple recently adopted Silver and have their hands full raising him.
In fact, the two adopted Silver in the middle of the NFL playoffs last season, which made it even harder to get everything in order. Mahomes tried to convince Matthews to wait until the offseason to adopt the pooch, but she just could not resist.
They also manage an Instagram for their pets, which now has over 63,000 followers. If fans ever want an update on how Steel and Silver are doing, they just need to head over to Instagram for one of their adorable posts.
What does Matthews do for a living
Aside from training the dogs, Matthews is a well-established personal trainer. Matthews played soccer for the University of Texas and enjoyed a brief professional career overseas. While Mahomes spends his weeks playing football, Matthews has her own personal training business. Matthews even shares videos of her workouts on social media for her clients and followers to check out.
For extra motivation, Matthews often turns to her boyfriend. Given how they are both athletes, Matthews admitted that things get a little competitive in their house. But Patrick Mahomes is always there to give her advice about leadership and support her whenever she needs it. Although Mahomes is used to setting records in the NFL, Matthews is always quick to remind him that he is not the only record holder in their home.
Matthews enjoys a Hawaiian vacation
We are still a few months out from training camp, so Matthew and Mahomes are making the most of their time before things start to ramp up. This offseason, the couple headed to Hawaii to enjoy some time in the sun.
Matthews has shared several photos from her vacation to the tropical getaway on social media and clearly had a blast with her boyfriend. Mahomes has a busy year ahead of him, but he is clearly making the most of it until then.
Unfortunately, Matthews and Mahomes have not said when they might tie the knot. Based on her Instagram post, it sounds like they are more than ready to take things to the next level. Whether or not that happens in the near future, of course, is yet to be seen, but we could not be happier for the them.
In his first full season as the quarterback of the Kansas City Chiefs, Patrick Mahomes enjoyed a record setting season that earned him the NFL's most valuable player award. The Chiefs also made a run deep into the playoffs before losing to the New England Patriots in the AFC championship game.