Is 'The Walking Dead' Actor Norman Reedus Married?
Although he had appeared in many movies, before the hit cable television show The Walking Dead came into our living rooms, the average person probably didn't pay particular attention to Norman Reedus.
In the past nine years, the model and actor who stars as Daryl Dixon on the AMC horror drama series has made a serious impression as far as notoriety goes. But, what about his personal life? Who is Norman Reedus? Is he married and to whom?  
Norman Reedus: Before 'The Walking Dead'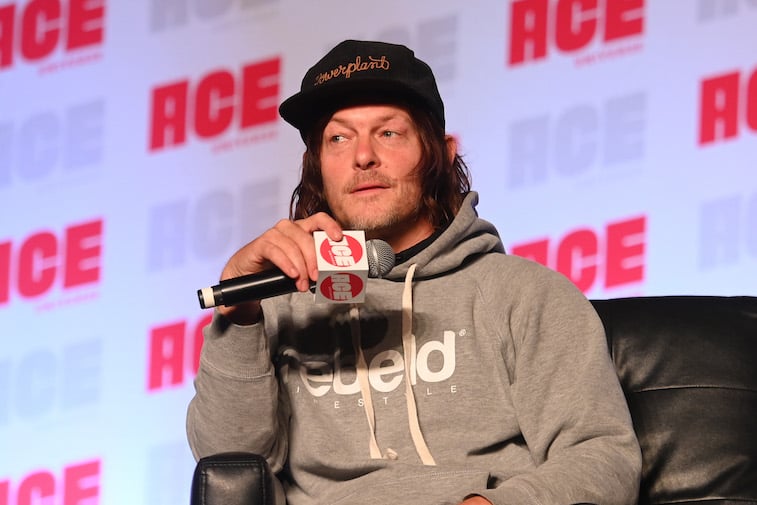 Norman Mark Reedus was born in 1969 in Hollywood, Florida. Of Italian, Irish, English, and Scottish descent, he was discovered at a party in Los Angeles when someone asked him if he would like to act in a play.
That play was Maps for Drowners which showed at the Tiffany Theater on Sunset Boulevard. From there, he went on to make his film debut in the 1997 American science fiction horror film The Mimic directed by Guillermo del Toro, where he played a character named Jeremy.
Thereafter, he starred in The Boondock Saints, Blade II, American Gangster, Gossip, Pandorum, Tough Luck, and The Boondock Saints II: All Saints Day, among others. He was cast in the hit series, The Walking Dead, in 2010.
Reedus' has modeled for Prada, Levi's, Lexus, Durban, Alessandro Dell'Acqua, and Morgenthal Frederics.
While working as a model and then after he received fame as an actor, he appeared in several music videos including "Wicked as it Seems" by Keith Richards and "No Cities to Love" by Sleater-Kinney.   
He is also a painter, photographer, and sculptor who shows in New York City, Frankfurt, and Berlin.
Does Reedus have kids?
Reedus has two children. His son, Mingus Lucien Reedus, was born in 1999 during his five-year relationship with supermodel Helena Christensen.
According to Page Six, he also has a toddler daughter with actress and model Diane Kruger who was born in September of 2018. Photos have yet to be released of his baby girl. 
Is Norman Reedus married?
There were rumors circulating at the time that Reedus had proposed to Helena Christensen and that the two of them had tied the knot soon after their son was born. Those rumors proved to be false. The couple ultimately went their separate ways in 2003.
Who's Dated Who reported that Reedus had been in relationships with various actresses and models including Rose McGowan, Laurie Holden, Jarah Mariano, Glenn Lovrich, Cecilia Singley, and Emily Kinney after that time. None of those rumored relationships lasted.
According to The Insider, Reedus met German-born actress Diane Kruger in 2015 on the set of the movie Sky where the two played love interests Diego and Romy.
Kruger said that the day of their meeting was also the day of filming their big love scene. At the time Kruger was dating longtime boyfriend Joshua Jackson. She and Jackson split in 2016 after rumors of a romantic relationship between her and Reedus developed.
Kruger admitted that the breakup with Jackson had been a long time coming and that they just had not made it public yet. 
In 2017, Reedus and Kruger were spotted together on numerous occasions and then word of Kruger's pregnancy broke in early 2018. Although the couple do have a daughter together, they are not currently married.